Google's algorithm uses several ranking signals to provide the most relevant results to a search query. But even the most sophisticated search engine optimization (SEO) strategy or experienced SEO agency can only focus on a few to succeed. And that's what you should do – if you haven't been doing it yet.
The good news is that you can come up with a shortlist of Google Ranking Factors 2022 Edition based on several sources established within the SEO industry:
• The collective wisdom and experience of SEO practitioners
• Emerging trends
• What Google has confirmed as ranking factors
Considering the above parameters, the Core Web Vitals might have had the most impact in the past year – not just on SEO but also related disciplines like web design and development. Yet, as you and your on page SEO services provider try to catch a break from this major change, other factors continue to need your attention. Optimizing for your web presence is simply a never-ending commitment.
This blog aims to help you stay ahead by laying down the top factors and trends to watch out for and optimize for in the next year. For those who'd like a refresher, we also talk about:
• What search ranking signals are
• The past, present and future of the search landscape
• The importance of narrowing down your focus when it comes to SEO Ranking Factors 2022
---
An Overview of the Ever-Evolving Search Landscape and Google's Ranking Signals
The evolution of Google Search algorithms is enough to keep any organic and local SEO expert on their toes. Your ability to adapt to the shifting landscape is your most potent weapon in winning against the competition on the search engine results pages (SERPs). But setting you and your competitors aside for a moment, it becomes clear that Google primarily makes these countless algorithm changes for the one group you also care about: the users.
Quality user experience (UX) is at the heart of each update, no matter how big or small. To this end, the search giant employs a ranking system. And this system includes ranking signals, which are factors used to evaluate web pages according to:
• Relevance
• Content quality
• Usability
While the number of Google ranking factors has grown throughout the years, the focus on quality over quantity should be your priority. The emphasis on quality should provide you with a good foundation for your business-to-business (B2B), business-to-consumer (B2C) or eCommerce optimization efforts.
To illustrate, we had Google looking at keywords and link quantity in the early 2000s. But the best content writing services and link building services today have switched strategies to align with predominant user behaviors. This alignment has brought us some innovative, mobile-friendly trends, including video search.
---
Why Is It Important To Have a Focused Google Ranking Factors 2022 Checklist?
Based on what you know so far about search ranking factors, you can boost your chances of appearing in the search results for your target audience. In turn, better online visibility allows you to improve your conversion and revenue.
Of course, there's also a more practical reason: you want to channel your time, effort, money and other resources into the ranking factors that generate the highest returns on your investment. And even if you're working with an SEO or social media marketing agency, you still have to employ the Pareto Principle or the 80-20 rule. With 80 percent of your results coming from 20 percent of your search ranking influences, you have to focus more on these main drivers.
---
Top SEO Ranking Factors 2022
While using pay per click management services gives you a sure and instant spot on the SERPs, building an organic presence presents more opportunities for success in the long run.
Thus, you have to assess and choose which ranking factors can take you toward your desired results in the next 12 months. Here are your top options, some of which are non-negotiable:
1. Core Web Vitals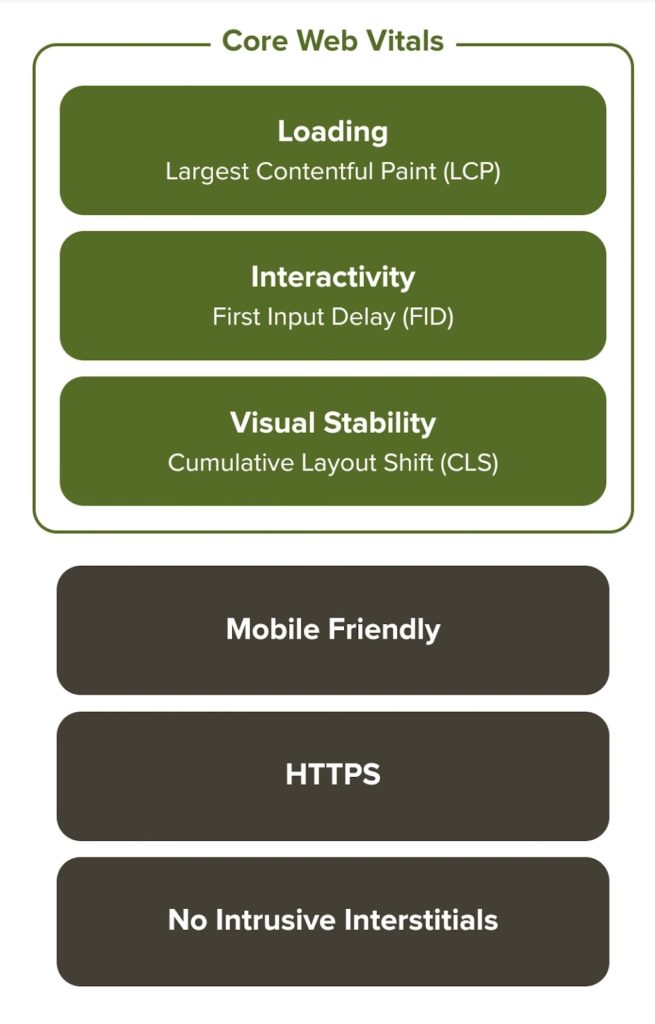 As part of the Page Experience update, the Core Web Vitals represent three indicators of webpage quality that, when done right, can improve UX. Nailing this factor was – and still is – a big deal for SEO professionals, from corporate reputation management and eCommerce optimization specialists to your local SEO expert.
The key three metrics involved in Core Web Vitals are:
• Largest Contentful Paint (LCP)
• First Input Delay (FID)
• Cumulative Layout Shift (CLS)
Based on the Web Vitals, you can measure the loading time, responsiveness and visual quality of a page to ensure better UX for visitors.
2. On-Page Optimization
On page SEO services let you zone in on elements that are visible to search engines. A reliable content writing agency knows how important it is to write optimized meta tags and header tags as they guide Google bots in interpreting your content.
Further, with a targeted update of your page meta titles and descriptions and H1s, you can increase your site's organic traffic.
While there have been reports of Google replacing meta tags with passages from the body of your content, this should not stop you from crafting on-point, compelling meta tags for each of your web pages.
3. Content Depth and Accuracy
Google has been prioritizing content quality for years, and content writing agency experts have tried to follow suit. Of course, we've had keyword usage, relevance and even backlink profiles as criteria. But the introduction of the E-A-T and YMYL guidelines have given us a better picture of what exactly to pursue.
E-A-T stands for Expertise, Authoritativeness and Trustworthiness, which are measurements applied to individual web pages and websites as a whole. On the other hand, YMYL means Your Money Your Life. This ranking signal rates the accuracy of content from brands that directly affect users' health, happiness, financial stability and safety.
If you're in an industry that benefits from passing the E-A-T or YMYL standards, prioritize producing content that demonstrates your expertise. Content accuracy and trustworthiness also provide strong support for your brand reputation management.
4. Mobile-Friendliness
Whether you're employing organic SEO or pay per click management services, it pays to know that the number of mobile users is projected to reach almost 7.5 billion in 2025. Google has seen and banked on this trend since 2015, when it announced mobile-friendliness as a ranking factor.
In 2019, the search giant took it further by making the mobile version of websites a priority for indexing over their desktop versions.
A mobile-friendly site lets mobile users navigate its pages with ease. Your web design and development team can assess web page performance through a free mobile-friendly test from Google. At the same time, your technical or local SEO expert can check for issues and errors on your mobile site using Google's Mobile Usability Report.
5. Video Search
We cannot emphasize enough the importance of adding videos to your optimization strategy. It's the preferred format (video vs. text) for 72 percent of consumers when searching for marketing information.
There's more good news for those focusing on eCommerce optimization or brand reputation management. As any successful YouTube marketing or social media marketing agency would tell you, online videos work – 84 percent of people said they were compelled to buy a product or subscribe to a service after watching a video.
Also, exciting developments await everyone in 2022, from businesses to digital marketing experts belonging to an SEO organization, corporate reputation management firm, eCommerce agency or social media optimization company. Google's John Mueller announced the launch of new video structured data that helps your videos gain more visibility. These are:
• Clip markup: Properties that allow you to indicate timestamps and labels in your video, which Google will show to your potential audience.
• Seek markup: Properties that tell Google where timestamps go in your video URL structure, enabling the search engine to identify key moments and point your audience to segments in your video.
6. Featured Snippets
The brief excerpts appearing at the top of Google search results are called featured snippets. They are placed in what's called position zero, high above everything else, making them easy to spot and earn clicks from users. Currently, featured snippets make up 8 percent of all clicks connected to a particular search query.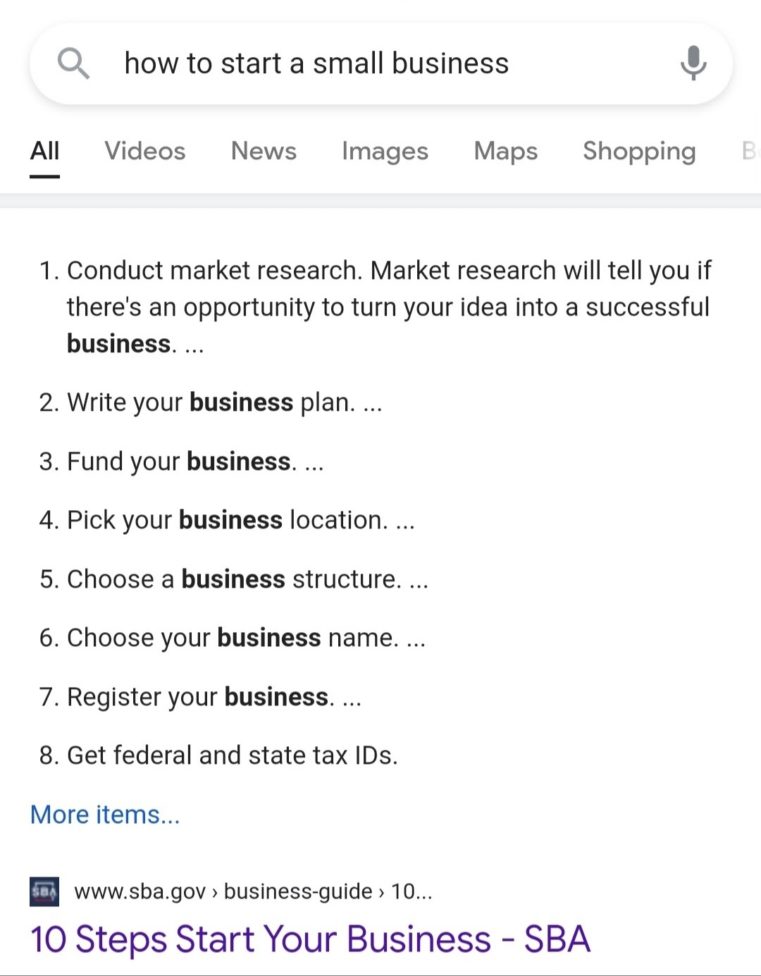 How do you make your content appear in position zero? The answer lies in what the best content writing services have already been doing: crafting high-quality and relevant content – in more concrete terms, answering What and Why questions and then expanding your discussion to include the How.
Achieving position zero may result in a zero-click search, which is a type of search that does not send users from Google to a third-party or destination website. But brand reputation management firms also see here an opportunity to boost organic visibility, site traffic and even brand authority.
7. Passage Ranking
From an eCommerce agency to a corporate reputation management perspective, anyone doing SEO should not need to worry about Google's internal algorithm update known as passage ranking. Having gone live in February 2021, this ranking factor involves indexing and ranking a passage from page content independently. It shows how the search engine has become more adept at understanding the context of the content and picking a passage that answers a query directly.
Still, any conscientious content writing agency should see it as a challenge to or confirmation of its development of high-quality content.
8. Link Building
Last but not least, backlinks remain an essential part of any optimization strategy. Inbound links point new visitors to your site and, if they come from a high-authority page, also let you rank well in search results.
Today, however, you need more sophisticated link building services since Google has become better at determining unnatural linking patterns. Developing tactics that earn you quality links is a must, and so is diversifying your sources.
Aligning your game plan with your most profitable channels also works. Our advice? Speak to a local SEO expert about the importance of distributing backlinks for your local business or a social media marketing agency about the benefits of accumulating social links.
---
Moving Forward With Google Ranking Factors 2022
We've just walked you through our Top SEO Ranking Factors 2022 version. What are your thoughts on the items on our list: are they familiar, new, interesting?
However you feel about them, it is also important to evaluate these factors based on their estimated impact on your optimization efforts, just like what Thrive did for Max Mechanical, a heating, ventilation and air conditioning (HVAC) contractor in Texas. The company came to Thrive to gain much-needed visibility for its site after spending money without seeing results from four other agencies. We got to work immediately, combining organic and pay per click management services.
On the organic SEO side, we honed in on local search, technical SEO, on-site optimization, content marketing and mobile responsiveness, among others. Our strategy yielded the following results:
• +763 percent qualified leads
• -16 percent bounce rate
• +19.7 percent page views
• +349 top 5 keyword rankings
We can do the same for your brand or business. Whether you are an HVAC contractor or an eCommerce company, our agency can provide you with a strategy that helps you grow. We put together various digital marketing and web design and development solutions to deliver desired results.
As a full-service online marketing firm, we set sustainable SEO and link building services in motion. We also have the capabilities of an eCommerce agency or a social media optimization company, for example, allowing you to integrate more ways to succeed online if the future calls for it.
Establish a reliable partnership with us today. Speak with one of our consultants to learn how.