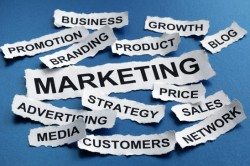 In a world that is becoming increasingly digital, more and more businesses are focusing their marketing efforts on the Internet. Online marketing consists of many different areas that are all essential for a successful campaign. The problem is that many business owners don't have time to run an all-out Internet marketing campaign. Additionally, successful Internet marketing involves tactics that search engines and marketing companies specialize in. Finding a company with the know-how to ensure your business grows from your marketing efforts is essential.
Thrive is a full service internet marketing company that can take some of this burden off of business owners. We work with our clients to help them develop a website and turn visitors into customers. We can help with your social media and PPC campaigns. We are also experts in Search Engine Marketing. Thrive can provide all these services and more, or the client can choose what areas Thrive will manage.
Developing a dynamic website
Our in-house design team can help you with creating or changing your website. We specialize in creating websites with visual appeal so that the initial reaction to your website will keep your visitors interested. Your customers need to be able to use their intuition to help them navigate your website. At Thrive, we test and retest our website to be sure they are easy for your users. Finally, what good is a website if no one is visiting it? All of our services have one goal in mind: to grow your business by driving customers to your site. Thrive uses many other Internet marketing tactics to drive traffic to your site and convert visitors into customers.
Driving the brand and connecting to followers on social media
Marketing on each different social media platform takes different skills and tactics. What works on Facebook and Twitter may not be possible or relevant on LinkedIn and Google+. Staying up-to-date on the latest trends in these areas is difficult for most businesses. That's where we come in. From updating statuses to interacting with the blog community, we do it all for your brand. We make sure to stay updated on all the latest in all the platforms and social media marketing.
Creating quality content
Content is essential in developing an online presence. In order for your website to be effective, you need quality articles, descriptions, and other web copy. Our team of in-house writers provides well-written, optimized content for your site. At Thrive, we only use what is known as "white-hat SEO tactics." This includes relevant, original, and clear content to help attract people who are interested in your business. We thoroughly research your brand as well as your competitors' brands to come up with content your customers will find interesting and useful. Content should also be updated regularly to be effective in search engine rankings. We can take care of keeping your website's content up-to-date while you focus on running your business.
Managing an effective PPC campaign
We also offer help with Pay Per Click campaigns. We are experienced in thoroughly researching the keywords that will attract potential customers. When we run a PPC campaign for your business, we are constantly monitoring the results and coming up with effective strategies that work. We can also help by creating a landing page for your PPC campaign for sales generated from your ads. Contact us for more information about targeted mini-campaigns for PPC.
Detailed analytics and reporting
We believe that monitoring and analyzing your Internet marketing campaign is a good strategy for businesses. Transparency with our clients is important to us at Thrive. We want to make sure you are happy with the results of the job we are doing for you and that your business is growing. That's why we send you monthly reports in various forms to see how we're doing. We do some of our reports as video summaries and others as full-scale PDF or other forms.
Thrive is an experienced full service internet marketing company. We can manage certain areas of your marketing campaigns, or you can sit back and give us the reins. Either way, you can be sure that the work you get from Thrive will grow your business. Contact us today for a free website evaluation.