The influencer and creator economy is thriving. According to Goldman Sachs, influencer marketing spending in the U.S. alone is worth $6.16 billion in 2023 and is expected to grow by 16% in 2024.
Shopify, looking to become the best eCommerce platform, sees this as an opportunity. If the platform can connect merchants and content creators, it could become the world's leading influencer and online products marketplace.
Enter Collabs: Shopify's take to support creators looking for the perfect brand to work with. But it's not just influencers who stand to benefit from this program. For Shopify merchants, it's an excellent opportunity to get their products in front of the right people and build relationships with influencers that matter.
So, what is it, and how can you use it to enhance your Shopify marketing strategy? We'll take a tour around Collabs and dive into the following details:
• What Is Shopify Collabs and Who Does It Benefit?
• How To Collaborate With Brands and Creators on Shopify
• The Pros and Cons of Shopify Collabs
• How To Maximize Shopify Collabs as a Business
---
What Is Shopify Collabs and Who Does It Benefit?
If you're a creator who wants to collaborate with brands, then you've found an ally in Shopify.
Through Collabs, Shopify wants to "bring economic independence to this new generation of entrepreneurs."
It achieves this by simplifying how content creators and Shopify merchants monetize their products. It's a marketplace-style app that connects you to a network of co-merchants, creators, affiliates and influencers to find the perfect Shopify partner.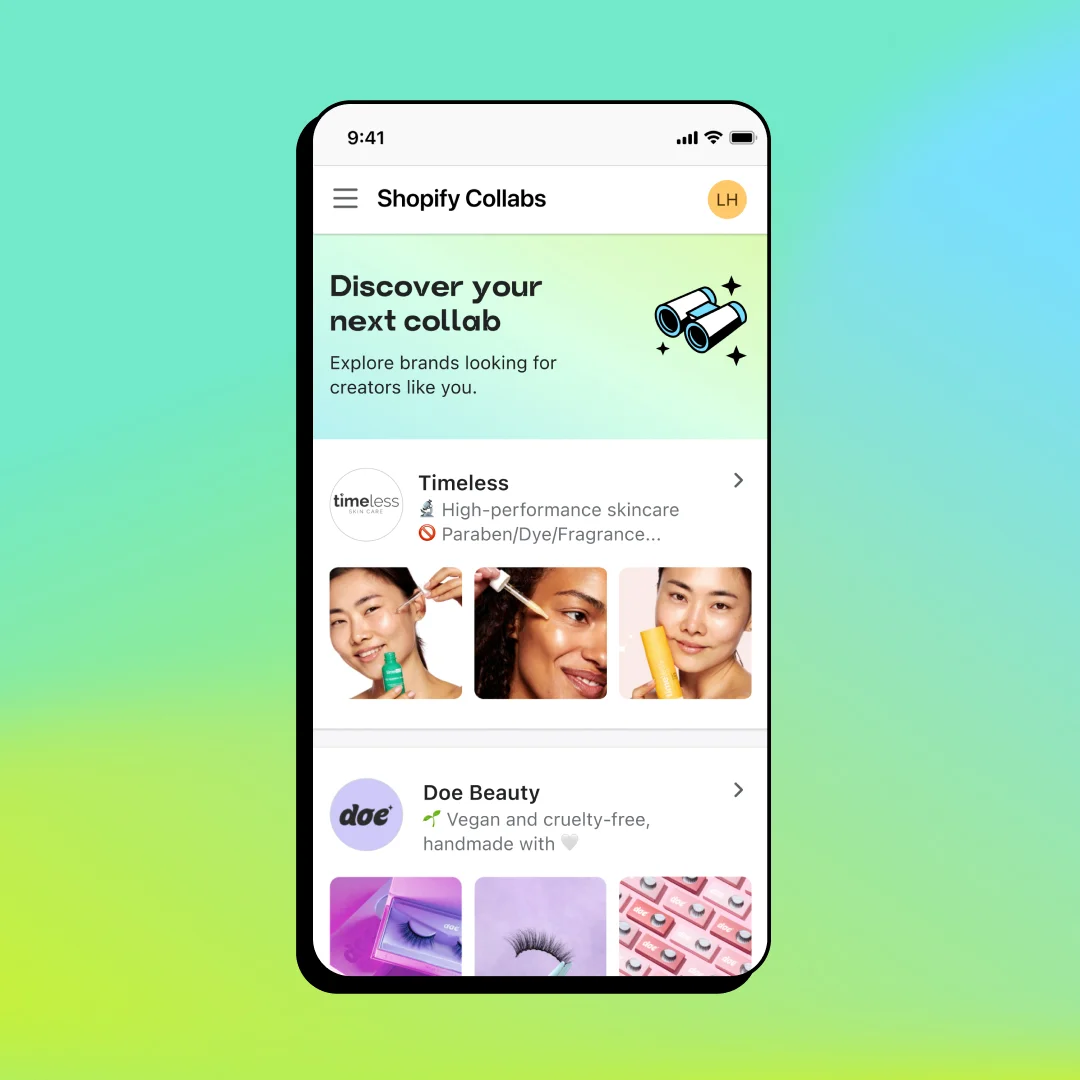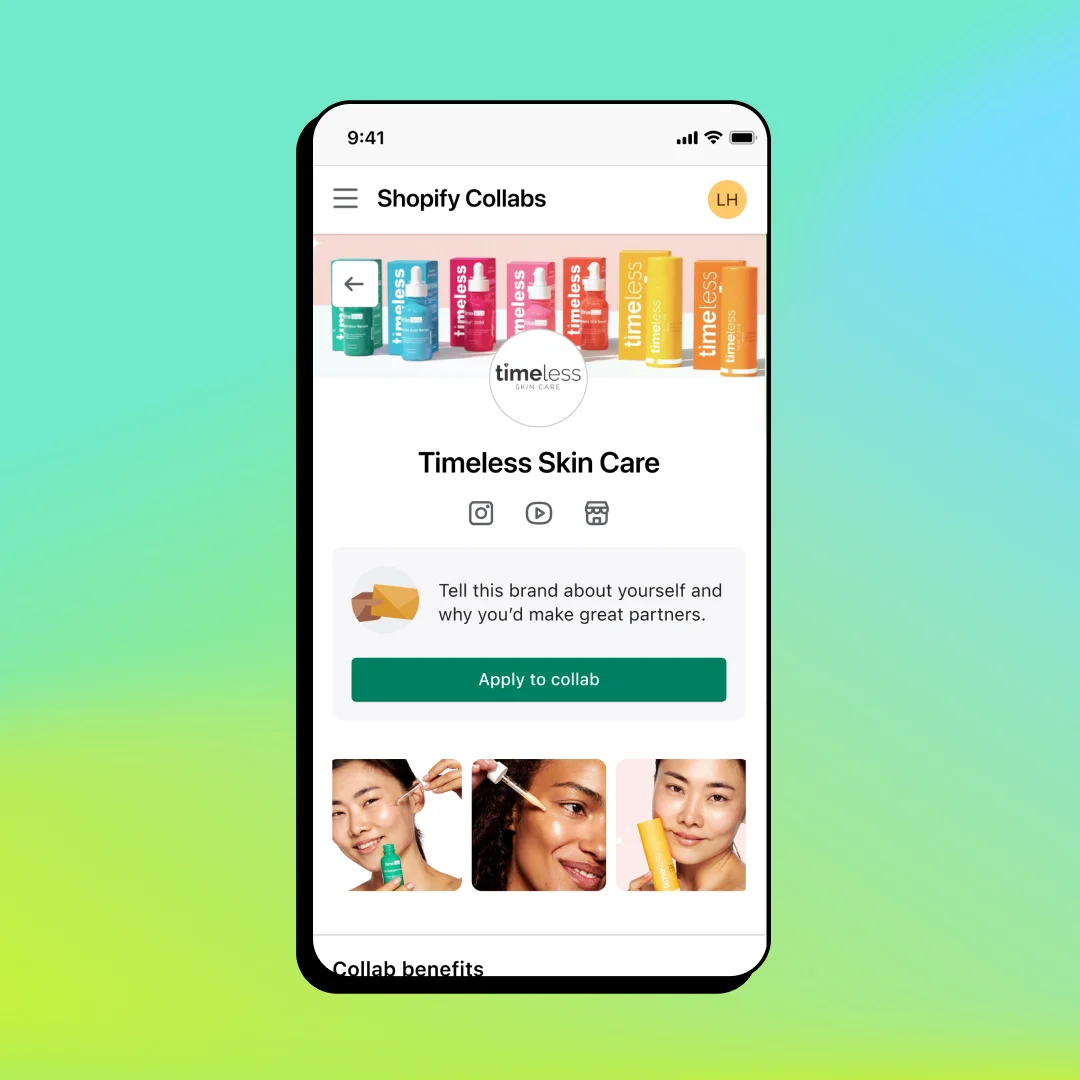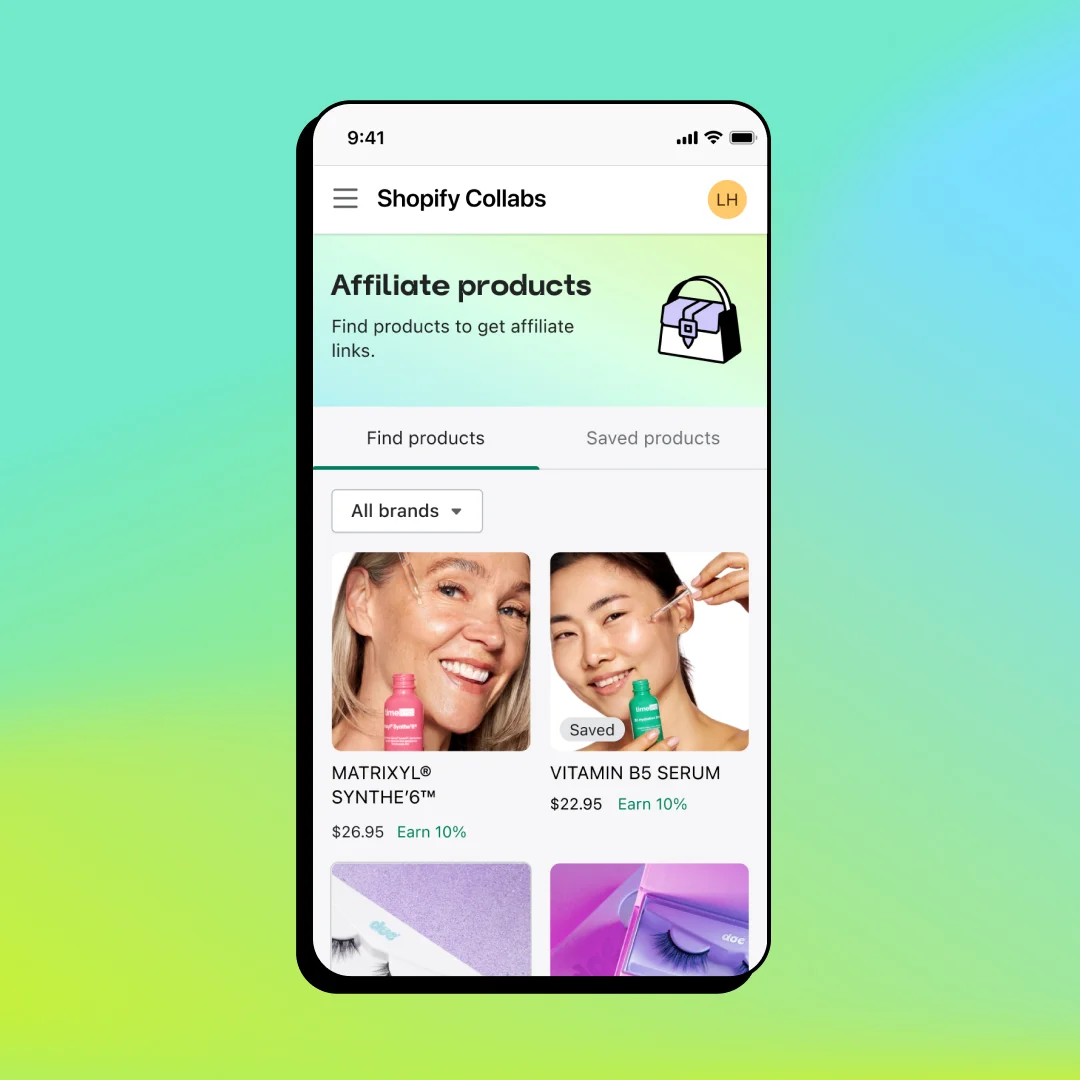 Images from Shopify
As a creator, there are many ways to collaborate with brands using this app, such as:
• Accepting gifts or discounts.
• Reviewing your existing and potential Shopify partner projects.
• Receiving payments from brands.
For Shopify merchants, Collabs is an excellent way to:
• Send direct invites to influencers.
• Share instant commissions.
• Setup pages for affiliate applications.
• Gifting, discounts and tracking affiliate sales and payments.
Whether finding the right partner or opening up a new eCommerce marketing channel, Shopify Collabs is positioned to make the process easier and more efficient.
---
How To Collaborate With Brands and Creators on Shopify
Marketing on Shopify Collabs differs between creators and brands.
For Shopify brands, you must:
1. Install the Collabs app and make your store discoverable.
2. Build relationships with your chosen creators. Inside the app, you'll get to send gifts, unique links and discount codes that your creators can share with their audience.
3. Build your community of content creators by managing your relationships with them. You can do this directly from your Admin Dashboard.
For content creators, all you have to do is:
1. Apply for a Shopify Collabs account and browse through millions of Shopify brands in the marketplace.
2. Use Linkpop to curate your product selection. Linkpop is a link-in-bio tool that creators can share across their accounts, such as Facebook, Instagram and TikTok.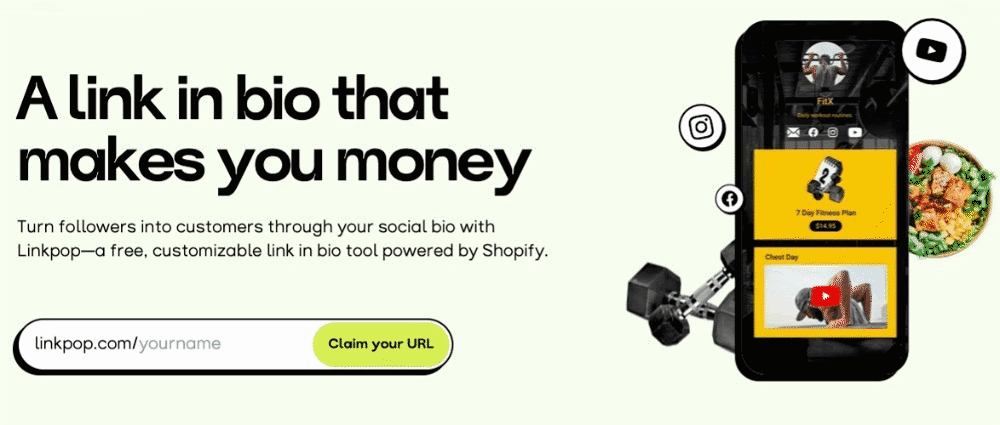 3. You'll get paid once someone purchases from your catalog using your shared link. Thanks to Shopify integrations and genius, all the payment magic happens inside the Collabs app.
An easy account creation process for collaboration helps Shopify compete with the other best eCommerce sites, such as WooCommerce and Magento, which both have their own version of influencer marketing plugins.
---
The Pros and Cons of Shopify Collabs
So, what do we think of Shopify Collabs? Should you try it? Our answer is yes, but you must keep some minor caveats in mind.
The Good: Easily Find a Shopify Partner
Marketing for Shopify through brand partnerships is now easier with Collabs. Since Shopify designed this app as a marketplace for creators and brands, it's the best eCommerce platform to find someone to work with.
Use the Shopify Collabs Discover to apply for brand partnerships as a creator. There are millions of merchants to choose from, so you won't have a shortage of Shopify marketing agencies and business partners.
If you're a business, Shopify explains that the Collabs app is your all-in-one solution to find the perfect influencer. Since it's integrated within your Shopify admin once installed, all your affiliate programs and tasks can be done directly inside your Shopify dashboard.
The Bad: Limited Built-In Customization
Shopify isn't an email marketing or website-building tool that can handle tons of customization. That means you will have limited opportunities to inject your brand vision inside.
Here's a third-party review from the Collabs product page: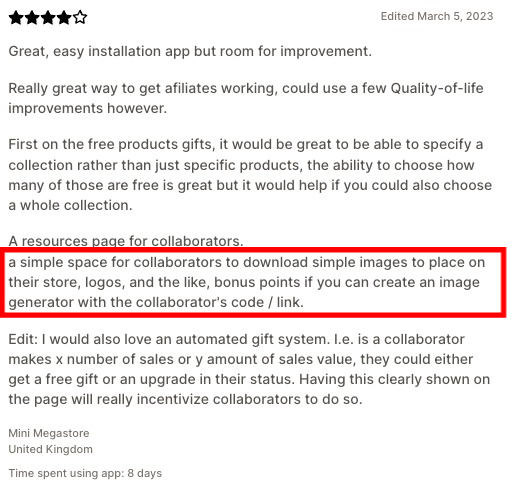 Screenshot from Shopify App Store
Shopify is constantly taking notes from customer feedback, though, so this feature might be available in the future. In the meantime, you'll have to settle with pre-made messages and designs when working with your partners.
The Good: Create New Marketing Channels
The best eCommerce sites today should give you many options to enhance your store's discoverability.
With Collabs, you have another Shopify marketing strategy up your sleeve. And instead of dealing with spreadsheets and several back-and-forths, this app makes marketing for Shopify with influencers easier.
As an influencer marketing tool, Collabs is super user-friendly and makes it easy to add new partners or delete existing ones with a click of a button.
If this isn't your cup of tea, you can work with a Shopify marketing expert to help set up Collabs and other brand campaigns for your store.
The Bad: Minimal Cross-Platform Compatibility
Another gripe we have with Collabs is its lack of integration with other payment providers and other best eCommerce sites.
You can only use PayPal to send commission payments, and the app only works within the Shopify ecosystem. If your partners are using other payment methods, such as Venmo and Wise, you'll have to advise them to create a PayPal account.
Similarly, if you run your online store on competing platforms like WooCommerce, then you can't inject Shopify Collabs into your system. You must run an existing Shopify Store to take advantage of Collabs.
---
Maximizing Shopify Collabs as a Business
So, how should you use Collabs to its full potential? Here are some expert tips to keep in mind:
1. Don't Just Work With Any Creator
As an influencer marketplace, there are tons of creators you can choose from. But don't get too excited and work with the first influencer you find. Instead, ask yourself some serious questions to determine if they're the right fit for you.
Here's a short checklist to start:
• Is the influencer in the same industry as you?
• Do they have a strong following?
• Are their posts engagement-driven and authentic?
• Does their aesthetic match your brand image?
Other factors like geographic location and budget also come into play. For example, if you're a small local company with a limited budget, you may want to consider working with closer and cheaper influencers.
Don't worry about the quality of the influencer you get, though. As long as you ask the right questions and clarify your goals from the get-go, you'll be fine.
Also, working with a Shopify marketing expert helps you overcome the initial hurdles of connecting with and onboarding influencers. So, don't hesitate to work with one.
2. Increase Your Visibility Across Supported Platforms
Shopify Collabs supports several social media platforms, namely:
• WhatsApp
• Messenger
• Instagram
• TikTok
• Pinterest
• Twitter
You can also integrate Shopify Collabs with other platforms, such as:
• Spotify
• Google
• YouTube
There are limitless integration and sharing possibilities with Collabs, so feel free to explore if a platform you're using can also leverage its features. One rule of thumb here is that if a platform has a bio, short-form features or messaging capabilities, then you can use them to spread your influence with Collabs.
3. Use Shopify Integrations To Attract Influencers
You can only transform Shopify into the best eCommerce platform for your business if you maximize its pre-built integrations and automation.
The best Shopify integrations available for Collabs today are the following:
• Online store page: You can activate and customize this page so influencers and creators can directly apply from your online store.
• Online store pop-up: This is a floating button that you can activate to attract new influencers to partner with.
• Shopify Flow: This is Shopify's pre-built automation system for repetitive tasks. You can use Flow to approve applicants automatically, export data to Klaviyo, follow up on your gifts and congratulate your partner for their first sale.
Shopify marketing agencies regularly configure Flow workflows, paid ad campaigns and other integrations so they're optimized for your use cases. If you need help setting up any of these, teaming up or consulting with an agency is your best bet.
4. Pay Your Creators Fairly
Cultivating a lasting relationship with your Shopify partner goes a long way, but it can be cut short if you don't pay them on time or commensurately.
If you don't want to go through the hassle of paying creators manually, automatic payments are already available by default since April 27, 2023. Access the Payments section from your Shopify Collabs app if you want to modify anything.
---
How To Maximize Shopify Collabs as a Business
Collabs is a great way to elevate your marketing on Shopify. With features that streamline finding, interacting with and paying content creators, this app makes increasing your reach and credibility easier.
But Shopify marketing is more than just Collabs. It's web design and development, content creation, public relations and outreach and more. That's why working with a Shopify marketing expert like Thrive is so essential.
Thrive can help you with everything from setting up and customizing your Shopify store to researching your target audience, launching effective campaigns and even optimizing post-launch. With us, you'll experience a more successful eCommerce presence.
Ready to get started? Contact Thrive today to score more sales and collaborations on Shopify!