Remember when Google's search results were simple, and all the results looked pretty much the same?
Even the ads were just links with descriptions. We'd all fight over those top 2 spots, not wanting to end up in the sidebar.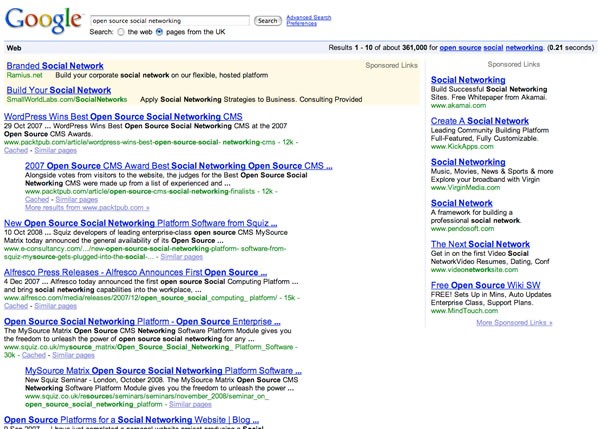 While those results might have made life more simple, they definitely didn't give us much of a chance to make our search ads really be compelling and stand out, did they?
Now, search results look completely different.
Ads at the top of the page have bells and whistles, with extra links, ratings, clickable phone numbers on mobile, and more.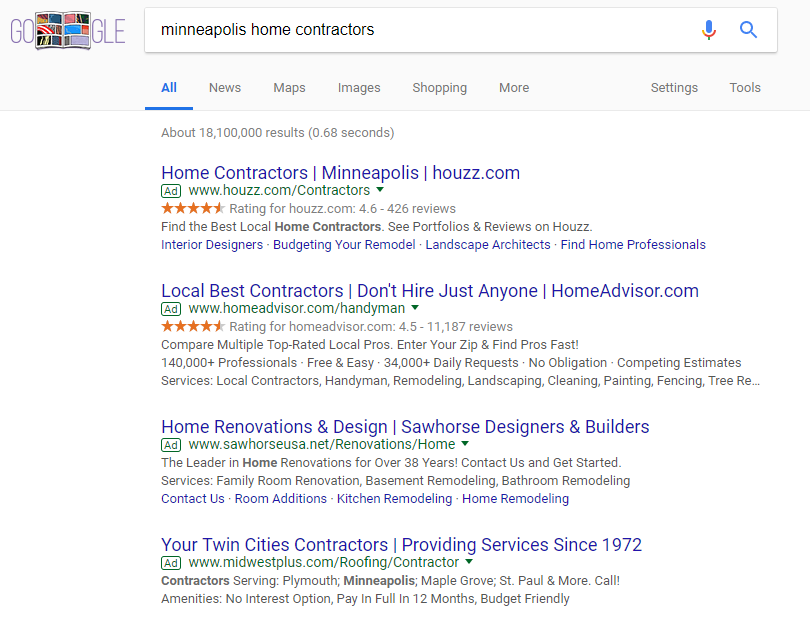 The bells and whistles you see in ads these days are called Ad Extensions. Ad Extensions allow you to show more information about your business, your products, or your services.
They can also boost your quality score which will give you a discount on your cost per click, and can also take up more space on the page, pushing your competitors down.
Types of Google Ads Extensions
Sitelink Extensions
Sitelink extensions are my personal favorite. Sitelinks are ad extensions that allow you to include more links to your website in your ad at no additional cost.
You can use these to direct people toward specific products, special sales you have running, offerings unique to your business, or any other thing you find important that you want people to know about.
The reason Sitelinks are my favorite is that they take up more space on the search results page. A fully fleshed out group of four sitelinks with descriptions filled out will take up quite a lot of real estate on the page, pushing your competitors down.
This is a good way to draw attention to your ad and take visibility away from your competitors.
Callout Extensions
Callout extensions are a line of additional text highlighting benefits the company offers. They are essentially short snippets of additional ad copy that can be used to call attention to items that would not necessarily be included in the ad copy, such as free returns, warranties, no installation fees, or other value propositions.
These extensions are not clickable links. Therefore, they aren't trackable. However, it is an opportunity to showcase unique benefits that the competitor may not offer to your consumers.
Call Extensions
Call extensions work by showing your phone number alongside your ad. If the searcher is on a mobile device, Call Extensions allow customers to click and call directly without having to go to your website.
However, they still have the option to click on your headline and go to your website if they want to see more information.
Call extensions are especially beneficial for companies that value calls more than form submissions. If your business is not open around the clock, you can schedule call extensions to show for only specific hours of the day.
Call extensions are also great if a company's mobile site is not easy to navigate or has slow load times. Local companies can benefit from these extensions as well.
Message Extensions
Message extensions are a great way for advertisers to directly interact with potential customers through text messages. The message extension will appear on the search results page next to the advertiser's normal search ad.
Clicking a message extension opens the text messaging app on the user's phone with a pre-written message for the product. You are charged the standard cost per click when someone clicks on your message extension, the same as if someone clicked on your headline.
Structured Snippet Extensions
Structured snippets are similar to callout extensions but have a structured approach. For these, you must choose a predefined category and add supporting details. They give the ad more context and relevancy for the user.
There are 13 categories to choose from. A few examples include amenities, types, services, and brands.
Like callout extensions, these are not clickable links so you cannot directly track them. However, you can see their impact on your overall CTR and performance.
Promotion Extensions
Promotion extensions are valuable additions to ads specifically for eCommerce and online sales. These extensions grab the attention of the user and entice them with a sale.
They promote sales using language that specifies savings in terms of percentages or dollar amounts. These extensions are links and can be directed to any URL of choice. They can also be scheduled to run by date, the day of week, and time of day.
Price Extensions
Price extensions are a great ad extension for several types of services, especially eCommerce and online sales. If you have fixed rates for your services, use these!
Just like Sitelink Extensions, these extensions take up page space, pushing the rest of your competitors down the page.
Location Extensions
Advertisers with brick and mortar stores might consider using Location Extensions to influence customers. Location Extensions can help potential customers find where your stores are located by providing an address, map, or the distance to your business along with your ad. They work when linked to your Google My Business account, where all of your business information and photos live.
When someone clicks on these extensions, they can get more detailed information about where you are located on the location page. If you want people to travel to your physical location, these are a fantastic resource because it is a simple process for them to click to navigate to you.
Location extensions have the ability to show your phone number along with a call button, so people can click to call your business. In addition to appearing with your search ad, enabling your location extension will also allow you to serve an ad in the maps pack and in Google Maps.
In my experience, this is a fantastic break for businesses trying to emphasize their local presence.
App Extensions
App extensions are similar to call extensions because they give the user an option: they can either click the ad to access your website or click the extension to go to the app store. If app downloads are not your primary goal but are still important, then app extensions are useful.
Manual vs. Automated Extensions
Automated extensions are added by Google when they are predicted to improve your search ad's performance. There are several types, including call, message, sitelink, structured snippet, location, and callout extensions. Dynamic automated extensions show relevant information offered on your website based on an internet user's search querys.
Manual extensions allow you more control over the extension's content, and require more setup. Depending on your specific goals, you'll want to manually choose and apply some extensions manually. Automated extensions are intended to be compatible with the manual extensions you set up.
Ad Extensions Work
Ad extensions are all about helping the advertiser provide more information to people searching on Google. The number of relevant extensions you're running can greatly affect the appeal of your ads.
The more appealing the ad, the more likely it is to receive clicks. As we know, clicks help lead to sales, leads, conversions, bookings, or whatever you are offering. If you want your ad to stand out on the search results page, you need to be utilizing ad extensions. They give your ad greater visibility and help set your business apart from your competitors.
Ad extensions have been proven to increase Click-Through-Rates (CTR) significantly. However, increased traffic to your site isn't the only benefit of higher CTR.
CTRs are a significant factor in calculating your quality score. Good CTRs are sure to boost your quality score, which means Google is going to favor your ad more often, resulting in higher positions and cheaper costs per click.
Need help implementing ad extensions or managing your PPC campaigns? Let's chat!