Your potential customers discover your brand and business and understand your value proposition through online content. Generic website content and average blogs don't quite cut it — you need high-quality and optimized content backed by a robust content marketing strategy to generate leads.
Most of your target audience is either part of the 2 billion people buying goods and services online (Statista) or the 72 percent of customers who visit a physical store after doing a local online search (HubSpot).
In both cases, a search engine such as Google is their first step — and Google is in control of what your target audience finds. To meet Google's standards, you need a search engine optimization (SEO) strategy that ensures your online presence qualifies to rank high on search engine results pages (SERPs).
High-quality online content is a vital ranking signal. Marketing content that is written with your target audience in mind is how your website becomes eligible for higher SERP rankings. This type of content uses popular and specific search terms, known as keywords, and answers your target audience's questions.
A mastery of SEO principles and marketing content can effectively generate leads. The higher your site ranks, the more likely your target audience will find your site and engage with you.
A 2020 Sistrix study found that websites ranking first on Google get an average click rate of 28.5 percent. For a high potential return, it's easy to see why SEO strategies are worth your investment — and content marketing is indispensable to SEO success.
This blog is the first of a two-part series on results-driven writing, where we address content marketing and how to make it work for you.
Learn everything you need to know about marketing content and how to generate leads through SEO content writing:
•  What is content marketing?
•  Why content marketing is important
•  How to write SEO content
•  Crafting a winning content marketing strategy
---
What is Content Marketing?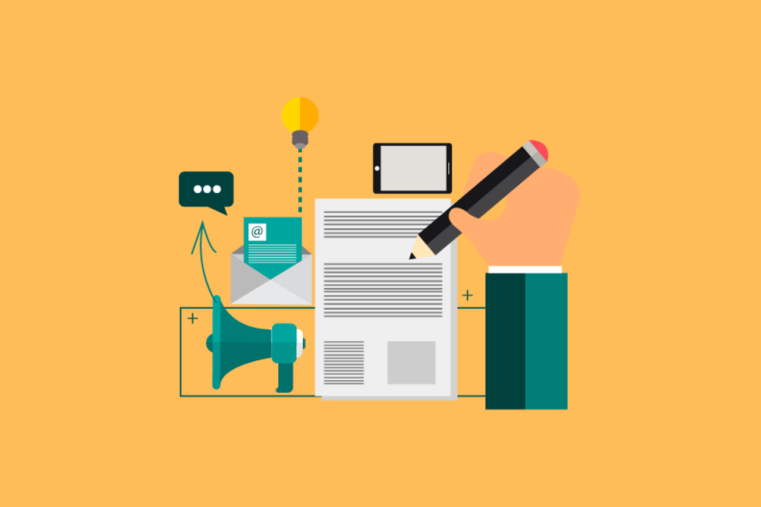 Content marketing is the process of attracting your target audience by creating and distributing content that provides added value to your target audience and drives traffic to your website. They become leads when they decide to engage further with you by leaving their contact information or directly reaching out to you.
Content marketing lead generation strategies include writing blog posts and articles about your area of expertise and creating videos and podcasts that are ideal for social media posts. 
Other types of lead generation content are whitepapers, eBooks and newsletter content.
When you produce relevant and helpful information, you reach a broader audience and more potential leads. Lead generation content needs to be planned well in advance to be effective — you need an overarching content marketing strategy aligned with your specific audience and goals.
Some Content Marketing Examples:
1.  Software Company
An example of a business-to-business or B2B content marketing strategy leader is customer relationship management (CRM) software companies. CRM software is designed to help businesses manage their databases. Their B2B content marketing strategy would be centered on offering free marketing courses to talk about effective marketing, and, in the process, highlighting how their software is essential to improving business.
2.  Web Design Company
Another example of a B2B content marketing strategy is from the perspective of a web design company. They could leverage their extensive web design experience and produce a blog or whitepaper on the top web design mistakes. To receive a list of exclusive tips, the company would ask the reader to fill out a contact form, agree to receive communications and send the list through email.
3.  Fitness Brand
The previous content marketing examples show how businesses can get creative with their B2B content marketing strategy, but centered on creating valuable content and attracting leads.
Fitness brands provide some of the best content marketing examples for businesses targeting consumers directly. An activewear brand can produce blogs or infographics about the benefits of exercise. That same brand can talk about how important it is to be comfortable while working out and display their product photos with purchase links. Compared to a B2B content marketing strategy, an activewear brand's goal is generating immediate sales.
Why are these content marketing examples effective? They draw in your target audience subtly. Directly selling your product through ads and promotions work for some, but not for others. Content marketing lead generation taps into your target audience's curiosity and desire to learn, while introducing your brand value naturally.
We've answered "what is content marketing" and understand why content marketing is important, but your exceptional content won't drive leads if it doesn't reach your target audience online.
Let's delve into why content marketing is an important aspect of online searches and SEO.
---
Why Content Marketing is Important
A 2020 HubSpot survey revealed 70 percent of marketers are actively investing in content marketing strategies — it's profitable and drives results. With most of your target audience online, an SEO strategy helps you to produce an optimized content marketing plan that ensures your website and brand is found online.
Let's dig deeper into the relationship between content marketing, lead generation content and search engines.
Content marketing is focused on creating excellent content that is useful and interesting to your potential customers. But you need SEO techniques to ensure that your content will rank high. Without an optimized content marketing strategy and high-quality content, you will have minimal opportunities to rank high and increase your leads.
Google's search engine algorithms cannot read your content the way a human would. Instead, it uses technical cues and writing quality standards to determine if your content qualifies for higher search rankings.
We'll cover this by discussing how to write SEO content and why it's important.
---
How to Write SEO Content
Google's global search engine market share is a jaw-dropping 92.71 percent. Google doesn't provide exact data on search volume, but around 70,000 search queries are done per second.
The numbers tell us this: Optimizing your content for online search is necessary but it takes a specialized approach.
SEO content writing boils down to three things, known as search engine ranking signals — using relevant keywords, having content that aligns directly with the searcher's intention and structuring your content well.
SEO content writing should perform well in terms of search engine ranking signals and be of a high enough quality to keep your target audience interested.
3 Practical Tips for How to Write SEO Content that Gets You Found Online:
1.  Use Strategic Keywords
Keywords are the exact terms your target audience uses to search online. For example, someone looking for a solution to their bad cough would use the keywords "home remedies for cough" or "cough medicine" to find what they need online. At the top of the search result, that person would find a drugstore's website that wrote a high-quality blog on "10 home remedies for cough" and used the keyword "home remedies for cough" effectively.
Through in-depth keyword research, you better align your content to what your audience needs by learning their exact search queries. Include strategic keywords in your titles, meta descriptions (the short text you see below the page title in the search results) and throughout all sections of your content to improve your keyword rankings and site relevance.
2.  Match User Search Intent
Google has always led the charge in a customer-first approach to digital strategies. Its top priority in delivering search results is search intent or user intent, giving the searcher exactly what they're looking for. For example, two blogs could be optimizing for the keyword "cough medicine" but one is selling cough medicine while the other lists the top cough medicine brands.
Google's algorithm prioritizes getting the searcher the answer they need by understanding the search query (clustering common query types and improving how the algorithm processes it) and finding the page that best matches the user's intent. Google's Search Quality Evaluator Guidelines help you learn how to optimize for search intent.
Technology has come a long way in natural language processing (NLP). There is an algorithm called BERT that was trained to understand human language better, context and nuances included. Google nicknamed this DeepRank and uses it to improve its understanding of search queries.
Keyword placement matters, but algorithms can detect when writing doesn't make sense. Provide credible, direct and reliable information in your content and become the best resource for the keywords you want to rank for.
3.  Structure Your Content Well
The terms for the way Google "reads" your website content is crawling and indexing. A crawler (an automated bot or program) scans the internet for all available resources and Google indexes it or stores it among all the available web pages. If your page is not indexed, it won't show up on search results.
To help understand your content better and improve your page indexing, Google advises creating short and meaningful page titles and using page headings to capture the subject of the page. It would help to write descriptions (called alt text) for the images you add, and use numbered lists when applicable — one of the best ways to optimize your content for Google's featured snippets.
Google is rolling out "passage based ranking" where it improves its ability to understand page sections. It currently delivers the best page for a certain search query, but with passage based ranking, it can provide the best section of that page. Combining an optimal page structure with a mastery of search intent will give your content more chances to rank high.
Using strategic keywords, matching user search intent and optimizing your content structure are search engine-oriented ways to get your content to be more visible online. However, more than ranking high on search results, the real goal is to win new customers. This means writing in a way that piques your target audience's interest.
Basics of How to Write SEO Content that's Engaging and Customer-Centric:
➜  Know Your Audience
The first step a good content writing company would take is to understand your brand and (most importantly) your audience. Thorough audience analysis and research helps you identify your potential customers' needs and wants.
Create an online persona based on the research you've conducted and data you've gathered about your target audience. You can then write content that prioritizes search intent, resonates with your potential customer's pain points and answers all their questions from their perspective.
➜   Write Powerful Headlines
Powerful headlines use words that command, elicit emotions and are memorable. Some of the go-to tips are to keep it simple (an average of seven words), use numbers and capitalize properly. Many successful headlines start with the words "what", "why" and "how" and give a complete picture of what the content is about.
Here's an expert tip from a leading content writing company: Some of the best headlines are found in online reviews — use your target audience's exact language to create headlines that are relatable and catch their attention.
➜  Create Easily Digestible Content
High-quality content writing services produce concise, straight to the point and well-structured content. Search engines prioritize pages that optimize the user experience (UX), creating seamless interactions on your website and minimizing friction points. Part of what makes a good page experience is writing content that is easily understandable or consumable.
Get your reader the answers they need in the shortest possible time. Heavy blocks of text are sure to make readers want to exit the page. Make your content more scannable by outlining your content well, complementing it with images and using bullet points when possible.
How to write SEO content can be summarized like this: You need to simultaneously optimize for search and deliver value in your content. Stuffing your content with keywords thoughtlessly or focusing solely on your message is an inefficient approach to content writing. Hit all the marks for content marketing lead generation success when you write for both people and search engines.
Optimized content marketing and SEO content writing should answer your target audience's questions and enable them to discover your products and services in the process. You need to strike a balance between optimizing your content for search engines and your potential customers for the best results.
---
Craft a Winning Content Marketing Strategy
SEO without content marketing is like a body without a heart. An overarching content strategy is the lifeblood of your SEO campaign. Developing your content marketing strategy around audience-centric content optimized for search will bring exceptional results for your lead generation efforts.
Maximize your content marketing strategy by:
➜  Implementing SEO techniques in your content
➜  Choosing the right channels to publish your content
➜  Producing relevant and consistent content
After you've attracted new leads through content marketing, you need to convert your leads into customers (watch out for the next blog to complete this two-part series!).
Trust Thrive Internet Marketing Agency to provide expert content writing services that grow your business. Our content writing company has over 15 years of experience conducting topic research, keyword research and performing audience analysis to ensure your content is relevant and showcases your value proposition.
As a full-service digital marketing agency, we take a holistic approach to delivering content writing services with the help of our in-house SEO experts. Our goal is to drive more traffic to your site through organic search, external links and social media sharing for maximum returns.
Schedule a consultation with us to learn how we customize our content writing services to your brand persona and unique business goals.