If you have a business, you probably have one of Facebook's business Pages set up. You also probably have a love-hate relationship with it.
You're not the only one.
Even though Pages connect businesses with interested users and loyal customers, Pages don't really help them gain new followers, and they don't deliver scalable business results. In fact, businesses have begun to neglect their Pages as Facebook's algorithms continually tweak which organic posts consumers see in their News Feeds, focusing on content from friends and not businesses—not even local businesses consumers want to hear from.
But Facebook, ever the champion of change, wants to make Pages useful again for their users and the 80 million businesses that have Facebook Pages. Their improvements may not bump reach on News Feeds, but that's not their goal.
Every single week, two-thirds of Facebook users visit a local business Page or an Event Page. Facebook's new updates are meant to make Pages more useful to visitors—a key audience already interested in purchasing a businesses' products or services.
Forget reach. Now, Pages will focus on utility.
Facebook has decided to make business Pages action-based. What does that mean? With the new-and-improved Pages features, Facebook users will be able to make massage appointments, call salons, order pizza, or view restaurant menus right there on Facebook. They can even buy event tickets through Event Pages.
If you haven't gone through it already, their new setup process allows you to choose a vertical template (Services, Restaurants, and Retail/E-commerce Businesses) that enables easy-to-add CTA buttons tailored to your specific business. These CTAs are prominently located at the tops of Pages, or the bottom for mobile users.
This may seem like a simple change, but it could mean a lot for your business. If a user is already interested in you and on your Page, that means they're already primed to take action. By having an actionable CTA, you can get real business results directly through Facebook.
Expert Facebook Page CTA Tips
If you run a service business: Set up a services menu and consider setting up appointments on Facebook to make your Page a one-stop-shop.
If you run a restaurant: Add your menu (and keep it updated) so customers can check out your newest offerings.
If you run a retail or e-commerce business: Create a shop section so consumers can make purchases without leaving Facebook. And if you'd still like to sell your products through your website, set up a CTA and a Facebook pixel so you can see just how much these new pages are improving business.
Yelp, beware: Pages will show recommendations in addition to reviews.
Reviews were already a feature on business Pages, and they've been modified a bit, with a strict 25-character minimum designed to make comments more robust and discourage fake reviews. But now, all users can see recommendations related to your business.
This isn't entirely new. Previously, when users asked for dining or entertainment suggestions with Facebook's special News Feed post format, their friends could give recommendations and those would show up in News Feeds. Now, those recommendations will appear on Pages.
Facebook's Recommendations could mean big things for small businesses. As we all know, we're more likely to go to a restaurant that a friend (or friend of a friend of a friend) says is delicious. Who can resist a hip salon that has been glowingly recommended by someone—especially if she leaves a convincing picture to boot?
Recommendations mean businesses need to be on their top game, so that people looking at your services or products will see a mountain of positive reviews and recommendations.
And don't forget to turn the feature on so you can take advantage of it.
Breaking Facebook news: All reviews to change to recommendations.
In addition to the above changes with Recommendations showing on your Page, it looks like Facebook's plan is to change reviews for all Pages over to recommendations. Instead of choosing a star rating and writing out a review, Pages will now just have a yes/no recommendation section and will give your Page a rating out of 5. Your current reviews will stay, but the process of leaving one will be different soon.
For more on this developing change, find the story on BrightLocal.
Choose a filter: All businesses can post Stories to Facebook.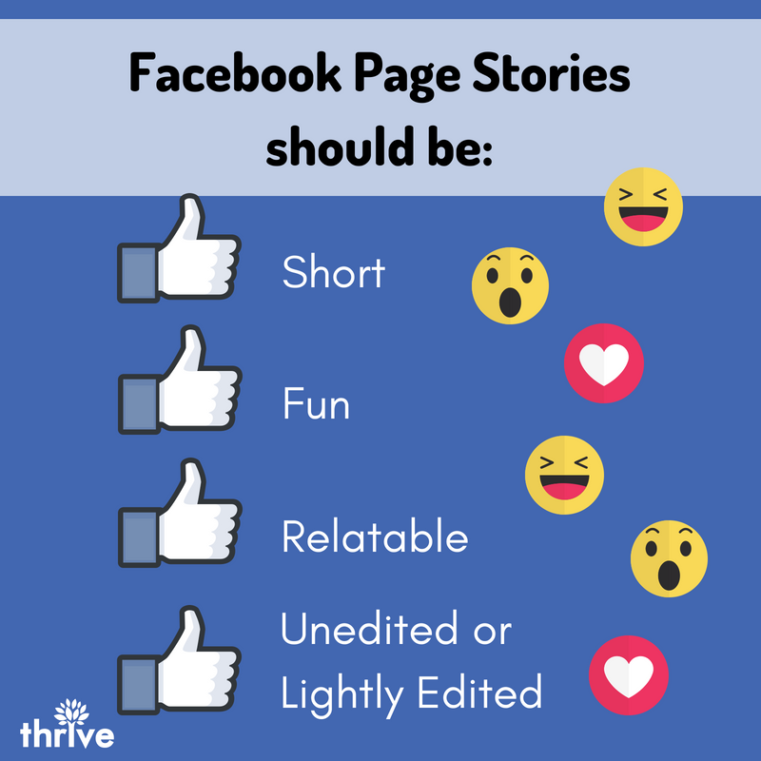 While Facebook won't be changing the News Feed algorithm to bring your posts to the attention of potential customers, they've provided a new way for you to get in front of your audience.
All small business Pages can post Stories, one of Facebook's most interesting features.
These short, disappearing photos or videos (similar to Instagram Stories) are a great way for you to help potential customers keep your brand top-of mind. They appear at the top of users' mobile devices, and once a user clicks on one, your content will fill 100% of his or her screen.
Be careful though: Stories are meant to be authentic and humanizing, so be sure that your Stories don't seem too refined or ad-like.
Page Stories should be:
Short
Fun
Relatable
Unedited or lightly edited
Smaller businesses can dive into an Olympic-sized applicant pool.
For smaller businesses, staffing is a continual problem. This is another problem that Facebook is determined to fix.
With their new job posting application, businesses can spread the word about openings, access a wide applicant pool, and review applications on the go.
This tab will be extremely handy for both businesses and customers. While businesses will be able to access a lot more applicants, users who don't like or want to use LinkedIn have a chance to apply to all kinds of jobs, including those that don't tend to have a home on LinkedIn's platform.
Incoming competition: "Related Pages" will show up on your Page.
Now to the one controversial change: Facebook has decided to start showing "Related Pages" on businesses' pages. That's right; your competitors will show up when someone visits your Page.
Facebook's VP of Local, Alex Himel, has argued that "there's no easy way to discover new businesses on Facebook…[so we want to] make it easy to discover new businesses…" However, some businesses are understandably upset.
While a consumer might find this addition super useful, small businesses are upset that people looking at their specific Page will be presented with other, similar options.
But, take it as a challenge; these Related Pages just mean that you need to prove you are the best option out there. Be sure to answer all customer questions via direct message or comments, cultivate positive reviews and recommendations, and be the awesome business you know you are.
Think you need help getting the most out of your new business Page? Want some direction with Facebook's Stories?  Our social media team will be happy to set up your Page for success.