Content marketing, as many know, is essential to generating leads and boosting conversions. But it also works to reduce customer churn rate. By incorporating content marketing into your customer retention efforts, you're helping your bottom line grow.
In this article, we'll answer these questions to guide you through the steps you need to take to boost customer retention:
• What is customer retention?
• Who manages customer retention strategies?
• What is a good customer retention rate?
• Why is customer retention important?
• How do you utilize your content marketing strategy to increase customer retention?
• 5 tips on how to improve customer retention
---
What Is Customer Retention?
Customer retention, expressed as a percentage, measures the number of customers retained by the end of a given time frame. Companies can use it to quantify brand loyalty or their ability to retain customers.
There is a strong correlation between customer retention and a stable revenue stream, which is why implementing a customer retention management program is necessary. By doing so, businesses can extract more value from customers, such as repeat purchases.
Comprehensive customer retention strategies, in essence, focus on building and nurturing relationships. Therefore, its processes and actions are explicitly designed to ensure a great customer experience, leaving little to no room for customers to defect to competitors.
---
Who Manages Customer Retention Strategies?
On how to improve customer retention, there is no single entity within an organization that can take full responsibility. Instead, it entails entire teams from different departments working together to retain customers.
Usually, the departments that play a crucial role are:
• Product development
• Marketing
• Sales
• Customer support/service
One thing companies should recognize, too, is the importance of eliminating silos to prevent gaps in communication and ensuring everyone is on the same page.
Examples of departments communicating and working together to enhance customer satisfaction levels:
• The service or support team can identify the most common pain points. Then, they communicate the customer feedback to the product development team so they can make the necessary updates. In some instances, the information provided by customers may even lead to creating new value propositions.
• To build brand loyalty, the marketing team may decide to offer incentives. In this case, they may use customer data from the service team to provide some form of reward to offset a negative experience.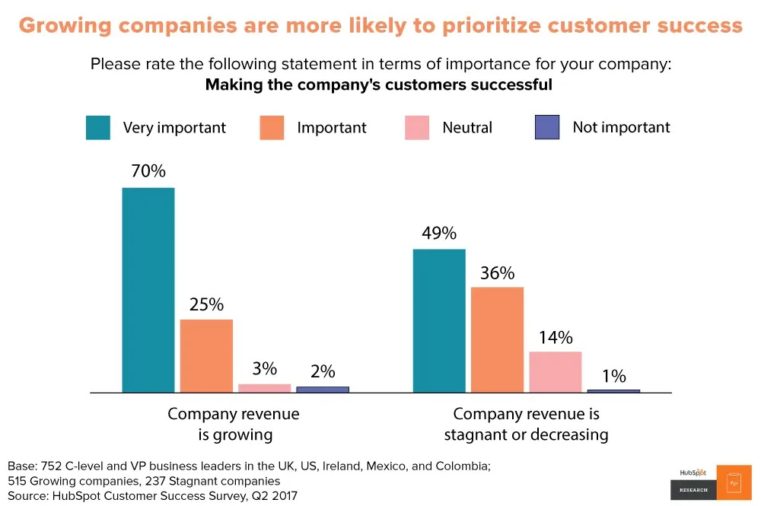 For growing organizations, having a customer success team tasked with managing the customer retention program is necessary. While their primary role is to nurture relationships through customer engagement, they are also responsible for facilitating customer retention activities across multiple departments.
Customer success teams should also work with each group, helping them organize and manage their operations to increase customer retention.
---
What Is a Good Customer Retention Rate (CRR)?
CRR is the percentage of customers that continues to do business with the company in a given time frame. A high rate is a healthy indicator of customer engagement in the form of additional or repeat purchases.
Ideally, the customer retention rate would be 100 percent, but this is simply not possible in the real world. So, the next best thing is to match or exceed the industry average.
Table. Average Customer Retention Rate by Industry
| | |
| --- | --- |
| Industry | CRR |
| Retail | 63 percent |
| Banking | 75 percent |
| Insurance | 83 percent |
| IT Services | 81 percent |
| Professional Services | 84 percent |
| Telecom | 78 percent |
| Media | 84 percent |
| E-Commerce | 34 percent |
| Fintech | 78 percent |
| Ed-Tech | 27 percent |
| Food Tech | 16 percent |
| Sports and Gaming | 31 percent |
| Travel and Hospitality | 55 percent |
The average customer retention rate varies by industry due to many factors. In professional services, for instance, companies use a personalized marketing approach to develop strong customer communication and relationships, which explains why the CRR in this industry is high.
So, what is a good customer retention rate for your business? To determine how your company compares to the competition, you need to know how to calculate CRR.
Customer retention rate formula:
• ((E – N) / S) x 100 = CRR
Key metrics required to calculate CRR:
• E. The number of customers at the end of the given time frame.
• N. The number of new customers acquired within the given time frame.
• S. The number of customers in the customer base at the start of a given time frame.
Example computation of customer retention rate:
• E = 900
• N = 400
• S = 600
Customer Retention Rate: [(900 – 400) / 600] x 100 = 83.3 percent
Based on the example, the percentage of customers who remained loyal to the business is 83.3 percent. As for the time frame, that is for the company or its customer success team to decide. It could be a month, quarter, or year.
---
Why Is Customer Retention Important?
Customer retention strategies, such as personalized marketing campaigns, effective customer communication, innovative products, impeccable services and loyalty rewards, are beneficial to forging strong customer relationships. These measures, when implemented, help companies see an increase in their profitability.
Here are the top reasons why customer retention is essential to businesses.
1. Repeat Purchases
According to Frederick Reichheld, the creator of the Net Promoter System of Management, "a 5 percent increase in customer retention produces more than a 25 percent increase in profit." That is because loyal customers make repeat purchases and sometimes in larger quantities. They may also try new products or services offered by a company.
To illustrate, Netflix has a customer retention rate of 83 percent after one month and 72 percent after six months. With more than 214 million subscribers, the company generates a steady income from over 154 million subscribers. Essentially, the higher their customer retention rate, the more revenue they generate.
2. Reduced Costs
It costs less to keep existing customers than to get new customers.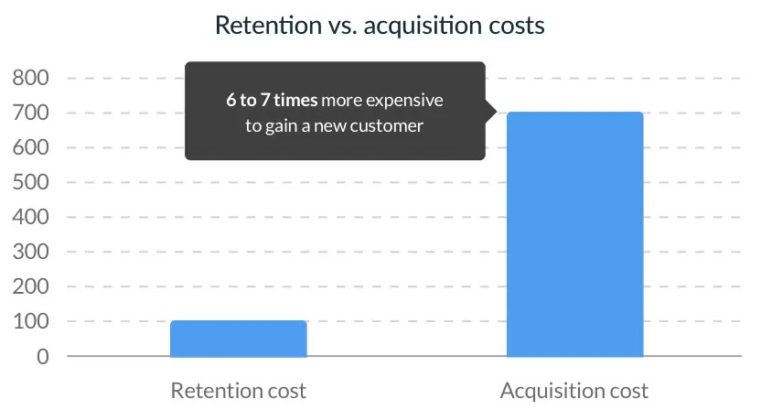 Source: struto.io
Within the business community, some believe that customer acquisition costs five times more than customer retention. In other estimates, it could cost six to seven times more. While not quantifiable, these figures indicate that keeping customers help reduce marketing costs.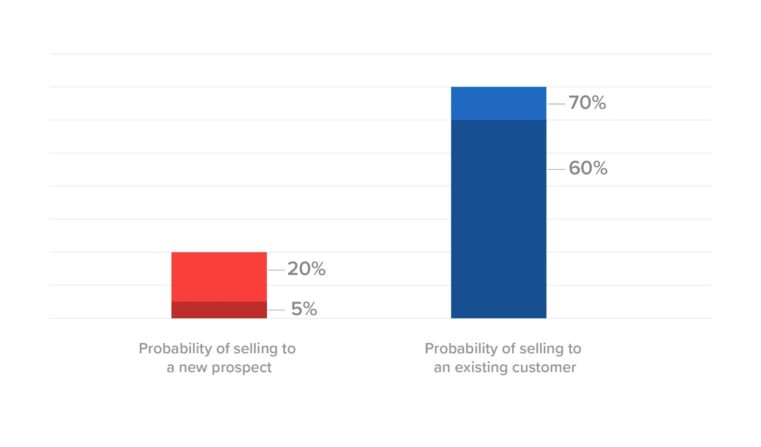 Source: superoffice.com
The success rate of selling to new customers is only 5 to 20 percent. For this reason, companies spend a significant portion of their marketing budget on enhancing brand awareness and advertising products or services. However, existing customers are not the same. For one thing, they already know and have used the product or service. As such, there is no need to spend as much as acquiring them.
3. Increased Brand Loyalty
Few consumers love a brand the first time they engage and have a great experience. Instead, 80 percent of them grew to love a brand over time due to a variety of reasons, such as
• Great products
• Excellent buying experience
• Superb customer service
• Positive customer feedback and reviews
Around six out of 10 loyal customers would go out of their way to buy products from a brand they love. As repeat customers, they tend to buy more products than they did the first time.
The value of retaining customers also does not stop with their repeat purchases. They also become brand ambassadors, telling other people about their positive experiences, which help their favorite brands get new customers without entailing marketing costs.
Loyal customers are excellent sources of information. Companies, for instance, can make necessary changes through customer feedback to further improve their products and services.
---
How Do You Use Content Marketing Strategy To Increase Customer Retention?
Content marketing is not only about enhancing lead generation and conversions. It is also as much about retaining customers. In this case, the best approach for companies is to cover each stage of the buyer's journey.
Consumers, in general, go through five stages.
1. Awareness Stage
Consumers realize they have problems or needs during the awareness stage that require a solution, which is why companies should focus on reaching people and letting them know about their products.
Content should be concise, easy to digest and relatable. Since the goal is to attract potential customers, companies can provide freebies like ebooks and even use social media platforms for customer communication.
Content types used to raise awareness include
• Blog posts
• Checklists
• Emails
• Ebooks
• Infographics
• Social media
• Videos
• White papers
Companies must understand what customers care about and address them in their content. Furthermore, they should know where the consumers look for solutions and publish content in those channels.
2. Consideration Stage
The consideration stage is when consumers decide which brand to choose. Rather than persuading them, it is better to show them how a product can solve their problem.
Marketers can focus on two types of content:
• Informative content that shows how products work
• Instructional content that shows how to use products
The types of content used during the consideration stage include:
• Blog posts
• Case studies and industry reports
• Ebooks
• Reviews and testimonials
• Studies
• Webinars
A crucial element that a content team or writer must consider is that this is not the time to sell products. For instance, how-to articles and guides show how products solve customer pain points. Comparison articles, meanwhile, help consumers choose which solution is best for them.
3. Conversion Stage
The conversion stage is when buyers are ready to buy. So, the focus of content marketing is to convince them to pull the trigger.
The type of content used in this stage is mostly the same as the consideration stage. However, one key difference is that the content must be more persuasive and personalized. Also, it should incorporate a call to action.
The types of content used to turn leads to conversions are:
• Blog posts and guides
• FAQs
• Videos
• Webinars
Consider providing free trials, assessments, or consultations. This practice is prevalent across many industries and is an excellent way of convincing customers to buy. It is also a great way to collect customer data for future communications.
4. Loyalty Stage
Companies that neglect the importance of customer retention may have a high churn rate. As already alluded to, it costs more to acquire new customers. So for companies to grow, they have to keep getting new customers at high marketing costs. But by incorporating customer retention strategies in daily operation, the increased customer lifetime value will help drive sustainable growth.
The content and tools used to increase brand loyalty include:
• Blog posts
• Customer onboarding emails
• In-app messages, guides, and walk-throughs
• Public help desks and forums
• Social Media
• Surveys
• White papers
For existing customers, companies should focus their content marketing strategies on convincing them to continue buying. One example would be customer onboarding by sending a welcome email, which may outline important information and instructions.
Some companies also ask for feedback, such as the reason for buying a product or service. This form of customer communication lets a company gather customer data and gain valuable insight into improving customer experience.
Marketers should develop content marketing strategies that aim to improve customer retention rates. So, the content should also focus on supporting customers rather than only upselling.
5. Advocacy Stage
Why stop when customers are already loyal? Among all types of advertisements, none works better than word-of-mouth recommendations. Loyal customers are repeat buyers, but not all will make recommendations or share their positive experiences. So, the goal of marketers is to turn them into brand advocates.
Digital marketers can turn loyal customers into advocates by providing:
• Exclusive content, insider how-to's and social media communities
• News and events
• Opportunities to collaborate with customers
• Referral links
• Rewards programs
• Social media engagements and sharing options
• Special offers
Companies can forge a more robust relationship by making them feel cared for and valued. For example, some offer an exclusive forum or group where the owner and management team can interact with valued customers.
In general, the content marketing strategy adopted in this stage is to create more opportunities and channels for loyal customers to spread the good word.
---
5 Tips on How To Improve Customer Retention
Here are tips on how to increase customer retention rates while building a solid customer relationship.
1. Publish High-Quality Content Consistently
Usually, companies that launch a new website would fill it with content. But some slack off or stop creating and publishing new content at some point. So this presents severe issues like not raising authority and little to no visibility on search engines. The most glaring concern is not having enough content to engage potential customers.
Content marketing should not be a one-time or limited-time process. Instead, publishing high-quality, compelling content on various channels opens more opportunities to acquire and retain customers.
2. Gather and Use Customer Data
Most businesses do not gather customer data such as email addresses. It is unfortunate because there are significant reasons it benefits a company.
• Companies can enhance customer onboarding by sending a welcome email with instructions or a guide on using their product or service.
• Emails may contain important information that customers need, and they would want to have a record of those in their inbox for future reference.
• Companies can send more information and tips on product usage in the future. They may also occasionally soft-sell new or related products to generate more revenue.
• Companies can provide exclusive content that educates them about the industry, product, or service. In addition, they can also offer more value by providing access to different forms of content on various channels.
3. Focus on Providing Value to Customers
Content like blogs need to be search engine optimization or SEO-friendly. Unfortunately, some might focus too much on SEO, sacrificing quality and value. As a result, the content may not deliver customer desired results. Marketers should balance SEO and customer benefits to avoid this dilemma.
Throughout the various buyer journey stages, focus on providing information that potential and existing customers will find valuable. This practice is crucial to building trust and loyalty, which leads to increased customer retention rates.
4. Keep Engaging With the Audience
Companies should make it easy for a customer to find info, which is one of the goals of publishing content. But more importantly, they should also communicate with customers, especially on social media.
Customers, especially the loyal ones, love engaging with brands they like. So the happier they are, the more they will not defect to competitors – that means more revenue in the future.
5. Personalize Content Marketing Campaigns
Companies that personalize their brand messaging have successfully built strong customer relationships. For small businesses and professionals, that is easy to do. But as an organization grows, it may become more complex as budget considerations may force some to produce content that tends to be vague.
At any rate, there are plenty of other ways to personalize a customer experience. For example, social media engagement can humanize a company and project itself as authentic. Most especially when responding to negative reviews, focusing on fixing a problem and satisfying customer needs is imperative.
---
Content Marketing Solutions To Increase Customer Retention
What is customer retention to you? Some of the benefits are brand loyalty, a stable revenue stream and sustainable growth. These are more than enough reasons to incorporate customer retention practices in your content marketing strategies.
When developing strategies to retain customers, consider the five buyer journey stages.
• Awareness
• Consideration
• Conversion
• Loyalty
• Advocate
Create content that targets each stage so that you can effectively convey your brand messaging. Specifically, the loyalty and advocate stages are crucial to increasing customer retention rates.
Call 843-353-6383 or contact us for more information on using content marketing and online reputation management to increase your customer retention rates. Our specialists can discuss custom strategies for free.