Thrive is an SEO company in Tampa, FL that provides online marketing services to companies, organizations and brands of all sizes, from single-location shops to large corporations.
Thrive has a dedicated team of SEO Specialists with years of expertise in helping Miami area businesses with their SEO and digital marketing campaigns. Thrive is a full-service digital agency, providing digital marketing services such as SEO, PPC, web design, social media, and more.




But Don't Take
Our Word For It

Marci Wiersma
Broker - About Roatan Real Estate
"They do everything they say...no BS"
"Thrive is a much needed blessing and exceeded our expectations in every way. They are honest, straightforward, they take care of ALL your needs quickly, they are reliable, you can count on them and most of all, they do everything they say they will do, no BS."

Whitney Wells Lewis
Practice Manager - PARC Urology
"These guys are incredible"
"These guys are incredible. They've helped us to grow our business and now the biggest problem we seem to come across is having too much business - which is the ideal problem to have. We are right where we wanted to be and Thrive made that possible. Thanks guys!"

Chad Montgomery
CEO - Accurate Leak and Line
"Unrivaled customer support"
"Working with the Thrive team has been a most pleasant experience! Their dedication and passion for what they do is exemplified by their unrivaled customer support and attentiveness to the specific needs of our business. We look forward to a long lasting and prosperous relationship!"


Ready to Grow Your Business With
Miami SEO Services?
Click the button below for a free proposal
Why Choose Thrive As Your Tampa SEO Company?
Did you know that Tampa is Florida's westernmost large metro?
Orlando is bigger, but that's made up of multiple cities, combined. While SEO in Tampa has its challenges, so do all large Florida metros.
If you're a business owner in the Tampa area, you're probably already well aware of the challenges of getting found online and outperforming your competitors.
No matter where you're located in Florida and how much of the city, state, country or even world you're targeting with your products or services, SEO can drastically improve the number of online sales or leads you're getting through your website.
Extreme customer focus
We strive to understand your business goals first, then develop a strategic online marketing plan (SOMP) to use as a road map for your SEO campaign.
No Contracts
We believe in our services and Specialists to deliver a positive return on investment for our Tampa SEO clients.
Dedicated SEO Specialist
You get direct access to the team member that will be implementing your campaign.
Data-Driven
As Google Analytics certified professionals, we will make data driven-decisions about your campaign.
Transparent Reporting
We provide custom, in-depth reporting and time tracking so you can easily monitor your return on investment (ROI).
Get Your Free Instant SEO Audit Report Now!
Free Instant SEO Audit Report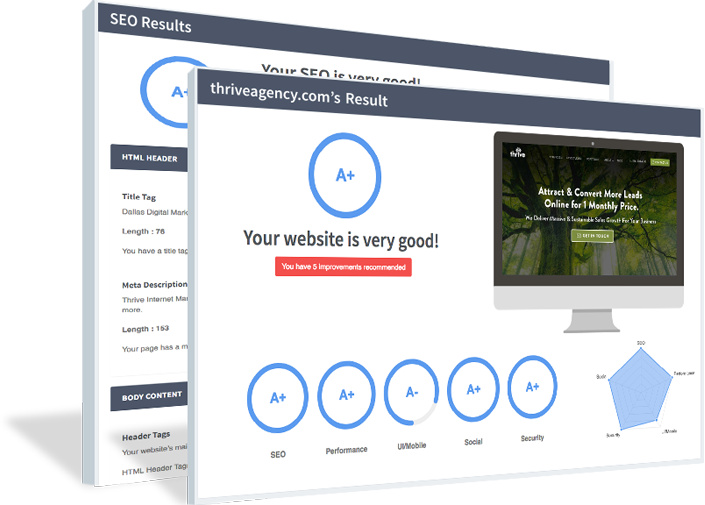 Tampa SEO Learning Resources
Ready to learn a little more about how Thrive can help you and your company achieve SEO success? Here's a few learning resources based on questions we hear from Tampa businesses like yours. Have a question of your own? Give us a shout!
Thrive: The Best SEO Company in Tampa
At Thrive, we've been in the industry since 2005. That's quite a few years to grow right along with the whole industry! We've been through so many search engine algorithm updates, so many new best practices, so many new search features, and we've grown, changed and adapted right along with all of that.
We're always keeping up on the latest SEO trends, and our team members are all certified in multiple necessary skills. Speaking of the team, want to meet us? Meet the Thrive team!
Beyond our Tampa SEO team's experience, we truly care about our clients and their success, and we work on not only results, but also relationships. We believe that we can't deliver great results without having a great relationship with our clients. It's important for you to be happy with what we're working on!
What is SEO?
SEO, or search engine optimization, is the act of doing many things to improve the visibility and search rankings of your website. With over 200 ranking factors, it's important to keep your website up to speed with Google's rules.
And, the goal of each search engine is to provide answers and resources to user queries, and it's much more than keywords. Search engines will crawl your website and rely on additional indicators such as backlinks and page speed to help identify where in SERPs your website belongs.
Our Tampa SEO experts will audit your current situation, analyze the competition and build a strategy tailored specifically for your business, full of keyword research and opportunities to bring you more website visitors and new leads.
Types of SEO services offered
Search Engine Optimization – Also known as SEO, Search Engine Optimization is crucial to improving your website's ranking. From comprehensive onsite SEO, such as title tags, meta descriptions, and content creation, to link building, Thrive Internet Marketing Agency can create and build a custom SEO strategy tailored just for your business.
Local SEO – If your business has a single or multiple regional locations, then you will likely benefit from our local SEO services. With our local SEO services, we can help your business achieve higher rankings in local search results in order to beat your competition.
Franchise SEO – If your franchise isn't showing up in search engine results, then this likely means that you aren't attracting the right customers. In addition to local SEO services, we also specialize in franchise SEO services to help franchises focus their efforts on attracting the right buyers and to also get the strongest ROI.
eCommerce Optimization – The majority of consumers are shopping online today. In fact, 71 percent of shoppers believe that they will get a better deal shopping online rather than in stores. However, the majority of small businesses online do not have optimized eCommerce sites, which is resulting in lost sales and lost revenue. Work with an expert SEO company to help your business achieve a higher ranking
Get My Free Tampa SEO Proposal
Thrive is a full-service Digital Marketing Agency
If you want to increase your brand's online presence, automate your marketing activities or effectively reach your target audience and prospective buyers, then you need a Tampa digital marketing firm that can help. Thrive specializes in the following areas of digital marketing services:
Web Design and Development - First impressions are everything. What do your prospective buyers think when they click on your website? Does your business even have a website? If you are looking for a mobile-ready and optimized website that is custom built according to your business' objectives and that also boosts your search engine rankings, then Thrive is the answer you are looking for.

Search Engine Optimization (SEO) - You have a solid website, but you aren't being picked up by search engines. Why? This is a common mistake that many business owners and entrepreneurs make. Through proper keyword research, placement, and other best SEO practices, we can help you achieve a higher ranking.

Social Media Marketing - If you are looking for ways to delight your audience or to engage with them, then you need to boost your social media marketing. However, social media management can be time-consuming and costly. This is why it can be helpful to partner with an experienced digital marketing agency in Tampa, FL to help you create a social media campaign as well as automate and streamline all of your social media marketing efforts.

Pay Per Click Management - We help create and build PPC campaigns that boost your SEO efforts, drive traffic, leads, and revenue to small and large businesses that are looking to improve their bottom line.

Email Marketing - Email isn't going away anytime soon. If you are looking for guidance with your email marketing campaign or if you are interested in creating an email marketing campaign that generates qualified leads and boost conversion rates, we can solve your email marketing needs.

Content Writing - Content is King. High-quality content, optimized content and content that is well researched and that appeals to your audience are all keys to a successful content marketing campaign. Our content writers know how to create high quality, optimized content that is in line with your business' mission and desired tone and style.

Video Production - Our video production team can handle projects of every scale and genre. We have our own equipment and we work with a team of dedicated writers, producers, directors and cinematographers with the expertise to carry out every aspect of video production.