Is Your Online Reputation hurting your business?
Businesses and brands that only receive one or two stars on websites like Yelp or Google risk losing 86% of their prospects
Online reputation management is an area of digital marketing that should be taken seriously. Unfortunately, all it takes is one dissatisfied customer to negatively impact your brand's online reputation.
Managing your Online Reputation is important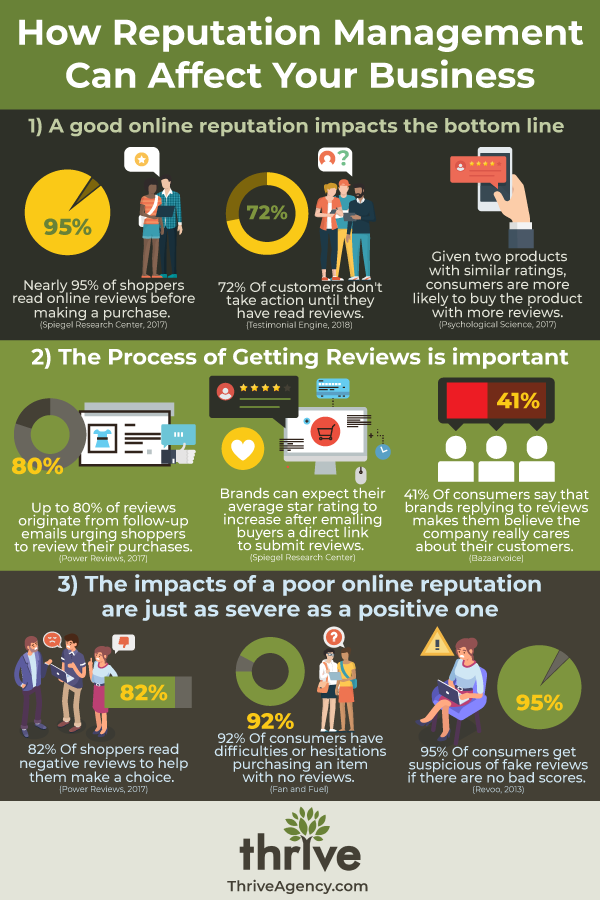 What does your online reputation look like?
If you are curious or concerned about what your business or brand's online reputation looks like, find out by performing this free online reputation scan:
Create a Positive Online Reputation with Thrive
If you own, operate or manage a business, then you've likely received a negative review from a dissatisfied customer. Even the most reputable businesses have experienced a dissatisfied customer from time to time.
Although it might be easy for successful businesses to shrug this off, they are often surprised to discover just how damaging the negative review of even one customer can be to their online reputation.
If you have received a negative review online, whether it was legitimate or a scam, this can be frustrating, worrisome, and you may even feel violated and/or powerless.
However, by using online reputation management software, you can improve your average ratings on review websites across the web.
Here are some ways Thrive Internet Marketing Agency can help with online reputation management:
Thrive is an Online Reputation Management Company that Delivers Results
At Thrive, we are dedicated and committed to helping businesses build brand awareness and credibility through encouraging positive reviews, and also to restoring their brand names.
Your business' online reputation is important, so make sure you are working with an online reputation management firm that is committed to making a difference. Contact us today to learn more.