Thrive Internet Marketing Agency provides trusted web design services for self-storage businesses.




The Thrive team goes above and beyond to help self-storage websites stand out with user-friendly web design, and help them to broadcast their message and expand their reach more effectively.




Choose Thrive For Your Self-Storage Website Designer
At Thrive Internet Marketing Agency, we're proud of the value that our services bring to the self-storage industry, and we invite you to explore our current work portfolio. To speak with a reputable web design company, contact us today by calling us for a free quote, or clicking below to get started.
We can't wait to hear from you!
Ready to build a website
for your self-storage business?
Click the button below for a free proposal
Web Design 

Client Reviews

Marci Wiersma
"They do everything they say...no BS"
"Thrive is a much needed blessing and exceeded our expectations in every way. They are honest, straightforward, they take care of ALL your needs quickly, they are reliable, you can count on them and most of all, they do everything they say they will do, no BS."

Whitney Wells Lewis
"These guys are incredible"
"These guys are incredible. They've helped us to grow our business and now the biggest problem we seem to come across is having too much business - which is the ideal problem to have. We are right where we wanted to be and Thrive made that possible. Thanks guys!"

Chad Montgomery
"Unrivaled customer support"
"Working with the Thrive team has been a most pleasant experience! Their dedication and passion for what they do is exemplified by their unrivaled customer support and attentiveness to the specific needs of our business. We look forward to a long lasting and prosperous relationship!"

Get Your Free Instant SEO Audit Report Now!
Free Instant SEO Audit Report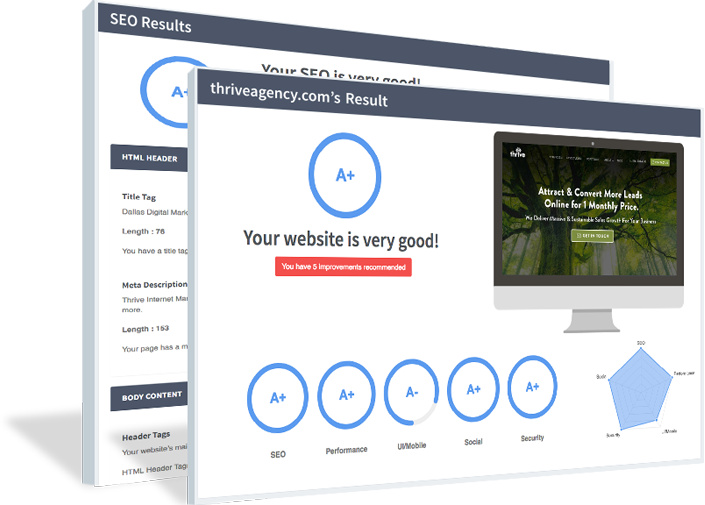 Our designs convert visitors into customers
The self-storage business is highly competitive, so you understand the value of a great location. Your online venue is just as important because it's often your first contact with potential clients. At Thrive Internet Marketing, we specialize in unique self-storage web design that showcases your facilities and drives customers to your door. With more than 10 years of industry experience, we know what works.
We Understand Your Business
Whether you own a single self-storage facility or operate multiple locations, your customers expect the security of clean, modern units and friendly, responsive management. They also look for on-site services and amenities that simply didn't exist a decade ago.
As the storage industry evolves, you have to adapt to stay on top of your market, and that's where we can help. Because we understand the self-storage business, we offer an array of flexible website strategies that keep you in the forefront of new developments and in touch with your targeted market.
Online Signage That Works
You have to stand out to be noticed, and our creative teams excel at developing a website that highlights your brand with a style that's uniquely yours. We establish your online presence with an eye-catching design that welcomes first-time visitors and caters to established clients. By working closely with you, we build a site that illustrates the advantages and services that your facility offers. We craft your digital portal into an online location that's visually interesting, easy to navigate and reflects the high standards that set you apart from the competition.
Sealing the Conversion Deal
When a new customer visits your self-storage business, you explain the advantages of your location, show off the facilities and seal the deal with knowledgeable, personal service. Our talented team will design your website with the same sharp focus that converts Internet traffic into paying clients.
We build inviting portals that provide virtual tours of everything that makes your storage business the best choice. From online storage unit reservations and bill paying to handy resources and product galleries, we pull it all together with a seamless interface that converts interested visitors into satisfied customers.
Expanding Your Marketing Strategy
The digital world continues to change and expand, and it opens up marketing venues that demand innovation and flexible strategies. We specialize in maximizing your reach across responsive platforms with techniques that put you on the cutting edge of Facebook, Twitter, and LinkedIn.
Our expertise covers all social media marketing with precise audience targeting and assessment through the latest data-tracking analytics. We measure and quantify results with solid feedback that tracks your success across the entire platform spectrum.
Self-Storage Business Digital Marketing Services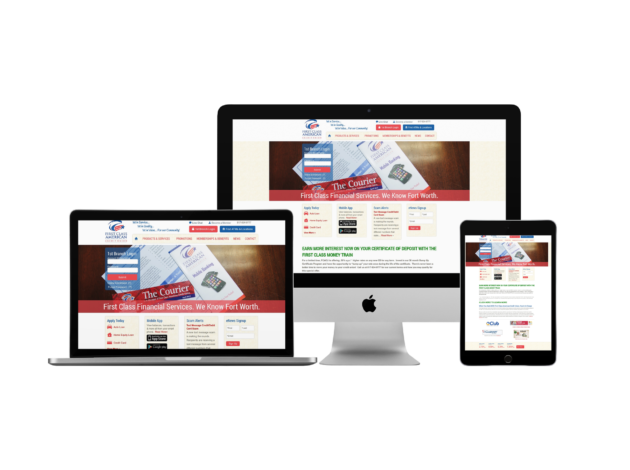 In our digital age, 3 out of 4 people use the Internet to find products and services or to find a solution to a problem. The first page of search results receives 91% of traffic – is your self-storage company's website on the first page?
If it isn't, then you are missing out on valuable leads and sales opportunities.
In order to boost your website's ranking so that your website appears on the first page, you need an effective SEO strategy. This is where Thrive can help. Our team of certified and proven SEO experts can help you with the following:
Having a digital marketing plan that promotes your website is the best way to beat your competition. Implementing effective SEO strategies is the best way to ensure that prospects will find your business on the first page of the search results, which will increase leads and conversions.
Proper local SEO marketing is essential to the growth and success of any business. By integrating various local search engine marketing techniques into a digital marketing plan, name, brand, and services will be marketed to the right area and at the right time.
When you work with a PPC marketing expert at Thrive, you can ensure your self-storage business is seeing a healthy return on your marketing investment. When it comes to SEO, we know how to drive more traffic and leads to your website for less marketing spend.
By working with the team of social media marketing experts at Thrive you can ensure you're engaging with customers which helps not only build and maintain a positive online reputation but also increase website traffic, generating more leads and conversions for your business.
Get My Free Web Design Proposal