When someone searches on Google, Yahoo!, Bing or other search engines, it will display a page containing all the web links relevant to the query. This page is called a search engine results page or SERP.
Search engines can produce multiple SERPs per second, but according to Chitika, only the first page receives the majority of web traffic at 92 percent. This means that if your business website is visible on the first page, you gain more clicks, resulting in more leads and conversions.
Much has been said about SERPs on our site, but this time, we go back to the basics and define SERPs and how they work. We also share some actionable tips for dominating search rankings. Specifically, we cover the following topics:
• What is a SERP, and how does it work?
• What are indented SERPs?
• What is a SERP feature?
• Top SERP features and how to rank for them
• More tips on how to get to the top of Google search results
So let's dive in!
---
What Is a SERP and How Does It Work?
As mentioned earlier, the SERPs acronym stands for "search engine results page." There are two types of content displayed here: advertisements (paid results) or organically ranked pages (organic results).
Paid Results
Paid results are the first links displayed on the search engine results page through a strategy called pay-per-click (PPC) marketing. With PPC, a business pays a fee to rank their page at the top, usually above or at the right side of organic links.
Currently, PPC is one of the most successful strategies for digital marketing. According to a study by Wolfgang Digital, paid-search advertising surpassed organic search engine traffic as the top revenue-driving channel in digital marketing in 2020.
Organic Results
Organic search results are placed beneath the ads on search engine results pages. Their placement on Google SERPs is determined based on its algorithm.
Search engine optimization (SEO) is the tactic businesses use to climb the rankings organically. It is a fundamental pillar in digital marketing since it helps your brand improve its internet visibility at little or no cost.
If you want to formulate a winning marketing strategy, you need a holistic approach combining PPC and SEO to produce the most agreeable outcome from your campaigns.
What Are Indented SERPs?
Google recently launched a feature that displays clustered results from the same domain name. The largest search engine tested the indented SERPs format in 2021 before officially rolling it out in October of the same year. During the first week of its release, Mox reported that users could already find indented results around 40 percent of Google SERPs.

Why should you care about this search results design?
Indented SERPs are prevalent on the first search results page, giving your brand more exposure. This will further benefit you if your site already has a good SEO ranking since your web pages are most likely to get indented along with the main search engine results page, pushing your competition further down.
Gain Indented Listings for Your Website
Securing indented results means that your website gets twice the visibility on SERPs. So gain more traffic and follow these technical SEO methodologies to get your site an indented listing.
• Start with web pages that are already visible on the first page.
• Create content that relates to your top-performing web pages.
• Optimize the new page with the same keywords as the original.
• Link them together with your keyword phrase in the anchor text.
---
What Is a SERP Feature?
SERP features are results that are beyond the traditional organic search results. These are tables, widgets and information panels that Google places on a search results page to enhance the user experience by providing more information without clicking through a web link.
There are at least 15 SERP features that exist today on Google, but according to Mailchimp, all of them generally fall into the following search results design categories:
• Knowledge graphs: Data that appear in panels or boxes (e.g., maps and weather)
• Rich snippets: Adds extra visuals to a result (e.g., stars in product ratings)
• Paid results: Results that are bought by bidding on relevant keywords (e.g., Google Ads)
• Universal results: Elements that provide more information on organic search results (e.g., featured snippets and image results)
---
Top SERP Features and How To Rank for Them
SERP features have made SEO more challenging. The additional information displayed on the search engine results page means that fewer people click on the links to get what they need. According to SparkToro, zero-click searches account for more than half of Google searches, significantly affecting organic click-through rates (CTRs).
However, when you secure a SERP feature, it can increase the CTR to 114 percent, reported Hubspot. Features are gold mines for clicks, and according to Ahrefs, they even receive 8 percent more clicks than the number one slot in search results.
The following are the most common SERP features and how your site can rank for each search results design:
Featured Snippets
Featured snippets are the most common SERP feature for desktop and Google mobile search results. These excerpts appear at the top of the page displaying information regarding the user's query.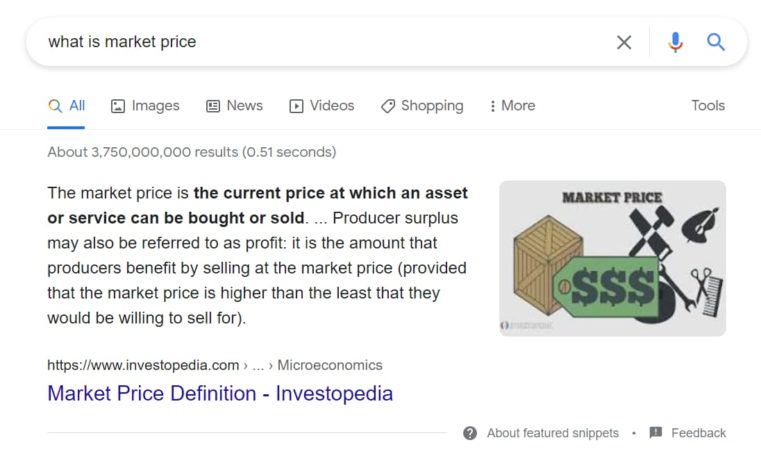 Image source: SpyFu.com
To get your content featured here, make sure you're doing the following:
• Research long-tailed keywords phrased as a question and use those in your content.
Tip: A SERPs keyword research tool makes this easier.
• Put the questions on the content headers.
• Write a concise answer to the question.
Related Questions
The Related Questions SERP feature displays questions that Google believes might relate to the search.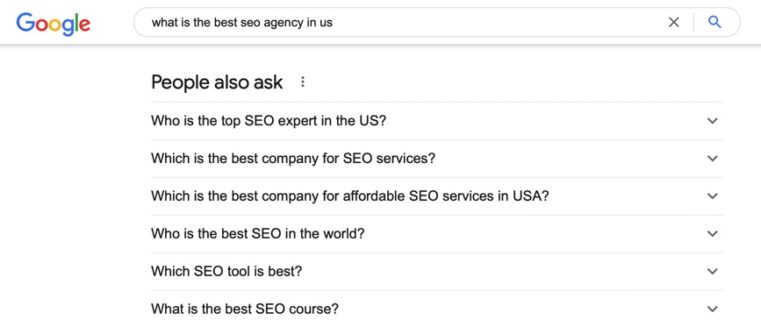 To rank in the Related Questions feature, you essentially have to answer the biggest question surrounding your main topic. A good practice is to keep the answer around 30 words in length.
Local Packs
A local pack appears in SERP when the user includes a location name or when Google determines that the searched item is nearby. It usually consists of a map, pinned locations and the top three businesses that Google algorithmically determines as the best fit for the query. If your priority is local SEO, this feature best suits you.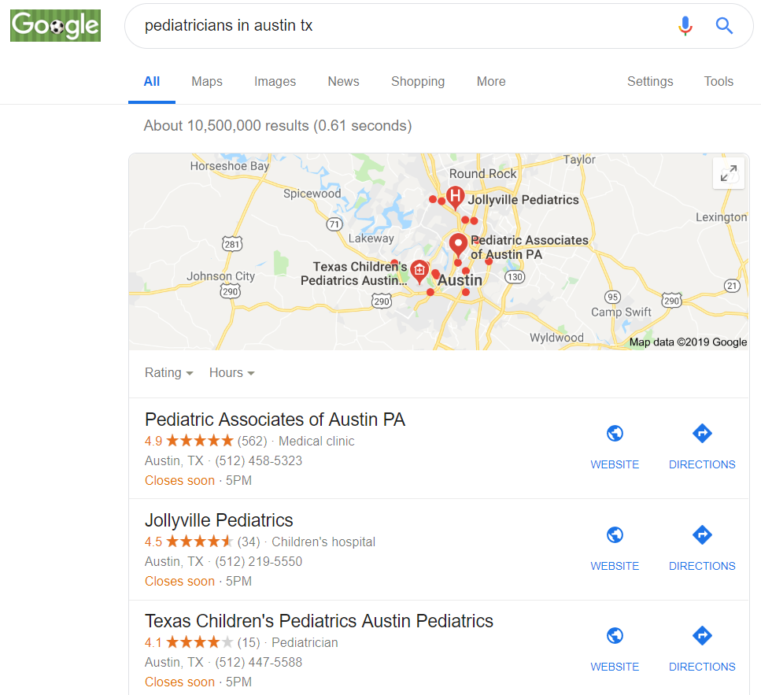 Image source: expresswriters.com
To be included in the Local Pack SERP feature, you need to be in the top three spots of the keyword in question. Ensure that you are doing the following practices:
• List your business in Google My Business or Google Business Profile.
• Optimize your Google Business Profile listing with relevant keywords.
• Continuously monitor and respond to reviews.
---
More Tips on How To Get to the Top of Google Search Results
Climb to the top of Google SERPs by keeping the following practices in mind:
Do Keyword Research
Identify the keywords that are relevant to your business. This will help you create optimized content that search engines will love. Using a SERPs keyword research tool makes this procedure more accurate and seamless.
Analyze and Refine
Search engines constantly update their algorithms to provide high-quality results to user queries. Continuously monitor, analyze and refine your data to adapt to the constant shifts in search engine algorithms effortlessly.
Partner With an Affordable SEO Company
The best thing you can do for your business is to leave your internet marketing efforts in the hands of professionals. Experts can help you create a solid search engine marketing plan in less time and effort.
Don't Forget To Optimize for Mobile SERPs
Mobile SEO is important now more than ever. According to Statistica, mobile searches account for half of searches on various search platforms.
However, be mindful that mobile SERPs are different from their desktop counterparts.
SEMRush reported that 37 percent of web links on the first page of desktop SERPs lost their visibility on mobile. Don't let this happen to your site – ensure it is optimized for mobile SERPs. So regularly assess your mobile performance and closely monitor your Google mobile search results rankings. This will help you create strategies to boost your visibility on all devices.
---
Start Dominating the SERPs Today
The more you know about the search engine results pages, the better your strategy to secure one of its top positions. Ranking high on the SERPs can mean the difference between increasing conversions or gaining nothing at all. So take time to do keyword research, finesse your link-building strategy, create compelling copies and optimize your content to reap the benefits of having a high search results page ranking.
Better yet, let capable pros handle all of that for you. Partner with Thrive Internet Marketing agency and take your campaigns to the next level. With an affordable SEO company by your side, you never have to worry about the SERPs acronym. Contact Thrive today and let us help you conquer search rankings to become visible to your target customers.