In my opinion, PPC marketing should be the most beloved tool in any marketer's toolkit.
Unlike traditional forms of marketing, where you purchase ad space for a limited amount of time and essentially hope for the best, PPC marketing allows you to pay for an advertisement only when someone clicks on it to navigate to your website.
Because you can see the results in real time, you are able to immediately see what is driving results and what is wasting money, enabling you to pivot in order to do more of the former and less of the latter.
Ultimately, you can be only spending money that you choose to, based on previous performance history, enabling you to generate maximum return on investment (ROI).
But you know that already, or else you wouldn't be reading this post.
While you can go in and constantly be adjusting bids and pausing or adding new keywords from the search terms report yourself, you could instead use automated rules to do all of that for you.
All successful PPC automation comes from the understanding that data is king.
How to set up Google Ads budget rules
Define Automation
Automated rules is a feature that allows you to instruct Google Ads to do exactly what you desire automatically, enabling the platform to make changes to your account within the parameters that you have given it.
Automated rules can be set at the campaign, ad group, keyword, and even the ad text level of your account.
Budget Automation: Why?
Now you may be asking yourself, "Why would I want to apply automation to my account? Don't I want to make sure I'm the one making all the updates?"
Let me provide an example.
Suppose you are a running a PPC campaign for an eCommerce website that sees a significantly higher percentage of its sales generated from visits on Saturday, Sunday, and Tuesday, while decreasing spend drastically on a low performing day.
In a case like this, you would naturally want to spend the most money on the higher performing time periods while easing back during the less productive weekdays.
Because you do not want to have to adjust your daily budget every day, you can apply a budget rule to automatically increase the budgets.
These are not to be confused with scripts, which are written in JavaScript language and draw data from external sources.
To do this, first, identify the time periods that you want to focus on and how much you want to increase the budget those days.
Next, select the "automate campaign" tab in the campaign that you wish to automate. To find the automation settings in Google Ads, click the "Automate" drop-down menu in the campaign in the traditional Ads interface. In the new version, click on the three vertical dots and then select "Create an Automated Rule".
*Old Interface

*New Interface
Once this is done, select the automated action that says "Change budget when…"
In the "Automatic action" row, select the amount by which you want to decrease or increase the daily budget. You have the option of either increasing or decreasing the budget to a set amount of money, or by a percentage.
In my example, I want to increase the budget on Tuesday by 30%. This will effectively increase a $60 per day budget to $80.
In the row below, set it to run weekly, and then select the days that you want this select budget to run. You will want this to run using the data from the previous week.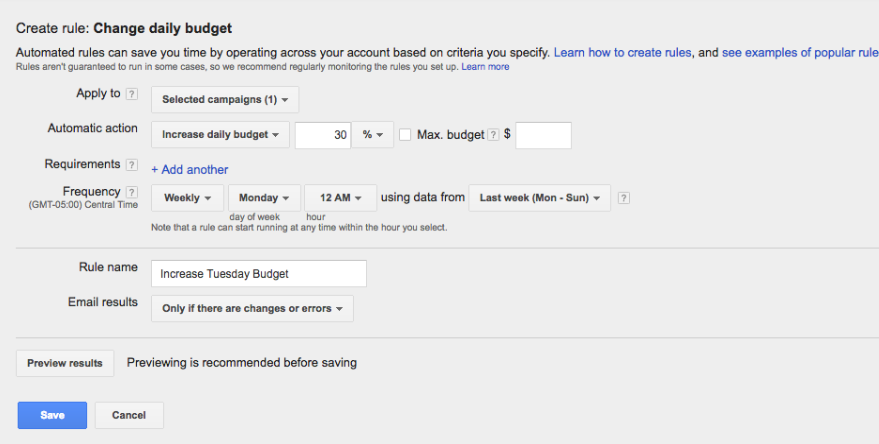 You will then do the same for each of the other days where you want to have an adjusted budget.
Once this is done, you will then have a campaign that automatically adjusts its budget on busy days, based upon historical account data.
Don't Forget to Monitor!
Just because the account is automated does not mean that your work is done. You should monitor these budget changes and adjust them over time. Just because Saturday and Tuesday had your best cost-per-conversion does not mean that they always will.
Depending upon the industry, your performance may change based on product cycles or seasons.
Your e-commerce shop could specialize in warm weather clothes and may find a different business cycle during the winter.
It is expected that you should continue to monitor performance trends and your budget activity and then adjust based upon your findings, no matter what vertical you are working in.
The use of automated budget rules ensures that you can spend less time daily managing your account.
Ready to let a professional review your PPC account for opportunities like this? Let's chat.