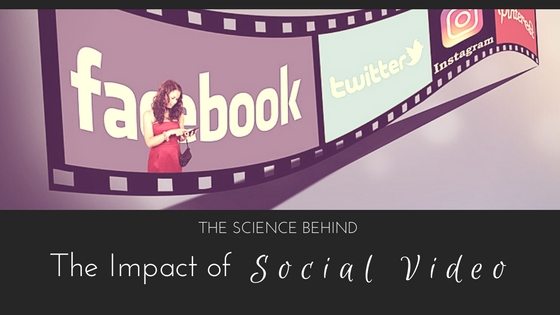 During the final quarter of 2015, marketing experts predicted an increase in social video marketing and its overall use in e-mail, web content, and via social media throughout 2016. Today, at the close of 2016, we can agree that they were right.
Recent Research in Social Media Video
In this article, we will explore the data and statistical results of a survey conducted by Brightcove examining consumers' social video engagement preferences and behaviors. What do these insights mean for brands, and how can we make the most of the opportunities video can create?
This survey involved over 5,500 participants aged 18 years and older, across the UK, France, Germany, Australia, and the United States. The results of this study provides not only an incredible snapshot of the world of social video, but also how brands can use this data to improve their own strategies.
Social Media Consumption
Let's begin with some of the basics. How much social media video are consumers, well, consuming? Here are some facts to give you a quick snapshot of just how impactful social video really is:
Consumers are spending an average of six hours per week watching video content on social media networks alone.
8 in 10 consumers engage with brands via social media
3 in 4 consumers will rely on social video viewing in making purchase decisions
Facebook and Snapchat receive the most video views per day, at 8 billion views and 10 billion views, respectively.
YouTube claims that "people watch hundreds of millions of hours" of video on site every day, and it is the dominant and most preferred social network for video.
Twitter video views have grown by 220% in the last 12 months.
Which Social Media Networks Do Consumers Prefer To Use For Watching Videos?
Now that you see just how much time consumers spend watching video on social media, let's look further into preferences. Which social media networks do consumers spend most of their time on? And which do they prefer to use for watching social video? Approximately 50 percent of consumers prefer to use YouTube and 36 percent prefer Facebook. The remaining 14 percent is split across Snapchat, Twitter, and Instagram.
What Types of Content Do Consumers Prefer to Watch?
The most popular types of videos that consumers watch include music videos, user generated content (also known as "home videos"), and film trailers. Consumers are looking for engaging videos that are informational, relevant to their interests and of good quality. LinkedIn users, however, selected "news" as the number one preferred type of video content.
How Are Consumers Finding Videos?
The top three ways that consumers find videos is by:
Scrolling through news feeds
Watching a video shared by someone they are "connected" to within their network
Searching for a video using specific keywords or descriptions.
Social Video Engagement and Action
Not only is it proven that video is gaining a lot of traction and popularity, it also encourages users to take action. This ultimately increases engagement levels overall. The top three actions taken across social networks after watching any type of video include likes, shares, and comments. In fact, Instagram is the social media network that most provokes consumers to take action from videos.
Social Video Conversion
Of course brands are interested in boosting brand recognition, generate leads, and simply increase awareness about their products and/ or services. But the ultimate goal for any brand is to also increase sales conversions.
This study has also shown substantial evidence of a connection between a consumer watching a video and his or her decision to buy. In fact, 74 percent of consumers have claimed that watching a video on social media influenced their purchase decision-making process. Furthermore, 46 percent of consumers claimed that they made the decision to purchase as a result of social video. Finally, the United States had the highest percentage of consumers who interact with brands on social media at 85 percent.
The videos that lead to a successful sales conversion are the ones which provide the right level of information. These videos also have a high level of relevancy to a consumer's interests.
Conclusion: The Science of Social Success
As social networks become an even more valuable resource for video consumption, the average consumer will likely watch even more video as time goes on, and will make even more purchase decisions based on such content. As a result, Cisco has predicted that approximately 80 percent of the world's consumer Internet traffic will be made up of video by 2019.
So what does this mean for brands? As social video continues to grow in popularity, it presents a massive opportunity for brands to engage a larger and more captive audience. But with numerous social media networks available, how can brands possibly manage them all successfully without burning their budgets?
The video strategy for brands is constantly shifting and evolving. However, one point is consistent: high-quality, relevant, and unique social video is what's in. This is what keeps users and consumers coming back for more. As long as brands manage social media effectively and correctly, opportunities will be immense, and will only continue to grow in the coming years.
Looking for a reputable company to help you manage your social media platforms and integrate video into your strategy? Contact Thrive Internet Marketing. We're a full-service marketing company offering quality social media management services for brands like yours!