Book More Service Calls with SEO Services from Thrive
Thrive provides plumber SEO services and digital marketing for plumbers throughout the United States. We've helped multiple plumbing companies boost their local online visibility through SEO, PPC, social campaigns, and more. When you boost your local visibility online, your business can really start to grow.
Get Your Free Instant SEO Audit Report Now!
Free Instant SEO Audit Report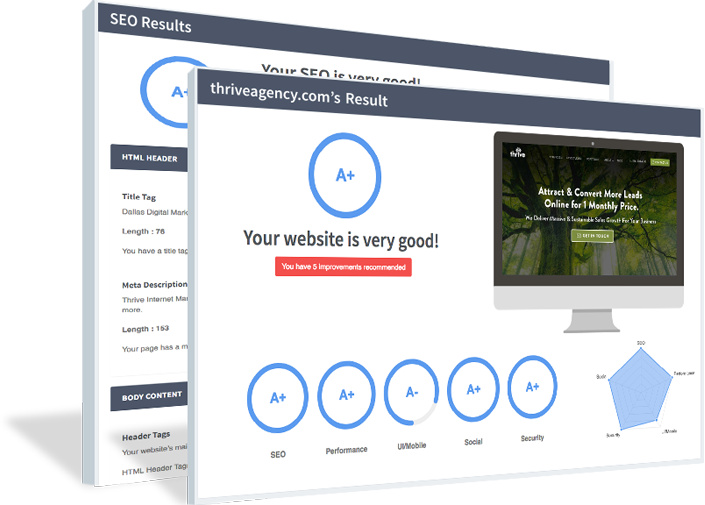 Why Choose Thrive As Your Plumber SEO Company?
When you're a plumbing company, investing in SEO services can drastically increase the number of service calls you get on a daily basis. The goal of an SEO campaign for plumbing companies is to position you in the right place at just the right time. When a homeowner or building owner is opening a browser and typing in "plumbing company near me" or "emergency plumber" or other related search, you want your company to show up there, as close to the top of the results as possible. That's what a plumber SEO campaign is focused on.
If you're looking for an SEO agency to help you get found and stand out in your service area, Thrive is an experienced, full-service agency you can count on. No matter how much of the city or state you're targeting with your services, SEO can drastically improve the number of online leads you're getting through your website.
When you choose to work with Thrive as your SEO company, you'll have a dedicated SEO Specialist who gets to know and understand your plumbing business on a deep level. That really helps us build your campaigns to accomplish your unique business goals while targeting your audience with precision.
Thrive has been providing digital marketing services to clients since 2005. We've built our reputation on superior customer service and a track record of success for clients large and small.
When you choose Thrive as your SEO company, you can expect:
Extreme customer focus - We strive to understand your business goals first, then develop a strategic online marketing plan (SOMP) to use as a roadmap for your SEO campaign.
No Contracts - We believe in our services and Specialists to deliver a positive return on investment for our clients.
Dedicated SEO Specialist - You get direct access to the team member that will be implementing your campaign.
Data-Driven - As Google Analytics certified professionals, we will make data driven-decisions about your campaign.
Transparent Reporting - We provide custom, in-depth reporting and time tracking so you can easily monitor your return on investment (ROI).
We also provide professional and user-friendly plumbing company web design, so your customers can get the information they need quickly to get help for whatever plumbing problem they're dealing with.