Thrive Internet Marketing Agency has been included on the prestigious Inc. 5000 list of fastest-growing private companies in Texas for 2021. And, we're moving on up.
Thrive was ranked as the 48th fastest-growing company in Texas by Inc. magazine after ranking at No. 78 on last year's list. We're elated to find ourselves among the Top 50 Inc. 5000 regional honorees.
Our exceptional revenue growth of 237 percent from 2017 to 2019 is what helped Thrive climb to No. 48 on the 2021 Inc. 5000 Regionals list in Texas by Inc. magazine.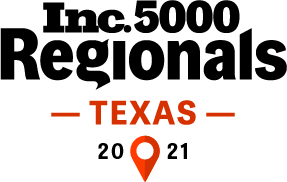 Scott Omelianuk, the editor in chief of Inc., said that the 250 Texas Inc. 5000 Regional honorees had an accumulative average growth rate of 210 percent between 2017 and 2019. This is a spectacular result, considering the U.S. economy's comparative growth of 10 percent in the same period.
This recognition by Inc. magazine speaks volumes about Thrive's ability and commitment to grow businesses no matter the financial landscape of the country," said Matt Bowman, Thrive's president and founder. "This was an extremely difficult year for all businesses to navigate, and for us to come out of 2020 with this much growth is a testament to our dedicated digital marketing experts who go above and beyond for clients every day."
In 2020, Thrive celebrated its 15th anniversary and hit incredible milestones despite facing a global pandemic. From 2019 to 2020, Thrive grew its annual revenue by 37.6 percent and increased its full-time employee count by 48.8 percent.
The companies on the 2021 Inc. 5000 Regionals Texas list collectively employed more than 44,000 people in various industries in 2019. Thrive currently has employees in 11 countries and 38 U.S. states, all of whom are committed to helping their clients' businesses grow and positively impact their communities.
Thrive has been recognized by Inc. magazine every year since 2017, and each accolade is one we hold in high regard. This latest recognition follows our notable achievement of being included in the national Inc. 5000 list of fastest-growing companies in America for the fourth consecutive year in 2020.
---
About Thrive Internet Marketing Agency
Thrive Internet Marketing Agency is an award-winning digital marketing agency headquartered in Arlington, Texas. Since 2005, Thrive has transformed businesses through online marketing expertise in eCommerce, SEO, PPC, social media and web design.
Thrive continues to grow and make an impact thanks to our team of 194 talented experts around the world! If you don't believe us, have a look at some of our client success stories and our growing service offerings.
Contact Thrive Internet Marketing Agency at 866.434.4748 or fill out the contact form to get started on a sales-focused growth strategy with our customized digital marketing solutions.