Thrive is a digital marketing agency in Maitland, Florida that provides online marketing & SEO services to single location business all the way to international corporations.
Thrive has a dedicated team of digital marketing consultants with the expertise in helping Maitland businesses with their digital marketing campaigns. Since we are a full-service agency, we can handle everything in-house, from building an SEO-friendly website to managing your social media and PPC campaigns and providing search engine optimization services.
Award-Winning Maitland Digital Marketing Agency
Talk to a Digital Marketing Expert
Ready to chat about how our Maitland digital marketing services can grow your business?
Drop us a line today for a free quote!
Why Choose Thrive As Your Maitland Digital Marketing Agency?
Thrive has been providing digital marketing & SEO services to clients since 2005. We've built a reputation of superior customer service with a track record of success and growth for our clients. When you choose Thrive as your internet marketing company in Maitland, you can expect:
Extreme customer focus - We strive to understand your business goals first and then develop a strategic online marketing plan to use as a roadmap for your campaigns. That way, our campaigns are tailored to your unique business goals.
No Contracts - We believe in our online marketing services and consultants to deliver a positive return on investment for our clients.
Dedicated SEO/PPC/Social Specialist - You get direct access to the team member that will be implementing your campaign.
Data-Driven - As Google Analytics certified professionals, we will make data driven-decisions about your campaign.
Transparent Reporting - We provide custom in-depth reporting and time tracking so you can easily monitor your ROI.
Get Your Free Instant SEO Audit Report Now!
Free Instant SEO Audit Report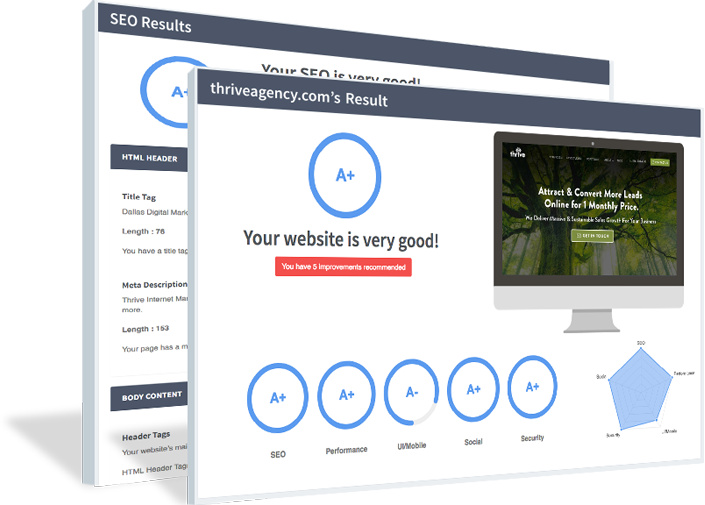 How SEO Drives More Leads & Conversions
SEO (Search Engine Optimization) is all about making your website have more visibility in search engine results. It's about making sure your website's on-page content, meta content, link profile and more all work together to make your website come up for the phrases and keywords that match what you do.
Once your website is seen in results more often for your target keywords, you'll start getting more visitors to your site. Those visitors turn into leads conversions, increasing your bottom line.
A Maitland SEO company, like Thrive, works on identifying your audience, then targeting them with a well-rounded strategy. Once we increase your site traffic, we'll work on improving the number of visitors who convert to become leads.