Thrive is a San Antonio SEO company that provides digital marketing services to companies, organizations and brands of all sizes, from single-location shops to large corporations. 
Thrive has a dedicated team of SEO Specialists with years of expertise in helping San Antonio area businesses with their SEO and digital marketing campaigns. Thrive is a full-service digital agency, providing digital marketing services such as SEO, PPC, web design, social media and more.
Get Your Free Instant SEO Audit Report Now!
Free Instant SEO Audit Report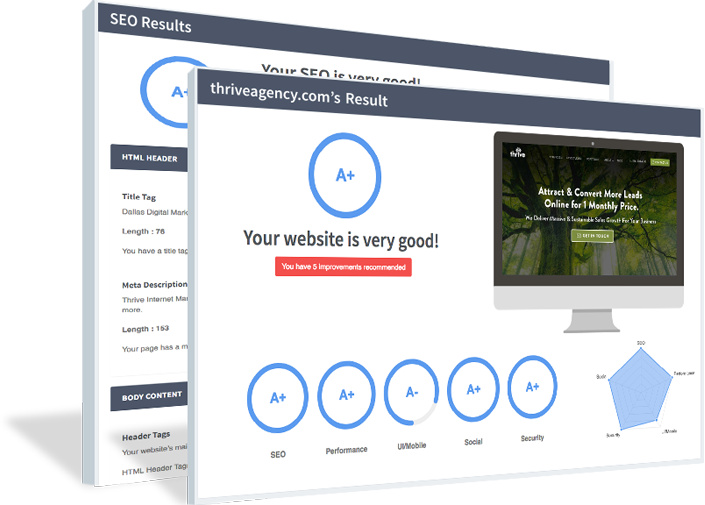 Why Choose Thrive As Your San Antonio SEO Company?
Did you know that San Antonio is actually the 7th largest (most populous) city in the entire United States? It may not be the largest in Texas, but it's still pretty huge! If you're a business owner in the city, you probably already understand just how large it is, and how hard it can be to reach your audience with your product or service. SEO services from Thrive can help!
Are you targeting a local part of San Antonio, the whole city, or going for a national audience? Wherever your audience is located, SEO can be a huge piece of your marketing strategy to reach those people. Local SEO services are perfect for targeting a local audience, while a national campaign will kick things off for a much larger target audience.
Kicking off an SEO campaign this month will start you off on getting more leads or sales through your website.
When you choose to work with Thrive on your SEO campaigns, you'll have a dedicated SEO Specialist who gets to know and understand your business on a deep level. That really helps us build your campaigns to accomplish your unique business goals while targeting your audience with precision.
Thrive has been a leading SEO company since 2005. We've built our reputation on superior customer service and a track record of success for clients large and small.
When you choose Thrive as your internet marketing agency in San Antonio, you can expect:
Extreme customer focus - We strive to understand your business goals first, then develop a strategic online marketing plan (SOMP) to use as a road map for your SEO campaign.
No Contracts - We believe in our services and Specialists to deliver a positive return on investment for our clients.
Dedicated SEO Specialist - You get direct access to the team member that will be implementing your campaign.
Data-Driven - As Google Analytics certified professionals, we will make data driven-decisions about your campaign.
Transparent Reporting - We provide custom, in-depth reporting and time tracking so you can easily monitor your return on investment (ROI).
Ready to chat about how our San Antonio SEO services can grow your business?
Drop us a line today for a free quote!