Thrive is a San Antonio SEO company that provides digital marketing services to companies, organizations and brands of all sizes, from single-location shops to large corporations. 
Thrive has a dedicated team of SEO Specialists with years of expertise in helping San Antonio area businesses with their SEO and digital marketing campaigns. Thrive is a full-service digital agency, providing digital marketing services such as SEO, PPC, web design, social media and more.
Get Your Free Instant SEO Audit Report Now!
Free Instant SEO Audit Report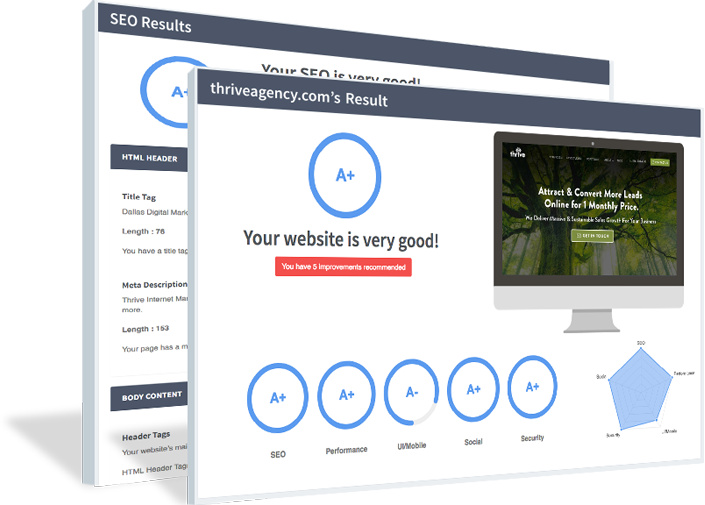 Why Choose Thrive As Your San Antonio SEO Company?
Did you know that San Antonio is actually the 7th largest (most populous) city in the entire United States? It may not be the largest in Texas, but it's still pretty huge! If you're a business owner in the city, you probably already understand just how large it is, and how hard it can be to reach your audience with your product or service. SEO services from Thrive can help!
Are you targeting a local part of San Antonio, the whole city, or going for a national audience? Wherever your audience is located, SEO can be a huge piece of your marketing strategy to reach those people. Local SEO services are perfect for targeting a local audience, while a national campaign will kick things off for a much larger target audience.
Kicking off an SEO campaign this month will start you off on getting more leads or sales through your website.
When you choose to work with Thrive on your SEO campaigns, you'll have a dedicated SEO Specialist who gets to know and understand your business on a deep level. That really helps us build your campaigns to accomplish your unique business goals while targeting your audience with precision.
Thrive has been a leading SEO company since 2005. We've built our reputation on superior customer service and a track record of success for clients large and small.
When you choose Thrive as your digital marketing agency in San Antonio, you can expect:
Extreme customer focus - We strive to understand your business goals first, then develop a strategic online marketing plan (SOMP) to use as a road map for your SEO campaign.
No Contracts - We believe in our services and Specialists to deliver a positive return on investment for our clients.
Dedicated SEO Specialist - You get direct access to the team member that will be implementing your campaign.
Data-Driven - As Google Analytics certified professionals, we will make data driven-decisions about your campaign.
Transparent Reporting - We provide custom, in-depth reporting and time tracking so you can easily monitor your return on investment (ROI).
Ready to chat about how our San Antonio SEO services can grow your business?
Drop us a line today for a free quote!
San Antonio SEO & Digital Marketing Services
Building a comprehensive digital strategy is the best way to approach online marketing. Sometimes, you need multiple services to create the best possible strategy. It really depends on your company, your audience, and your goals. Going with an SEO company like Thrive that also offers many other services is a great way to get everything you need in one place. You won't find any cookie-cutter strategies here!



Through careful keyword research & white-hat optimization tactics, we'll help improve your organic rankings in major search engines. Learn more about our San Antonio SEO services
Does your website stand out, represent you well, and help your organization grow? We'll create one that does. Learn more about our San Antonio web design services.
Social media is a critical piece in staying connected with your audience. We'll work with you or independent of you to help keep your social community engaged. Learn more about our San Antonio social media services



While SEO offers long-term growth, sometimes you need an immediate boost. Running a PPC campaign will ensure that the money you spend is put to the very best possible use driving traffic and leads. Learn more about our PPC Management in San Antonio
There is no more powerful way to get your message across than through video. Engage your audience by telling your story and sharing your mission.
Whether you need blog copy or website copy, Thrive's copywriters are ready to write compelling copy in your niche with SEO best practices in mind.



Your reputation is everything. Our team of experts can help protect and enhance your reputation online for tangible, long-term results.
Turn more site visitors into customers! Our experts utilize the latest Conversion Optimization techniques to upgrade your site's website visitors into active users.
Keep your customers coming back with easy, cost effective email marketing. Whether automated or a standard email newsletter, we can solve your email marketing needs.