Headlines are the first thing people see when they perform a Google search or visit a website. That's why it's so important to get them right.
If you want people to hang around for awhile on your site, make sure your headlines pull them in and entice them to stay.
What kind of difference can a quality headline make with content?
A great headline can get bad content read. A bad headline might make you miss the great content.
Headlines are also critical for the success of pay-per-click (PPC) advertising, such as with Google Ads. Headlines help dictate the success of click-through rates.
The click-through rate is the ratio of users who click on a specific link as compared to the number of total users who view a website page, email or advertisement. Advertising and email campaigns are often measured by the success of their click-through rates.
A survey by the American Press Institute found that roughly six in 10 Americans never read news past the headline. And those were only the ones who would acknowledge it, meaning the percentage of people in the U.S. who don't read more than the headline is likely much higher. Other studies have found that 8 out of 10 people don't read more than headlines.
What is the end result of someone not clicking through past your headlines?
Your audience decreases
Your quality leads decline
Your call-to-actions are ignored
Your revenue drops
Do I have your attention now? Now you see how vital headlines are to the success of your business.
So, how do you create high-quality headlines that are sure to increase click-through rates? Below are five proven headline tactics to help you improve your CTR:

Define the Content Format
One way to ensure someone clicks your headline is to clearly define the content format that will follow.
What can the user expect to get by clicking the headline? If you're offering an ebook, research, an info-graphic or list make sure you spell that out in the headline.
But always make sure you back up what you're selling. Never promise something in a headline that your content can't deliver. One surefire way to increase your bounce rate is to trick someone with a "click-bait" headline that doesn't deliver the goods.
A great way to entice someone to click on your headline link is to offer something of value that the user will find useful. You should have a general understanding of what your audience will find useful. Put that to good use: Choose a headline that identifies a problem and offers a solution.
Find a Way to Be Unique
Often your content, products or services are similar to what other sites offer. Be sure to review your competition and analyze their headlines.
One way to see what is working for them is to see how many comments they have for a certain post or perhaps the number of likes or shares they've earned via social media sites.
But you don't want to copy competitors' headlines. Instead, find ways to be unique. Your headline should include your keyword(s) and be compelling. Your headlines are key to your SEO strategy and results as well. The more you can differentiate yourself from the competition the better.
Quality headlines can make all the difference in content marketing. You only have a few seconds to grab a user's attention online. If your headline isn't on point, you'll never start the click-to-customer funnel.
Find a way to standout with interesting phrases or puns that entice the user to click your headline to learn more. But don't get too cute. Your users need to clearly understand what you're trying to get across.
Use an Emotional Hook
Another appealing way to grab your reader's attention with a headline is to use emotional words.
Emotion words such as daring, rare, attractive, unusual, unlimited and many, many more can appeal to you in some way. Many times, the emotions you're trying to stir in a user includes appealing to them in an intellectual, empathetic or spiritual way.
Put simply: You have just a few words to connect with a human on a deeper level. Don't waste them.
Also be sure to use active voice and present-tense verbs whenever possible in headlines. Readers want to know what's happening right now.
Good news: Google recently added an extra headline and description to its Expanded Text Ads, giving you more space to earn those all-important click-throughs. You now have three 30-character headlines (up from two) at your disposal. Google added a second description as well, expanding both from 80 to 90 characters.
Just like on Twitter, you have to make the most of your character limits.
Superlative Language and Numerals Often Win the Day
Two other tried and true headline tactics include using superlative language and numerals to pique your users' interest.
Superlative language includes such words as best, top, quickest and smartest. Here's a few examples to get you thinking:
10 best places to visit …
Your ultimate guide to …
Top 5 ways to …
Also, readers' eyes are drawn to something different next to words. That's why numerals often catch a user's attention. Using lists for content have proven effective for higher engagement rates (such as "10 best places to visit" above).
"How-to" headlines often appeal to readers as well, helping your click-through rates soar. Also, question headlines or headlines that begin with the word "Why" can also be intriguing to users. Anytime you can help explain the "why" for people it resonates.
Invoking fear – "How to avoid …" or "Don't become …" – can work in headlines as well. It's why most movies and stories begin with a character who encounters a problem and ultimately finds a successful resolution.
For instance, an A/C repair company in Texas might use this: "Ensure you don't sweat the Texas heat with an A/C tune-up today."
The bottom line: Concise and intriguing headlines are the right combination for your winning headlines.
Test Your Headlines to Ensure Most Impact
Perhaps the best tactic you can take away from this post is to always A/B test your headlines.
Create different headline variations for the same content and find out which one performs better with click-through rates, engagement and even likes, shares and comments.
If you find one headline isn't spurring a high enough click-through rate, then change out the headline to something else that might draw a user in.
It's always important to test your pay-per-click ads regularly to find out which headlines are performing better, getting you the most clicks and conversions.
One way to test the strength of your headline is to use headline analyzer tools to help you get the most impact. One headline analyzer tool used by Thrive Internet Marketing Agency is via CoSchedule, which gives you a final grade (from 1 to 100) based on overall structure, grammar and readability.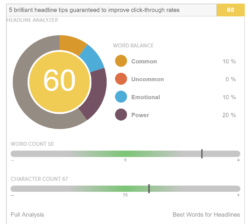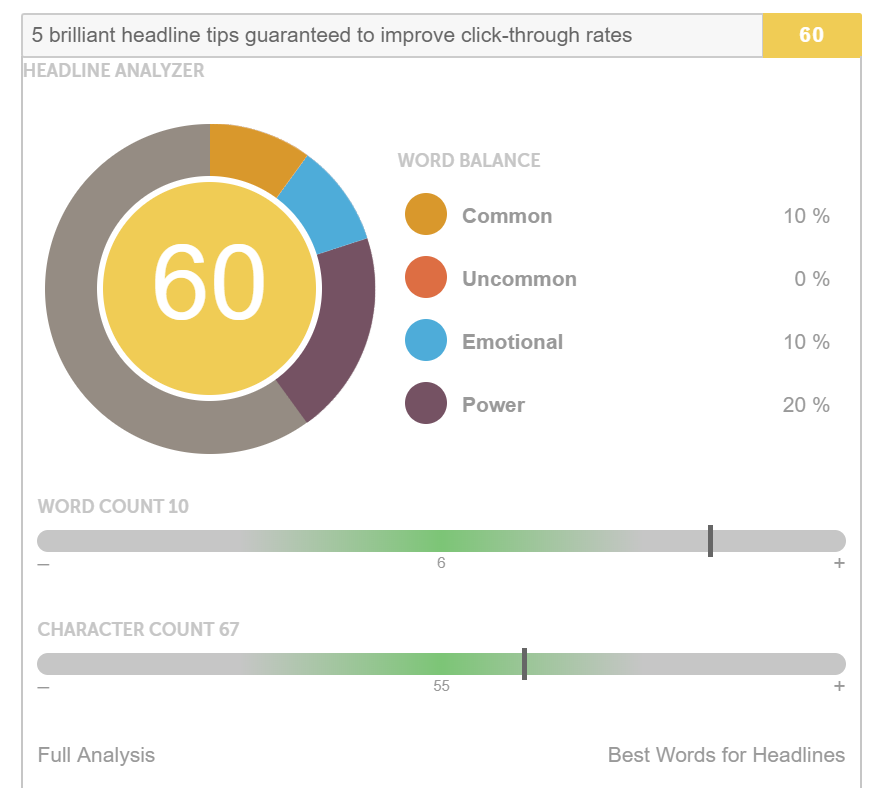 Wrapping up
Remember, the goal is to drive more targeted customers to your website. To do that, you have to increase your click-through rates.
So, find those attention-grabbing headlines that align with the three C's:
Try to keep your headlines to eight words or fewer. Work in emotional and superlative language, some numerals and lists and then test out the headlines to ensure the greatest impact.
To make sure you're getting the most out of your headlines allow Thrive Internet Marketing Agency to perform a website audit and assist you with your pay-per-click management. If you're ready to boost your PPC click-through rates, contact Thrive online today or call us at 843-353-6383.