Expert SEO Services in Myrtle Beach, South Carolina
Thrive is a Myrtle Beach SEO company that provides a full range of digital marketing services, including SEO services to small and large businesses all over the world. We work with our clients to create and build SEO strategies that are proven to drive desired results.
Award-Winning Myrtle Beach SEO Company
Talk to a Myrtle Beach SEO Expert
Get Your Free Instant SEO Audit Report Now!
Free Instant
SEO Audit Report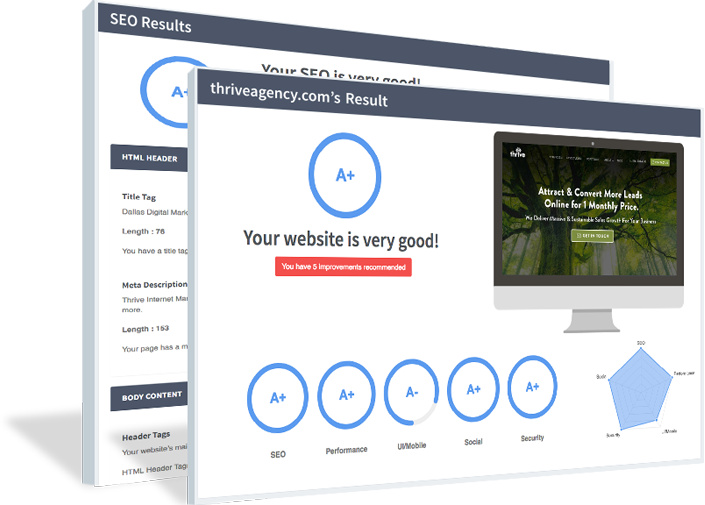 What you can expect with our Myrtle Beach SEO Services?
In our digital age, 3 out of 4 people use the Internet to find products and services or to find a solution to a problem. The first page of search results receives 91% of traffic – is your business' website on the first page?
If it isn't, then you are missing out on valuable leads and sales opportunities. In order to boost your website's ranking so that your business appears on the first page, you need an effective SEO strategy. This is where Thrive can help.
Our team of certified and proven Myrtle Beach SEO experts can help you with the following:
Search Engine Optimization – Also known as SEO, Search Engine Optimization is crucial to improving your website's ranking. From comprehensive onsite SEO, such as title tags, meta descriptions, and content creation, to link building, Thrive Internet Marketing can create and build a custom SEO strategy tailored just for your business.
Local SEO – If your business has a single or multiple regional locations, then you will likely benefit from our local SEO services. With our local Myrtle Beach SEO services, we can help your business achieve higher rankings in local search results in order to beat your competition.
Franchise SEO – If your franchise isn't showing up in search engine results, then this likely means that you aren't attracting the right customers. In addition to local SEO services, we also specialize in franchise SEO services to help franchises focus their efforts on attracting the right buyers and to also get the strongest ROI.
eCommerce Optimization – The majority of consumers are shopping online today. In fact, 71 percent of shoppers believe that they will get a better deal shopping online rather than in stores. However, the majority of small businesses online do not have optimized eCommerce sites, which is resulting in lost sales and lost revenue. Work with an expert SEO company in Myrtle Beach to help your business achieve a higher ranking.
Our SEO campaigns include the following key elements to improve your Myrtle Beach business online visibility and keyword rankings:
Website Audit - We'll start with an audit of your website to review metadata, URL structure, technical issues, keyword opportunities, competition, backlink analysis and more.
Technical SEO - From fixing schema errors to increasing your page load times, our team is creative, strategic and technical when it comes to SEO.
Building Backlinks - We have relationships with high-quality websites and bloggers in a variety of industries and perform outreach to increase your backlink profile, steering clear of spammy websites.
Content Writing - Thrive has a team of content writers who will produce content for your website to help with your internal linking and long-tail keyword ranking strategies. We also make sure all content is original and provides the users answers to their questions.
Why Choose Thrive As Your Myrtle Beach SEO Company?
You might have a well-designed website, but it isn't doing your business much good if it isn't being picked up by search engines. By working with a certified and proven team of SEO experts, you can ensure that you not only improve your website's rank, you also boost your return on marketing investment.
From local SEO services to SEO consulting, Thrive works with a broad range of companies and franchises to build the best possible SEO strategy that is customized for each unique business.
So how are we different from any other Myrtle SEO agency? Here are some reasons why:
We Have Proven Results – Why would you work with an SEO services firm that doesn't provide you with the results you are looking for? Stop throwing away your hard-earned money on a strategy that isn't converting. Thrive takes the time to listen to your business' goals and needs, and then builds a custom strategy to reach these goals.
We Are Ethical – At Thrive, we believe in honesty, integrity, and respect. We don't believe in "selling" a service that you don't need or applying a one-size-fits-all approach to each client. We dedicate our time to achieving higher rankings, increased traffic and conversions, and a higher return on marketing investment for our clients.
We Know SEO - Working with an SEO company in Myrtle Beach that actually knows SEO seems obvious, but unfortunately, many SEO firms fail to deliver positive results. Our SEO strategies are proven to work. In fact, the majority of our clients pay for their entire website in the first month from new business leads as a direct result of our SEO efforts.
We Put Customers First – Maintaining a customer-centric focus is a priority for many marketing agencies, however, few actually follow through. As a Myrtle Beach SEO Agency, Thrive is different. We are truly diligent and committed to our clients by showing up on time; keeping our promises; being polite, honest, and respectful; and going above and beyond for our clients.
Clear Reporting – Many of our competitors are often vague when it comes to reporting on the results of SEO efforts. The team at Thrive chooses to be transparent by providing our clients with clear, transparent, and accessible reports. We offer 24/7 access to online Thrive SEO client portals where clients can access their reports for a full overview of your website's SEO performance.
Through our expertise in SEO services, and by standing by our SEO code of ethics, Thrive can help boost your website's rank, and also increase traffic to your website and improve conversion rates.
To speak with a reputable and professional SEO agency in Myrtle Beach, SC contact the team at Thrive today by calling us for a free quote, or click on our form below to get started. We can't wait to hear from you!
Myrtle Beach Digital Marketing Learning Resources
Ready to learn a little more about how Thrive can help you and your company achieve digital marketing success? Here's a few learning resources based on questions we hear from Myrtle Beach businesses like yours. Have a question of your own? Give us a shout!
Thrive is a Full Service Myrtle Beach Marketing Agency
If you want to increase your brand's online presence, automate your marketing activities or effectively reach your target audience and prospective buyers, then you need a Myrtle Beach digital marketing firm that can help. Thrive specializes in the following areas of digital marketing services:
Web Design and Development - First impressions are everything. What do your prospective buyers think when they click on your website? Does your business even have a website? If you are looking for a mobile-ready and optimized website that is custom built according to your business' objectives and that also boosts your search engine rankings, then Thrive is the answer you are looking for.
Search Engine Optimization (SEO) - You have a solid website, but you aren't being picked up by search engines. Why? This is a common mistake that many business owners and entrepreneurs make. Through proper keyword research, placement, and other best SEO practices, we can help you achieve a higher ranking.
Social Media Marketing - If you are looking for ways to delight your audience or to engage with them, then you need to boost your social media marketing. However, social media management can be time-consuming and costly. This is why it can be helpful to partner with an experienced digital marketing agency in Myrtle Beach to help you create a social media campaign as well as automate and streamline all of your social media marketing efforts.
Pay Per Click Management - We help create and build PPC campaigns that drive traffic, leads, and revenue to small and large businesses that are looking to improve their bottom line.
Email Marketing - Email isn't going away anytime soon. If you are looking for guidance with your email marketing campaign or if you are interested in creating an email marketing campaign that generates qualified leads and boost conversion rates, we can solve your email marketing needs.
Content Writing - Content is King. High-quality content, optimized content and content that is well researched and that appeals to your audience are all keys to a successful content marketing campaign. Our content writers know how to create high quality, optimized content that is in line with your business' mission and desired tone and style.
Video Production - Our video production team can handle projects of every scale and genre. We have our own equipment and we work with a team of dedicated writers, producers, directors and cinematographers with the expertise to carry out every aspect of video production.