In an age where consumers hold greater power to squeeze industry revenue and pivot market growth, creating an efficient, systematic and holistic customer acquisition strategy is non-negotiable.
Wavering at the finish line when converting marketing qualified leads (MQLs) to sales qualified leads (SQLs)? Align your sales pitch to your prospects' needs and requirements, eliminate all the guesswork and inspire confidence to soften prospect resistance and close deals faster!
Lead Nurturing
Showcase Your Brand Authenticity and Reduce Revenue Leakage

How to convert leads into sales? It's not a simple question or a quick turnaround because reaching the stage of a closing conversation is no easy feat. You might reach out to the best marketing qualified lead (people who expressed interest in your brand offerings but are not completely ready to commit) and successfully move them from sales qualification into a nurturing sequence, but if you don't have a robust lead nurturing process or a system to develop and reinforce customer relationships at every stage of the sales funnel, all your lead generation marketing efforts would be for naught.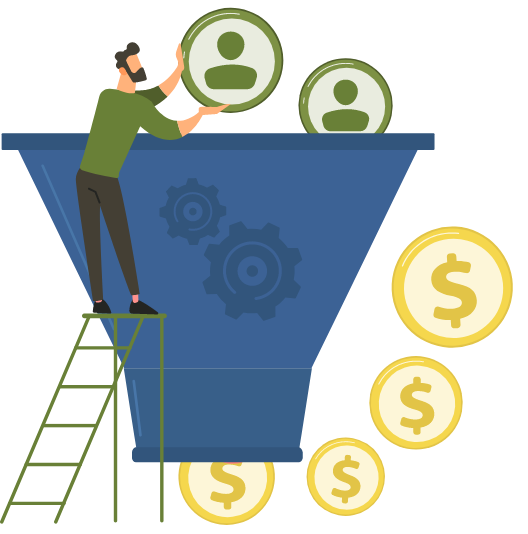 According to Gleanster Research, approximately 50 percent of qualified leads are not ready to purchase. They might be eager to know more about your brand offerings and how you can solve their problems, but convincing them to sign up for your service is another challenge.
Looking to grow and convert more customer leads? Double your lead nurturing efforts to keep website leads interested and move them smoothly towards your conversion funnel. At Thrive, We monitor your brand interactions, segment your sales qualified lead prospects and automate your lead nurturing process to supercharge your sales efforts.
What We Do
Promote Timely Conversations With Prospects
Develop Your Lead
Scoring Strategy
Lead scoring or ranking leads based on their sales-readiness allows us to prioritize sales qualified lead prospects with the best chance of converting. We examine your marketing analytics, assign point values to each lead criteria, set up thresholds and create multiple lead scoring systems based on your lead segments to increase your sales efficiency.
Optimize Your
Content Marketing
Approach
We create relevant and valuable content and facilitate multichannel distribution to help you maintain contact with marketing qualified lead prospects and SQLs across the board. Each content format and brand message is tailored to each stage of your buyer's journey to ensure it addresses customer pain points and yields greater results.
Launch Marketing
Automation
Our digital marketing specialists leverage advanced marketing automation software to schedule your lead conversion campaigns easily, align your marketing messages and monitor your performance in real-time. The goal is to create a consistent experience and ensure each sales qualified lead receives relevant information at the most opportune times.
Why We Do It
Identify Consumer Needs and Upsell Opportunities
More than 30 percent of salespeople believe that closing deals has become harder compared to two or three years ago (HubSpot). Having trouble converting qualified leads to paying customers?
We analyze your current internet marketing plan and optimize your lead nurturing program to maintain communication with your prospects and build your reputation as an industry leader. Effective lead nurturing efforts speed up the sales cycle and save the money you spend on keeping up with potential clients!
As your sales funnel lengthens, the attention span of your qualified leads also shrinks.
Businesses with an effective lead nurturing process generate 50 percent more sales qualified leads at 33 percent lower cost per lead (Forrester Research).
Lead nurturing motivates qualified leads to buy and drives 47 percent more purchases than less focused campaigns (Annuitas Group).
The lack of a lead nurturing strategy is the primary reason 79 percent of marketing qualified leads are not converting (MarketingSherpa).
What You'll Gain
Stay Top of Mind and In Front of Your Prospects
A Comprehensive Profile of Your Ideal Customers
An In-Depth Understanding of Consumer Expectations
Increased Brand Engagement Throughout the Sales Process
Greater Return on Investment (ROI)
SUCCESS STORY:
Establishing brand awareness in this competitive digital landscape was the biggest hurdle of an air conditioning contractor in Arlington, Texas. The company came to Thrive unsatisfied with the first four SEO agencies it had worked with in the past.
To improve the client's online visibility and convert leads into customers, we focused on optimizing its web design and content marketing strategy. Our digital marketing consultants crafted SEO-optimized content that resonates with the audience's motivations to promote deeper brand engagement and drive more sales. This effort resulted in a 19.7 percent increase in page views and greater ROI.

Email Marketing
Reach a Responsive Audience and Get Unrivalled Sales Revenue

When your resources are limited but you're aiming to grow and convert more sales qualified leads into paying customers, you must ensure you're capitalizing on sales-oriented digital marketing solutions that deliver positive results in the long run. Email marketing is by far one of the most efficient and cost-effective ways to promote your business and drive more sales revenue.

Unlike other digital marketing techniques, email marketing automation campaigns allow you to expand your market reach, contact prospects directly and customize your brand message to guide them towards specific actions.

Ready to exceed your business goals and achieve higher sales revenue through email marketing? Let us show you how to incorporate email marketing automation in your lead conversion and customer acquisition programs and deliver significant results.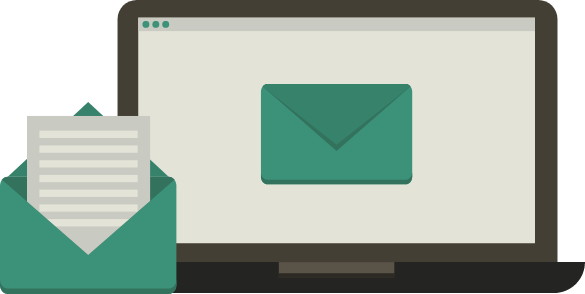 What We Do
Deliver Targeted and Personalized Content
Develop Your Email
Marketing Strategy
We run email marketing audits and A/B tests to gain critical insights into your prospects' needs and determine which email template works for them. Analytics results allow us to create personalized email drip campaigns and landing pages that enhance customer experience and reduce email bounce rate.
Facilitate Email
Marketing
Automation
Streamline repetitive customer relationship management (CRM) tasks and save time, money and effort through email marketing automation! We segment your mailing lists and send scheduled or triggered promotional emails to your subscribers based on their specific actions to support your lead conversion strategies.
Set Up Campaign
Tracking and Reporting
We set up your Google Analytics to track metrics such as open rate, bounce rate and list growth rate and drive future marketing planning decisions. As you fine-tune your lead conversion campaigns, you can replicate successful email marketing efforts and eliminate practices that negatively impact your bottom line.
Why We Do It
Facilitate Direct Communication With Prospects
Is email marketing worth all the effort? Regardless of your niche market, you need a systematic digital marketing strategy to nurture customer relationships, gather actionable data, convert leads and reduce churn rate. Email marketing facilitates all these processes and more!
Our digital marketing specialists use email marketing automation to create personalized brand experiences for your email subscribers and market your business at the right moment.
Statistics show 99 percent of email users check their email every day, and some as much as 20X per day (Optinmonster).
Emails read on mobile devices have a 65 percent likelihood of driving clicks (Campaign Monitor).
Segmented email campaigns drive a 100.95 percent click-through rate (CTR) (Mailchimp).
Personalized email campaigns earn 6X higher transaction rates than non-targeted emails (Adobe).
What We Do
Track, Analyze and Respond to Conversations About You
Monitor Your Social
Media Channels
We create a list of keywords to monitor based on your business goals. This may include search terms about your products, services, competitors or recent marketing campaigns you've launched. Our social media monitoring experts check every channel to maximize your resources and map out your customer journey.
Respond and Take
Action
Once we've tapped into relevant conversations about your brand, we determine which posts require action and route conversations through the appropriate response system. We also develop a crisis management plan to address issues immediately and turn them into conversion opportunities.
Refine Your
Strategies
Discover what new products or services your customers want and which marketing strategies they prefer and revamp your tactics accordingly! At Thrive, we track your audience behavior patterns and gauge the effectiveness of your current marketing strategies to point your conversion efforts in the right direction.
Why We Do It
Gauge Your Campaign Performance and Manage Crises
Brand engagement is beneficial to business – but only if it comes with positive social sentiments. What do your prospects and customers say about your brand?
Get closer to your target market segments and launch focused social media campaigns that align with your specific business needs. We carefully examine your social media engagements and brand mentions to reduce your marketing costs and improve your customer experience, satisfaction and retention rate.
Good customer service requires listening and responding to consumer sentiments.
Social media monitoring provides you with business-wide insights you can use to tackle marketing challenges and meet campaign objectives.
Having a strategic social media monitoring process allows you to cut through the noise, reward positive mentions, optimize product launches and turn negative feedback into marketing opportunities.
Social media monitoring is an excellent way to keep an eye on bad press and squash any issue before it snowballs.
Marketing Automation
Simplify Manual Tasks and Increase Your Operational Efficiency

Aiming for lower operational costs, broader market reach and unprecedented sales growth month-over-month? Reach an audience that is 5X to 10X larger than your current contact base and reduce operating expenses using marketing automation solutions!

An Annuitas Group research study revealed that businesses leveraging marketing automation to nurture prospects gain a 451 percent increase in qualified leads. What's more, companies that adopt this strategy boost their marketing ROI by 25 percent (Salesforce).

Automate your digital marketing strategies and convert more qualified leads into sales. We help you identify and use the right CRM software and marketing automation tools to personalize your customer journey and deliver your brand.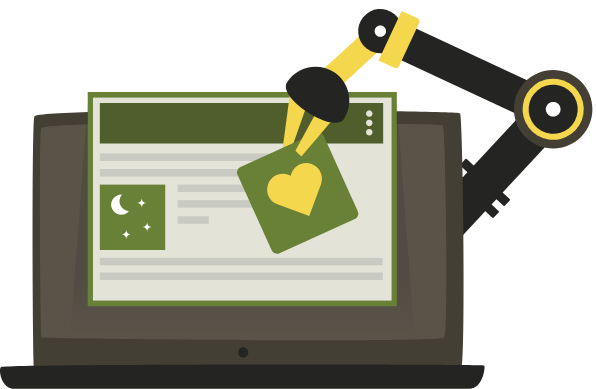 What We Do
Ensure Marketing and Sales Alignment
Segment Your
Contact Lists
We leverage advanced marketing automation tools to segment your customer list based on demographics, locations, purchasing behavior and engagement level. Doing so allows us to launch targeted campaigns that deliver better conversions.
Monitor Your
Online Activities
To develop a cohesive lead conversion strategy, we perform in-depth monitoring and analysis of your existing digital presence. This enables us to flag up irrelevant, unprofitable lead nurturing and conversion tactics and fill the gaps in your marketing efforts.
Set Up Drip
Campaigns
From email marketing and social media advertising to retargeting and cross-selling, we help you set up well-timed, automated marketing campaigns that cement your status as an industry leader and move sales qualified leads through your sales funnel.
Why We Do It
Get Your Customers Converting More Than Once
Marketing automation is one of the proven ways to streamline your marketing processes and encourage repeat visits and transactions post-conversion. The more robust automated campaigns you launch, the higher your chances of reaching new heights and improving your lead conversion.
Let us make your life easier! Save valuable time and deliver profitable results to your company with Thrive's data-driven marketing automation services.
Automated processes increase marketing efficiency and provide a more comprehensive multichannel view of prospect behavior.
Implementing marketing automation systems results in a 10 percent increase in the sales pipeline (Forrester Research).
Integrated marketing channels allow you to create a more comprehensive prospect profile.
Marketing automation increases sales productivity by 14.5 percent and reduces marketing costs by 12.2 percent (Nucleus Research).
Double down on successful lead conversion strategies
and increase your close rates!