Thrive Internet Marketing Agency provides trusted web design services for travel & tourism businesses.




The Thrive team goes above and beyond to help travel websites stand out with user-friendly web design, and help them to broadcast their message and expand their reach more effectively.




Choose Thrive For Your Travel & Tourism Website Design
At Thrive Internet Marketing Agency, we're proud of the value that our services bring to the travel & tourism industry, and we invite you to explore our current work portfolio. To speak with a reputable web design company, contact us today by calling us for a free quote, or clicking below to get started.
We can't wait to hear from you!
Ready to build a website
for your travel or tourism company?
Click the button below for a free proposal
Web Design 

Client Reviews

Marci Wiersma
"They do everything they say...no BS"
"Thrive is a much needed blessing and exceeded our expectations in every way. They are honest, straightforward, they take care of ALL your needs quickly, they are reliable, you can count on them and most of all, they do everything they say they will do, no BS."

Whitney Wells Lewis
"These guys are incredible"
"These guys are incredible. They've helped us to grow our business and now the biggest problem we seem to come across is having too much business - which is the ideal problem to have. We are right where we wanted to be and Thrive made that possible. Thanks guys!"

Chad Montgomery
"Unrivaled customer support"
"Working with the Thrive team has been a most pleasant experience! Their dedication and passion for what they do is exemplified by their unrivaled customer support and attentiveness to the specific needs of our business. We look forward to a long lasting and prosperous relationship!"

Get Your Free Instant SEO Audit Report Now!
Free Instant SEO Audit Report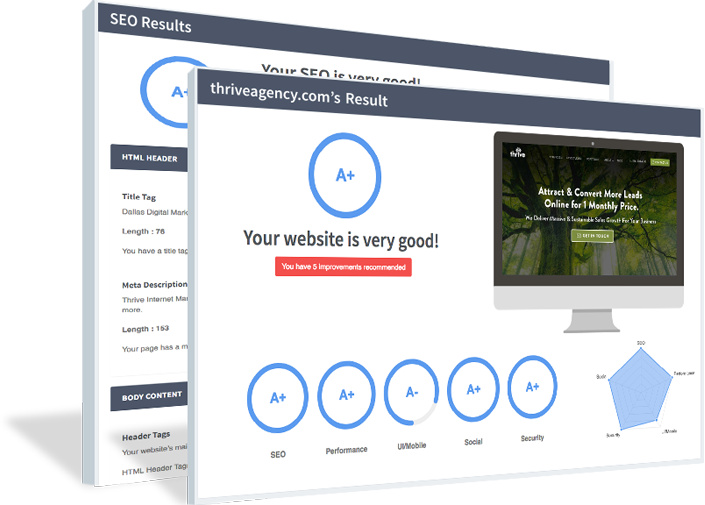 Showcase Your Destination
When visitors land on your website, many of them know exactly where they want to go. Your online portal stands as their gateway to expedited travel plans. Others are ready to pack but are still thinking through their options. Your website channels their daydreams into exciting travel adventures.
Thrive Internet Marketing makes it all happen for your destination marketing company, travel agency or convention and visitor bureau. We specialize in travel website design that caters to your market and keeps you ahead of your online competition.
Experience, Talent and Industry Knowledge
You understand how to showcase destinations and turn interest into bookings. Our website design highlights your travel and tourism services and converts online hits into valuable visitor experiences. We build your website with our WordPress expertise, so you enjoy an online presence that's stable and easy to customize.
Our web design talent ensures that your site is as attractive as it is unique with features that draw in traffic and turn clicks into bookings. Our deep SEO experience and knowledge keep you at the top of search engine pages across all platforms.
Web Design That Communicates
The Internet presents unlimited opportunities that stretch across an endless digital map. You have to compete with countless entities for potential customers who bounce across sites with lighting speed. We design feature-rich travel and tourism websites that enhance the visitor experience and ensure repeat business.
All of this is done within pages that convey exactly who you are, what you offer and why you're different. We make sure that our travel web design consistently conveys your brand and clearly communicates why you're the best in your industry.

Engage, Capture and Convert
Your website has to be visually attractive, and it has to convert clicks into clients. We build your online portal to engage and capture passing traffic and turn it into repeat visits with features that set you apart from your competition. With your input, we customize media galleries, develop trip planners and streamline booking processes.
Whether you target recreational, corporate or group travel or market across all sectors, our web design, SEO, and social media talents make sure that you always make the best connections.
Complete Website Management
When you partner with Thrive, you become the most important member of our team. We build your website around your specific needs, and we develop online marketing campaigns that help your business grow. Our services include expert social media management that keeps your message clear and visible across all channels. From original content generation to precisely tracking analytics, we handle it all. Our website design and online management strategies establish you as an authority in the travel and tourism field and a leader in your industry.
Grow With Thrive
You help clients go places and connect with destinations every day. We help you attract and convert the traffic it takes to build your online success and your industry reputation. Thrive Internet Marketing offers our services as an established travel website design company, and we back our work with the best web design, SEO, and social media talent in the business.
Whether you're launching a new DMO site or upgrading your CVB portal, let us eliminate the distance between you and travelers on the digital highways.
Contact us online, or give us a call today at 866-908-4748 for a free, personal consultation.
Travel & Tourism Digital Marketing Services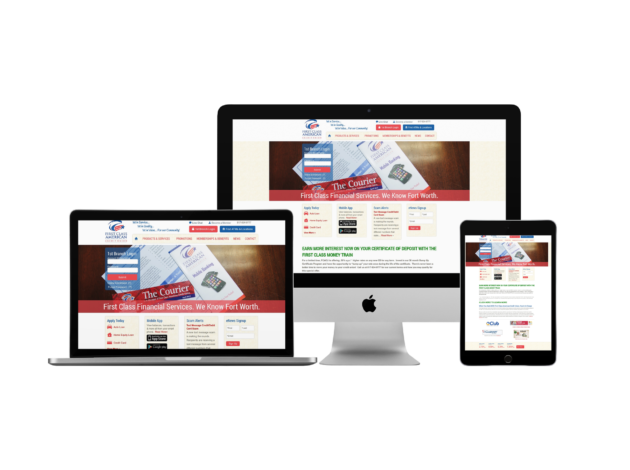 In our digital age, 3 out of 4 people use the Internet to find products and services or to find a solution to a problem. The first page of search results receives 91% of traffic – is your website on the first page?
If it isn't, then you are missing out on valuable leads and sales opportunities.
In order to boost your website's ranking so that your website appears on the first page, you need an effective SEO strategy. This is where Thrive can help. Our team of certified and proven SEO experts can help you with the following:
Get My Free Web Design Proposal