Thrive Internet Marketing Agency is a Dallas SEO company that provides a full range of digital marketing services, including PPC, social media and content writing in addition to SEO to small and large businesses in Dallas, Texas. We work with our clients to create and build SEO strategies that are proven to drive desired results.
Award-Winning Dallas SEO Company
Talk to a Dallas SEO Expert
Get Your Free Instant SEO Audit Report Now!
Free Instant
SEO Audit Report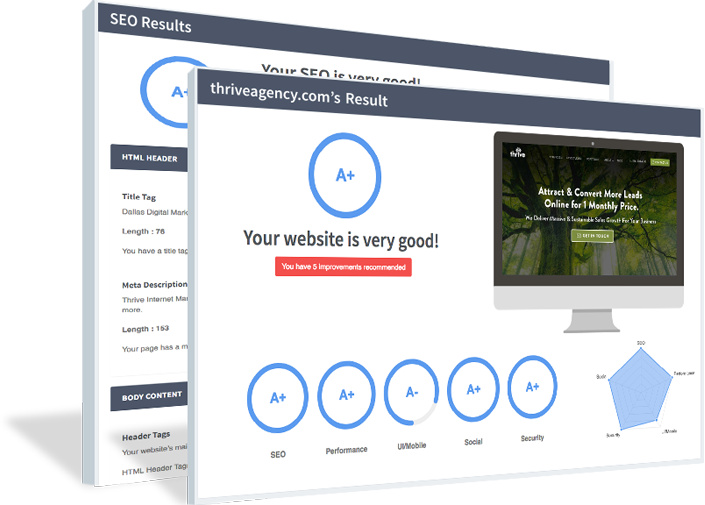 Why Choose Thrive for Dallas SEO services
In our digital age, 3 out of 4 people use the Internet to find products and services or to find a solution to a problem. The first page of search results receives 91% of traffic – is your business' website on the first page?
If it isn't, then you are missing out on valuable leads and sales opportunities. In order to boost your website's ranking so that your business appears on the first page, you need an effective SEO strategy. This is where Thrive can help.
Our Dallas SEO experts will audit your current situation, analyze the competition and build a strategy tailored specifically for your business, full of keyword research and opportunities to bring you more website visitors and new leads.
Types of SEO services we provide
Search Engine Optimization – Also known as SEO, Search Engine Optimization is crucial to improving your website's ranking. From comprehensive onsite SEO, such as title tags, meta descriptions, and content creation, to link building, Thrive Internet Marketing can create and build a custom SEO strategy tailored just for your business.
Local SEO – If your business has a single or multiple regional locations, then you will likely benefit from our local SEO services. With our local Dallas SEO services, we can help your business achieve higher rankings in local search results in order to beat your competition.
Franchise SEO – If your franchise isn't showing up in search engine results, then this likely means that you aren't attracting the right customers. In addition to local SEO services, we also specialize in franchise SEO services to help franchises focus their efforts on attracting the right buyers and to also get the strongest ROI.
eCommerce Optimization – The majority of consumers are shopping online today. In fact, 71 percent of shoppers believe that they will get a better deal shopping online rather than in stores. However, the majority of small businesses online do not have optimized eCommerce sites, which is resulting in lost sales and lost revenue. Work with an expert SEO company in Dallas to help your business achieve a higher ranking.
What you can expect from your Thrive Dallas SEO expert
Our SEO campaigns include the following key elements to improve your Dallas' business online visibility and keyword rankings:
Website Audit - We'll start with an audit of your website to review metadata, URL structure, technical issues, keyword opportunities, competition, backlink analysis and more.
Competitive Analysis - After learning who your brick and mortar competitors may be, we'll also take a look at the SERP landscape to see who's trying to rank for the same keywords as you.
Keyword Research - Using search data from various tools and resources, your SEO specialist will conduct research and pull together a list of keyword opportunities for your website.
Technical SEO - From fixing schema errors to increasing your page load times, our team is creative, strategic and technical when it comes to SEO.
Building Backlinks - We have relationships with high-quality websites and bloggers in a variety of industries and perform outreach to increase your backlink profile, steering clear of spammy websites.
Content Writing - Thrive has a team of content writers who will produce content for your website to help with your internal linking and long-tail keyword ranking strategies. We also make sure all content is original and provides the users answers to their questions.

Marci Wiersma
"Thrive is a much needed blessing and exceeded our expectations in every way. They are honest, straightforward, they take care of ALL your needs quickly, they are reliable, you can count on them and most of all, they do everything they say they will do, no BS."

Chad Montgomery
"Working with the Thrive team has been a most pleasant experience! Their dedication and passion for what they do is exemplified by their unrivaled customer support and attentiveness to the specific needs of our business. We look forward to a long lasting and prosperous relationship!"

Whitney Wells Lewis
"These guys are incredible. They've helped us to grow our business and now the biggest problem we seem to come across is having too much business - which is the ideal problem to have. We are right where we wanted to be and Thrive made that possible. Thanks guys!"
Why Choose Thrive As Your Dallas SEO Company?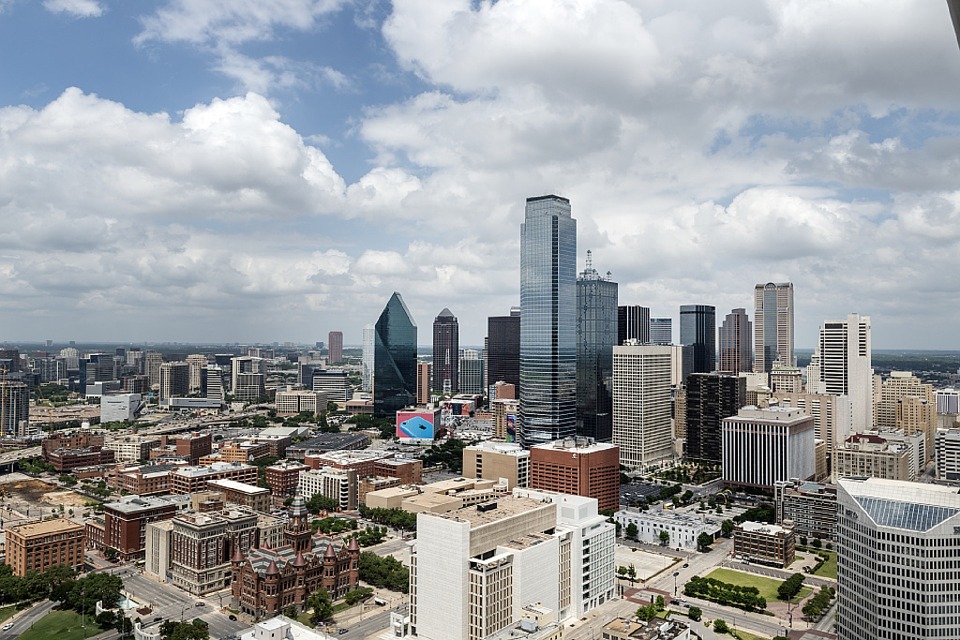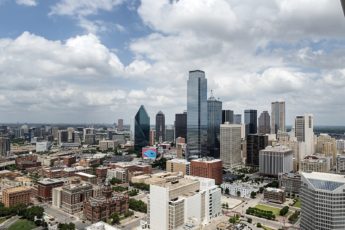 You might have a well-designed website, but it isn't doing your business much good if it isn't being picked up by search engines. By working with a certified and proven team of SEO experts, you can ensure that you not only improve your website's rank, you also boost your return on marketing investment.
From local SEO services to SEO consulting, Thrive works with a broad range of companies and franchises to build the best possible SEO strategy that is customized for each unique business. So how are we different from any other Dallas SEO company? Here are some reasons why:
We Have Proven Results – Why would you work with an SEO services firm that doesn't provide you with the results you are looking for? Stop throwing away your hard-earned money on a strategy that isn't converting. Thrive takes the time to listen to your business' goals and needs, and then builds a custom strategy to reach these goals.
We Are Ethical – At Thrive, we believe in honesty, integrity, and respect. We don't believe in "selling" a service that you don't need or applying a one-size-fits-all approach to each client. We dedicate our time to achieving higher rankings, increased traffic and conversions, and a higher return on marketing investment for our clients.
We Know SEO - Working with a Dallas SEO company that actually knows SEO seems obvious, but unfortunately, many SEO firms fail to deliver positive results. Our SEO strategies are proven to work. In fact, the majority of our clients pay for their entire website in the first month from new business leads as a direct result of our SEO efforts.
We Put Customers First – Maintaining a customer-centric focus is a priority for many marketing agencies, however, few actually follow through. As a Dallas SEO Agency, Thrive is different. We are truly diligent and committed to our clients by showing up on time; keeping our promises; being polite, honest, and respectful; and going above and beyond for our clients.
Clear Reporting – Many of our competitors are often vague when it comes to reporting on the results of SEO efforts. The team at Thrive chooses to be transparent by providing our clients with clear, transparent, and accessible reports. We offer 24/7 access to online Thrive SEO client portals where clients can access their reports for a full overview of your website's SEO performance.
Through our expertise in SEO services, and by standing by our SEO code of ethics, Thrive can help boost your website's rank, and also increase traffic to your website and improve conversion rates.
To speak with a reputable and professional Dallas SEO agency, contact the team at Thrive today by calling us for a free quote, or click on our form below to get started. We can't wait to hear from you!
Dallas SEO Learning Resources
Ready to learn a little more about how Thrive can help you and your company achieve SEO success? Here's a few learning resources based on questions we hear from Dallas businesses like yours. Have a question of your own? Give us a shout!
Thrive is a full-service Digital Marketing Agency
If you want to increase your brand's online presence, automate your marketing activities or effectively reach your target audience and prospective buyers, then you need a Dallas digital marketing firm that can help. Thrive specializes in the following areas of digital marketing services: