Thrive is an SEO company in Austin, Texas that provides digital marketing services to companies, organizations and brands of all sizes, from single-location shops to large corporations. 
Thrive has a dedicated team of SEO Specialists with years of expertise in helping Austin area businesses with their SEO and digital marketing campaigns. Thrive is a full-service digital agency, providing digital marketing services such as SEO, PPC, web design, social media, and more.
Talk to a Digital Marketing Expert
Get Your Free Instant SEO Audit Report Now!
Free Instant SEO Audit Report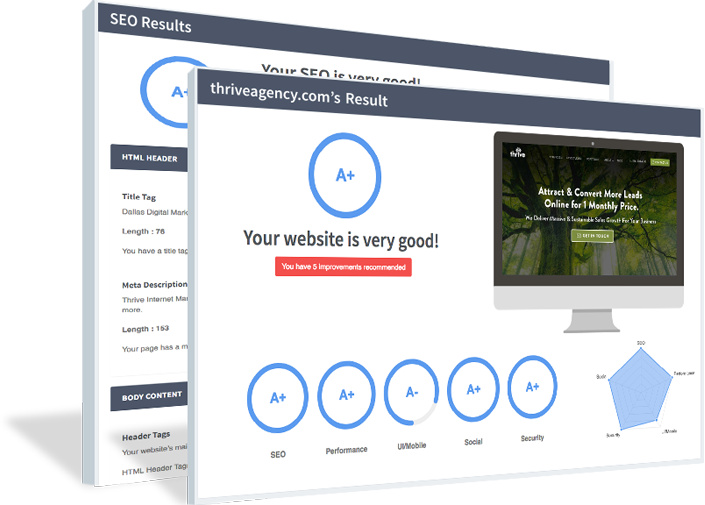 Why Choose Thrive As Your Austin SEO Company?
Austin, the state capital of Texas, is a thriving city known for its music scene, recreational areas, restaurants, and more. There are some great opportunities in Austin for businesses to thrive! However, it can be hard to get found online and beat out your competition. SEO marketing is definitely an essential for any Austin business. Thrive can help!
How many leads or sales are you currently getting through your website? Are you interested in growing that number? While there are many marketing tactics you can try (such as PPC and social media marketing), SEO is essential for creating a strong foundation of online visibility that'll send those much-needed visits to your website.
Whether you're working on targeting a local audience, a national one, or even a global one, Thrive can scale our SEO services and tailor them to your unique business.
When you choose to work with Thrive on your SEO campaigns, you'll have a dedicated SEO Specialist who gets to know and understand your business on a deep level. That really helps us build your campaigns to accomplish your unique business goals while targeting your audience with precision.
Thrive has been providing digital marketing services to clients since 2005. We've built our reputation on superior customer service and a track record of success for clients large and small.
When you choose Thrive as your SEO company in Austin, you can expect:
Extreme customer focus - We strive to understand your business goals first, then develop a strategic online marketing plan (SOMP) to use as a road map for your SEO campaign.
No Contracts - We believe in our services and Specialists to deliver a positive return on investment for our clients.
Dedicated SEO Specialist - You get direct access to the team member that will be implementing your campaign.
Data-Driven - As Google Analytics certified professionals, we will make data driven-decisions about your campaign.
Transparent Reporting - We provide custom, in-depth reporting and time tracking so you can easily monitor your return on investment (ROI).
Austin SEO Learning Resources
Ready to learn a little more about how Thrive can help you and your company achieve SEO success? Here's a few learning resources based on questions we hear from Austin businesses like yours. Have a question of your own? Give us a shout!
Ready to chat about how our Austin
SEO services can grow your business?
Drop us a line today for a free quote!