Thrive is a digital marketing agency in Atlanta, Georgia that provides online marketing services to businesses both large and small. We work with small, family-owned businesses in Atlanta all the way to large, international corporations.
Thrive has a dedicated team of experienced digital marketing consultants with the expertise in helping area businesses reach more customers with their online marketing campaigns. We're a full-service digital marketing agency, handling everything in-house. We have the capabilities and experience to design and develop an SEO-friendly website, create and run SEO & PPC campaigns, email marketing, content strategy, and more.
Talk to a Digital Marketing Expert
Ready to chat about how our Atlanta digital marketing agency can grow your business?
Drop us a line today for a free quote!
Why Choose Thrive As Your Atlanta Digital Marketing Agency
Thrive has been providing digital marketing services to clients in Atlanta since 2005. We have built a reputation of superior customer service with a track record of success. When you choose Thrive as your online marketing company you can expect:
Extreme customer focus - We strive to understand your business goals first and then develop a strategic online marketing plan to use as a road map for your campaign.
No Contracts - We believe in our services and consultants to deliver a positive return on investment for our clients.
Dedicated Digital Marketing Specialist - You get direct access to the team member that will be implementing your campaign.
Data-Driven - As Google Analytics certified professionals, we will make data driven-decisions about your campaign.
Transparent Reporting - We provide custom in-depth reporting and time tracking so you can easily monitor your ROI.
Meet the Team
Say hello to all the Thrivers!
Get Your Free Instant SEO Audit Report Now!
Free Instant SEO Audit Report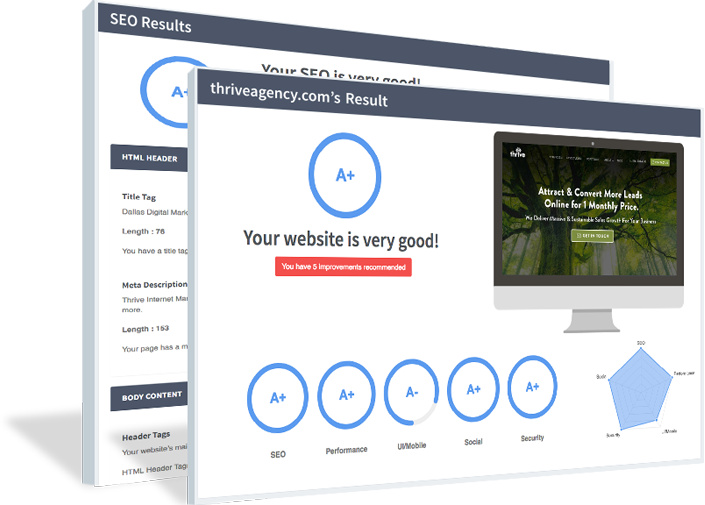 What is Digital Marketing and How Can it Help Your Atlanta-based Business?
If you're running a business in Atlanta, you know how important it is to put thought into driving calls and leads. Without them, you wouldn't have a business! That's where digital marketing can help.
Digital marketing includes a mix of various tactics such as search engine optimization (SEO), social media marketing, PPC ads, and more. Even a well-executed web design can have a positive impact on digital marketing success. At Thrive, our team of specialists will help audit your current digital marketing efforts, identify gaps and opportunities, and work with you on an ongoing basis to help execute these plans and drive more business via digital marketing. As a top digital marketing agency in Atlanta, we have the knowledge and proven experience you can trust.