Thrive Internet Marketing Agency provides trusted web design services for trucking companies.




The Thrive team goes above and beyond to help trucking and logistic company websites stand out with user-friendly web design, and help them to broadcast their message and expand their reach more effectively.




Choose Thrive As Your Trucking Website Designer
At Thrive Internet Marketing Agency, we're proud of the value that our services bring to the trucking and transportation industry, and we invite you to explore our current work portfolio. To speak with a reputable web design company, contact us today by calling us for a free quote, or clicking below to get started.
We can't wait to hear from you!
Ready to build a website
for your trucking company?
Click the button below for a free proposal
Web Design 

Client Reviews

Marci Wiersma
"They do everything they say...no BS"
"Thrive is a much needed blessing and exceeded our expectations in every way. They are honest, straightforward, they take care of ALL your needs quickly, they are reliable, you can count on them and most of all, they do everything they say they will do, no BS."

Whitney Wells Lewis
"These guys are incredible"
"These guys are incredible. They've helped us to grow our business and now the biggest problem we seem to come across is having too much business - which is the ideal problem to have. We are right where we wanted to be and Thrive made that possible. Thanks guys!"

Chad Montgomery
"Unrivaled customer support"
"Working with the Thrive team has been a most pleasant experience! Their dedication and passion for what they do is exemplified by their unrivaled customer support and attentiveness to the specific needs of our business. We look forward to a long lasting and prosperous relationship!"

Get Your Free Instant SEO Audit Report Now!
Free Instant SEO Audit Report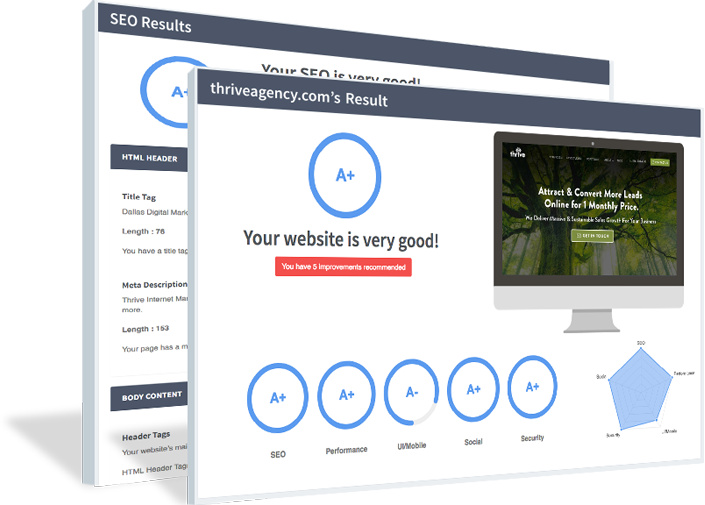 Open New Roadways With Custom Trucking Website Design Services
Your trucking operations depend on efficient routing, accurate tracking, and detailed coordination. Those same strategies apply to making sure that your online presence delivers its best. You have to serve your client base, attract new business and stay relevant across all channels. Here at Thrive, we understand your industry. We offer unique trucking website design customized to fit your company's needs and drive its continued success.
Putting You on Top
You know how to synchronize loads, optimize shipments and scale capacities. Our teams know how to translate your industry expertise into a compelling, robust website that communicates your full line of services. We put our search engine optimization talent to work with strategies that keep you at the top of search engine pages. Your site gets the hits, and potential customers get a clear view of everything that you offer. We make the connections work with smart navigation that turns first-visit clicks into solid conversions down the last mile. Your site performs as a powerful marketing tool and a business-generating workhorse.
Satisfying Customers and Drivers
Your customers expect all the bells and whistles,  and we help you give them what they need. Our teams work closely with you to develop online access that goes beyond basic client support. We can incorporate a variety of reporting, accounting and invoicing features into your trucking website. When a customer wants real-time order entry or tracking, your site delivers while you enjoy a detailed overview that keeps you on top of daily operations. We also understand the importance of driver recruitment, so we design pages that outline your company's expectations and benefits along with online applications for instant review.
Covering All Your Channels
The Internet is a complex system of digital highways that cut across a wide variety of platforms and devices. With our responsive web design for your trucking company, you know that you're visible on all smartphones, tablets, and laptops. From drivers reporting on the road to clients checking shipments, your website is a virtual dispatch center for vital information. Social media plays a big role in today's marketing, and we harness those channels with proven logistics that assess your site-specific traffic. Our precise data-tracking processes include analytics that identify and quantify activity, and we send you measurable results on a regular basis.
Ensuring Your Online Success
Our first priority is to get to know you and understand your goals. Our web design for your trucking business starts with your input so that we build exactly what you expect. You don't want templates, and you value control. Because we hand-code and create your site with WordPress, we put together a unique web portal that's both attractive and stable. If you want to manage content, images and updates, we teach you how at no charge. If you prefer, we maintain your site and maximize its performance with everything from traffic data analysis to informative blog posts. As your partners in online success, we customize our services so that they always work for you.
Grow With Thrive!
Whether you're a regional or national carrier, your company's online presence needs to stand out and showcase your capabilities. Here at Thrive Internet Marketing, we're ready to help you open new roadways with our results-driven trucking website design services. Contact us online for a proposal, or speak with our friendly staff at 866-908-4748. Give us a call today, and we'll make your trucking website stand out online.
Trucking Digital Marketing Services

In our digital age, 3 out of 4 people use the Internet to find products and services or to find a solution to a problem. The first page of search results receives 91% of traffic – is your trucking company's website on the first page?
If it isn't, then you are missing out on valuable leads and sales opportunities.
In order to boost your website's ranking so that your website appears on the first page, you need an effective SEO strategy. This is where Thrive can help. Our team of certified and proven SEO experts can help you with the following:
Having a digital marketing plan that promotes your website is the best way to beat your competition. Effective SEO strategies will make sure customers can find your business in search results, which will increase leads and conversions.
Proper local SEO marketing is essential to the growth and success of any business. By integrating various local search engine marketing techniques into a digital marketing plan, name, brand, and services will be marketed to the right area and at the right time.
When you work with a PPC marketing expert at Thrive, you can ensure your trucking company is seeing a healthy return on your marketing investment. When it comes to SEO, we know how to drive more traffic and leads to your website for less marketing spend.
By working with the team of social media marketing experts at Thrive you can ensure you're engaging with customers which helps not only build and maintain a positive online reputation but also increase website traffic, generating more leads and conversions for your business.
Get My Free Web Design Proposal