Thrive Internet Marketing Agency provides trusted web design services for plumbers.




The Thrive team goes above and beyond to help plumbing company websites stand out with user-friendly web design, and help them to broadcast their message and expand their reach more effectively.




Choose Thrive For Your Plumbing Company Website Designer
At Thrive Internet Marketing Agency, we're proud of the value that our services bring to the self-storage industry, and we invite you to explore our current work portfolio. To speak with a reputable web design company, contact us today by calling us for a free quote, or clicking below to get started.
We can't wait to hear from you!
Ready to build a website
for your plumbing company?
Click the button below for a free proposal
Web Design 

Client Reviews

Marci Wiersma
"They do everything they say...no BS"
"Thrive is a much needed blessing and exceeded our expectations in every way. They are honest, straightforward, they take care of ALL your needs quickly, they are reliable, you can count on them and most of all, they do everything they say they will do, no BS."

Whitney Wells Lewis
"These guys are incredible"
"These guys are incredible. They've helped us to grow our business and now the biggest problem we seem to come across is having too much business - which is the ideal problem to have. We are right where we wanted to be and Thrive made that possible. Thanks guys!"

Chad Montgomery
"Unrivaled customer support"
"Working with the Thrive team has been a most pleasant experience! Their dedication and passion for what they do is exemplified by their unrivaled customer support and attentiveness to the specific needs of our business. We look forward to a long lasting and prosperous relationship!"

Get Your Free Instant SEO Audit Report Now!
Free Instant SEO Audit Report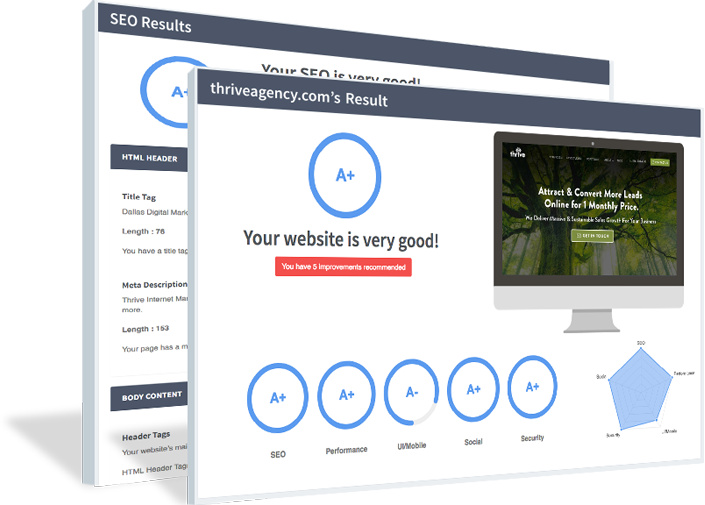 Plumbing Website Design Services That Will Grow Your Customer Base
When a homeowner needs plumbing services, references from neighbors aren't enough anymore. A business that needs to upgrade its plumbing infrastructure wants a contractor with proven experience. Potential customers start with online searches, and you have to capture their attention. Professional plumbing website design by Thrive provides a solid platform that ensures your visibility across all online channels and drives the market to your digital front door.
Make Your Best First Impression
Before a customer gives you a call, he wants to know that you're the right plumber for the job. Even if he's dealing with a ruptured pipe in the laundry room, he jumps online, searches local plumbing websites and then makes a decision.
Because we understand your industry and your target market, we develop a layout that makes it easy to quickly access and navigate your full line of services. Because we take the time to get to know you, we design a site that communicates the best about your business. We make sure that you make a great first impression before the customer greets you at the door.
Successfully Sell Your Plumbing Services
While your business is all about delivering service, you still have a lot to sell. Your brand is your professional identity, and we incorporate that into our website design for your plumbing company. Whether you're an independent plumber or part of a national franchise, we integrate your marketing material with powerful content that conveys who you are and why you're the best.
Online coupons, quote request portals, location maps, and client testimonials are just a few of the selling strategies that we develop to attract visitors, increase calls, and grow your customer base. It all comes together in a website that's attractive, user-friendly and customized to sell your plumbing services.
Communicate Across All Channels
From fixing broken faucets to tackling slab leaks, you're always ready to respond to the situation. You need the same kind of flexibility to stay visible on the digital landscape, and our responsive website development ensures that you come across clearly on all platforms and devices.
We extend that solid connection by integrating and implementing a full line of social media marketing strategies that identify, assess and target your customers. More than 80 percent of today's online traffic drives along the social media highway and our social media marketing services make sure that you stand out with measurable results.

Put Our Plumbing Website Design Talents to Work for You
Your plumbing business deserves to rank at the top of the search engines across all platforms. We get you there with smart plumbing SEO strategies that also keep you there. Our experience serving the plumbing industry gives us an edge over other website design companies.
We know what works, but we know that your company is unique, so we design our services around your needs. Competition evaluation, ongoing keyword research, data analysis and content creation are just a few of the proven techniques that we've developed over the years. We back it all with our Internet marketing talent dedicated to your online success.
Grow With Thrive!
You know how important it is to deliver your very best, and you do it every day. Our job is to ensure that your hard work translates into an online presence that establishes your company's brand and grows your customer base. Here at Thrive Internet Marketing, we're ready to help you drive new business with customized, mobile-friendly websites for plumbers.
Contact us online for a proposal, or speak with a consultant at 866-908-4748.
Give us a call today, and we'll make your plumbing website stand out online.
Plumbing Company Digital Marketing Services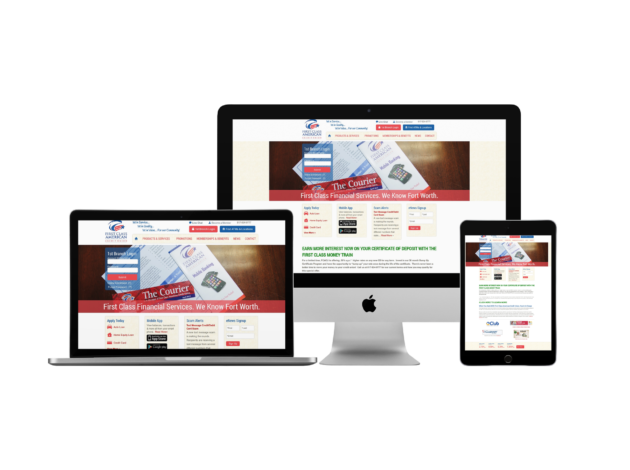 In our digital age, 3 out of 4 people use the Internet to find products and services or to find a solution to a problem. The first page of search results receives 91% of traffic – is your plumbing company's website on the first page?
If it isn't, then you are missing out on valuable leads and sales opportunities.
In order to boost your website's ranking so that your website appears on the first page, you need an effective plumber SEO strategy. This is where Thrive can help. Our team of certified and proven SEO experts can help you with the following:
Get My Free Web Design Proposal