PITTSBURGH
PPC AGENCY
Get The Best Conversions
With Effective PPC Campaigns



Thrive is a PPC Agency in Pittsburgh, Pennsylvania, that delivers customized pay-per-click (PPC) marketing services to companies and brands across all industries.



Thrive provides a complete suite of marketing services that include social media management, web design, SEO and PPC. 
Pittsburgh rose to fame as the country's biggest producer of steel in the early 1900s, earning the nickname "Steel City." These days, Pittsburgh is known for more equally interesting things, such as being the "City of Bridges" because of its 446 bridges around the city. It's also called "Amateur City" because of its contribution to amateur sports leagues and events. Lastly, Pittsburgh is referred to as the "Hollywood of the East" as directors and filmmakers love to shoot here.
These days, Pittsburgh is named "Robot City" as robotics is a main field of study in Pittsburgh's Carnegie Mellon University. Pittsburgh is also considered a budget Silicon Valley as tech companies like Google, Facebook and Uber have all built their new headquarters here. Over the past few years, this city of steel has transformed into a rising hub for tech giants and startups alike.
With a thriving yet competitive marketplace, starting a business in Pittsburgh requires a sound business and marketing plan. Thrive's Pittsburgh PPC company provides digital marketing services that include pay-per-click management, which can help you implement the right strategies for your business to succeed.

Our Pittsburgh PPC
Clients Get Results
"The results speak for themselves"
"We now have too much business"
+281
Top 5 Keyword Results
But Don't Take
Our Word For It

Marci Wiersma
Broker - About Roatan Real Estate
"They do everything they say...no BS"
"Thrive is a much-needed blessing and exceeded our expectations in every way. They are honest, straightforward, they take care of ALL your needs quickly, they are reliable, you can count on them and most of all, they do everything they say they will do, no BS."

Whitney Wells Lewis
Practice Manager - PARC Urology
"These guys are incredible"
"These guys are incredible. They've helped us to grow our business and now the biggest problem we seem to come across is having too much business - which is the ideal problem to have. We are right where we wanted to be and Thrive made that possible. Thanks guys!"

Chad Montgomery
CEO - Accurate Leak and Line
"Unrivaled customer support"
"Working with the Thrive team has been a most pleasant experience! Their dedication and passion for what they do is exemplified by their unrivaled customer support and attentiveness to the specific needs of our business. We look forward to a long-lasting and prosperous relationship!"
Ready to Grow Your Business With
Pittsburgh PPC Services?
Click the button below for a free proposal
Why Choose Thrive As Your Pittsburgh PPC Company
Get More Conversions With Better PPC Targeting
Today it isn't enough to work with just any digital marketing firm; you want to ensure that you partner with a company that will not only take the time to listen about your business' goals and message but also helps to drive desired results so that your business sees the greatest return on marketing investment. Not all digital marketing agencies get this right. Here are some reasons why we are different:
Meet Your Team
Say Hello to all the Thrivers!
Thrive's world-class digital marketing services have helped small businesses and big brands achieve their business objectives since 2005. We are proud to have the best marketing experts with a diverse set of skills to guide our clients in running successful campaigns. We are a client-centric company and we value our client's ideas above all else.
Here are more reasons why you should work with us:
We Focus on the Client
At Thrive, we value our client's ideals and goals. We go above and beyond to meet and exceed client expectations and drive the highest business growth possible. For us, our success should always be our ability to hit client targets with strategies that work.
Digital Marketing Is Our Expertise
Our Pittsburgh PPC agency employs the best specialists in their respective fields such as SEO, PPC and social media. Together, we provide the best digital marketing service in the industry. Our clients can expect all our specialists to be experts who are more than qualified to assist them in their marketing needs.
We Are Transparent
We do business with sincerity and honesty. This means we provide our clients with detailed, accurate reports on the status of their projects. We also schedule regular meetings to keep our clients updated and assured that they are on the right track on their marketing goals.
We Deliver Results
Thrive is an award-winning digital marketing agency established in 2005. We have helped businesses of all sizes achieve financial success with our diverse marketing services. We have the expertise and experience to deliver the best results for every client.
We Are Experts At PPC
Thrive has the best pay-per-click marketing specialists in the industry working for you and your business. Our experienced Pittsburgh PPC experts have mastered the art and science of effective PPC campaigns. With us, your advertising projects are in great hands.
We Value Integrity
Thrive's team members all believe in working with integrity. We conduct business in a professional and honest manner to build lasting relationships with our clients. We always put our client's interests first before profit.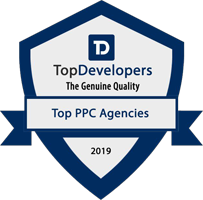 Thrive Named 2019 Top PPC Agency in Pittsburgh by TopDevelopers
Thrive Named 2019 Local Excellence Award Winner in Pittsburgh by UpCity
UpCity is an online marketplace that helps businesses find B2B service providers they can trust. UpCity's Local Excellence Award winners are selected based on the UpCity Recommendability Rating, a proprietary algorithm that measures a provider's credibility, recommendability, and reputation based on digital signals.
"The strength of our marketplace is built on the credibility of truly excellent providers like Thrive Internet Marketing," said Dan Olson, CEO of UpCity. "We are pleased to honor Thrive with a Local Excellence Award in Pittsburgh." 
Thrive has a 5.0 rating on UpCity. Check out the reviews.