Our Plumber Marketing Campaigns Deliver Awesome ROI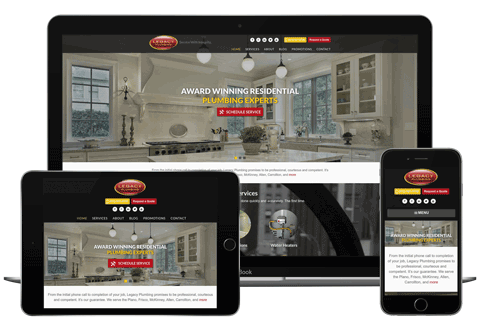 We understand that, as a plumber, digital marketing and SEO are probably the last things on your mind.  While it may not seem like something that requires a lot of thought, digital marketing services for plumbers can boost your company's visibility in your service area and ensure that search engine users looking for plumbing services can easily find your business.
Ideal for anyone looking to secure more clients and make more service calls this year, digital marketing is the one tool you just might be missing. From website design to SEO, social media marketing, and pay-per-click advertising, there are dozens of digital marketing tactics to help you grow your plumbing company in the coming year.
Ready to talk to a plumber marketing expert?
Give us a shout and we'll go over how Thrive can help you achieve your goals.
Our Plumber Marketing Services
Your website is your most valuable asset. It's where people learn about your company, get a feel for your services, and start to understand why you do what you do. Make sure it introduces your business well with plumbing website design services.
Here at Thrive Internet Marketing Agency, we have a team of fast, efficient, and cost-effective web designers who will listen to your input and create a website you'll be proud to show off. No more feeling ashamed of your dated or minimal online presence – we can help!
Imagine this: a would-be customer's pipe bursts in the middle of the night and he needs a plumber, STAT! He heads to Google, types in a query for plumbers in his area, and only your competitors' websites pop up.
This is an unfortunate scenario, but if you're not implementing local plumbing SEO best practices, it could happen to you. By optimizing your website to make sure it shows up in relevant, local Google searches in your service area, Thrive can help you earn more clients for your plumbing business.
When it's time to expand your reach even further, there's no better method than PPC services for plumbers. Thrive Internet Marketing Agency is the perfect team to help you build, design, and manage your PPC campaigns. Earn more customers and get more clicks to your website today!
Thrive: An Experienced Digital Marketing Company For Plumbers
When it comes to digital marketing for plumbers, Thrive is your go-to source. We're experienced, trusted, and reliable, and we will listen to your needs and concerns to help you build an online presence that boosts your business and ensures your success, this year and beyond.
Get in Touch with an Expert Now