Thrive is an SEO and digital marketing agency in Minneapolis, Minnesota that provides online marketing services to single location family owned business all the way to international corporations.
Thrive has a dedicated team of digital marketing consultants with the expertise in helping area businesses with their online marketing campaigns. Since we are a full-service agency, we can handle everything in-house from building an SEO-friendly website to managing your social media to providing search engine optimization.
Award-Winning Minneapolis SEO Agency
Talk to a Digital Marketing Expert
Ready to chat about how our Minneapolis digital agency can grow your business?
Drop us a line today for a free quote!
Why Choose Thrive As Your Minneapolis Digital Marketing Firm Of Choice
Thrive has been providing digital marketing services to clients since 2005. We have built a reputation of superior customer service with a track record of success. When you choose Thrive as your digital marketing agency in Minneapolis, you can expect:
Extreme customer focus - We strive to understand your business goals first and then develop a strategic online marketing plan to use as a roadmap for your campaign.
No Contracts - We believe in our services and consultants to deliver a positive return on investment for our clients.
Dedicated SEO Specialist - You get direct access to the team member that will be implementing your campaign.
Data-Driven - As Google Analytics certified professionals, we will make data driven-decisions about your campaign.
Transparent Reporting - We provide custom in-depth reporting and time tracking so you can easily monitor your ROI.
Meet the Team
Say hello to all the Thrivers!
Get Your Free Instant SEO Audit Report Now!
Free Instant SEO Audit Report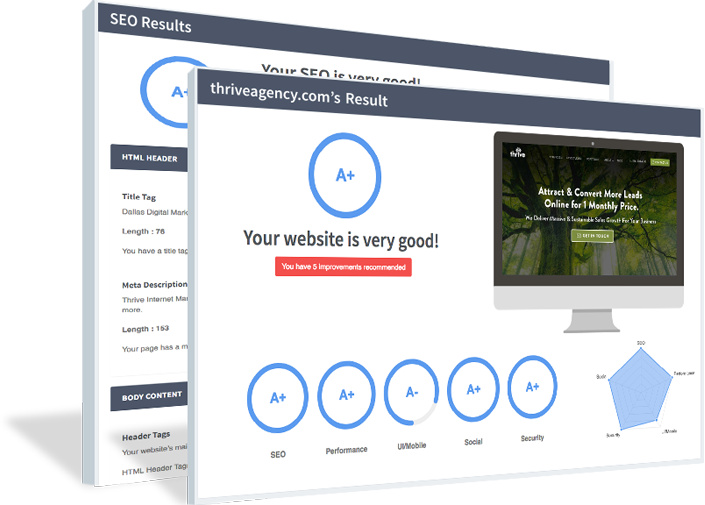 How a Minneapolis SEO Company Helps Businesses Thrive
Whether you're targeting the local Minneapolis area or if you're looking to reach a national audience, SEO is going to be one of your most important business growth plans.
A Minneapolis SEO Company like Thrive will work with you to identify your top keywords and your competitors and put together a plan to get more visibility for you in search results.
Ranking higher in search engines for your target keywords will bring in more traffic, which will lead to more conversions and more leads and sales for your business.
SEO works by implementing a myriad of tactics to show the search engines that your site is trustworthy and relevant, and should, therefore, be ranked near the top of the results for your targeted keyword phrases.
A Minneapolis SEO company will be able to create and implement the right, targeted strategy for your business.
Our SEO techniques & services
Our professional SEO services strive to get your business more visibility in search results using only trustworthy, future-proof, white-hat SEO techniques, such as:
A custom SEO strategy
Thorough keyword and market research
In-depth competitive analysis
SEO paired with a PPC campaign for short-term wins
Comprehensive on-page SEO – title tags, meta descriptions, alt tags, original quality web content creation, internal linking, etc.
Quality content writing that assists SEO efforts and provides value to your customers
Careful link building – by hand, on diverse domains with high domain authority
Google Analytics and other data tracking software to learn from trends, traffic and more.