Thrive Internet Marketing Agency provides trusted law firm web design services.




The Thrive team goes above and beyond to help lawyers and law firms stand out with user-friendly web design, and help them to broadcast their message and expand their reach more effectively.




We Make The Case With Our Law Firm Website Design
It's your business card, your front door, and your conference room. It's often the first contact between you and a new client. Your website has to make a strong first impression, establish your expertise and clearly communicate how well your firm is positioned to serve.
Thrive Internet Marketing specializes in law firm digital marketing and website design tailored to your practice and crafted to maximize your business. We offer the depth of experience and industry knowledge it takes to develop your site so that it showcases your ongoing success while meeting your highest standards.
Years of Experience
Whether you're a solo practitioner or head of a national firm, you understand the critical role that web design for lawyers plays in generating leads. We plan and fine-tune every component of your site so that your online presence affirms your professionalism and builds client trust.
Our teams excel in hand-coding through WordPress to build your site into a robust, user-friendly portal. We put the best SEO talent in the business to work developing practice-specific keyword strategies that maintain your top ranking with all search engines.

Effective Marketing Strategies
Your firm's reputation, experience and success combine to brand your practice and set it apart from the competition. Communicating that unique expertise is critical to generating leads and building your client base. Our team works closely with you to develop a marketing blueprint that establishes who you are and what your firm offers.
From an attractive, compelling landing page to persuasive calls to actions, potential clients immediately understand your practice and your services. We craft your website so that it clearly conveys why your firm is their best choice.
Lead Generation and Conversion
Our team builds your law firm website so that it generates traffic with effective search engine optimization built-in and engages visitors with a powerful design. Our experience working with your industry positions us to build a feature-rich site that delivers leads and turns them into clients.
Based on your input, we develop portals that answer client FAQs, offer document downloads and consolidate contact and location information. Visitors can access specific practice pages outlining your specialties and expertise. They will experience everything your site offers through a seamless interface that engages interest and converts clicks into clients.
Professional Law Firm Web Design Services
At Thrive Internet Marketing Agency, we're proud of the value that our services bring to the legal industry, and we invite you to explore our current work portfolio. To speak with a reputable web design company, contact us today by calling us for a free quote, or clicking below to get started.
We can't wait to hear from you!
Ready to build a website
for your law firm?
Click the button below for a free proposal
Web Design 

Client Reviews

Marci Wiersma
"They do everything they say...no BS"
"Thrive is a much needed blessing and exceeded our expectations in every way. They are honest, straightforward, they take care of ALL your needs quickly, they are reliable, you can count on them and most of all, they do everything they say they will do, no BS."

Whitney Wells Lewis
"These guys are incredible"
"These guys are incredible. They've helped us to grow our business and now the biggest problem we seem to come across is having too much business - which is the ideal problem to have. We are right where we wanted to be and Thrive made that possible. Thanks guys!"

Chad Montgomery
"Unrivaled customer support"
"Working with the Thrive team has been a most pleasant experience! Their dedication and passion for what they do is exemplified by their unrivaled customer support and attentiveness to the specific needs of our business. We look forward to a long lasting and prosperous relationship!"

Get Your Free Instant SEO Audit Report Now!
Free Instant SEO Audit Report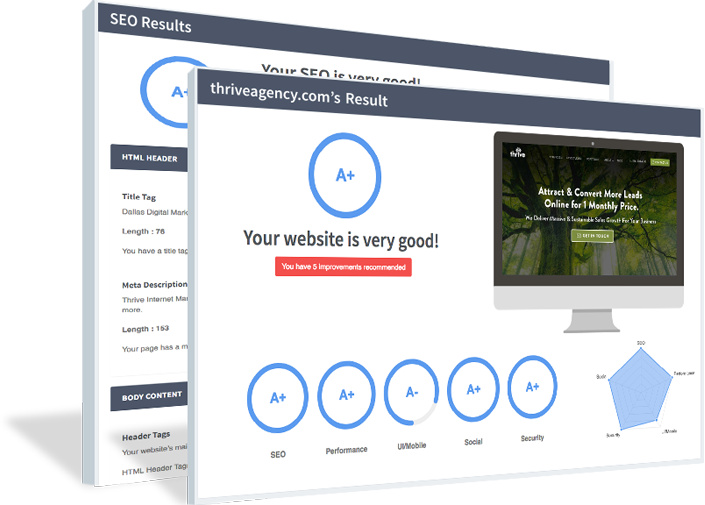 Law Firm Digital Marketing Services
In our digital age, 3 out of 4 people use the Internet to find products and services or to find a solution to a problem. The first page of search results receives 91% of traffic – is your law firm's website on the first page?
If it isn't, then you are missing out on valuable leads and sales opportunities.
In order to boost your website's ranking so that your website appears on the first page, you need an effective SEO strategy. This is where Thrive can help. Our team of certified and proven law firm digital marketing experts can help you with the following:
Other Industries We Serve
Get My Free Web Design Proposal