Thrive is an SEO company in Houston, Texas that provides online marketing services to companies, organizations and brands of all sizes, from single-location shops to large corporations. 
Thrive has a dedicated team of SEO Specialists with years of expertise in helping Houston area businesses with their SEO and digital marketing campaigns. Thrive is a full-service digital agency, providing digital marketing services such as SEO, PPC, web design, social media, and more.
Talk to a Digital Marketing Expert
Get Your Free Instant SEO Audit Report Now!
Free Instant SEO Audit Report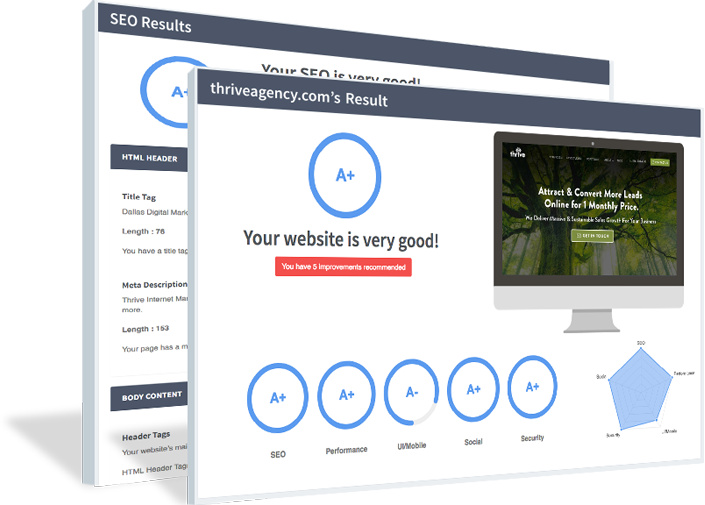 Why Choose Thrive As Your Houston SEO Company?
Did you know that Houston is actually Texas's largest city? DFW (the Dallas/Ft Worth Metroplex) is bigger, but that's made up of multiple cities, combined. While SEO in DFW has its challenges, so does such a large city like Houston. If you're a business owner in the Houston area, you're probably already well aware of the challenges of getting found online and outperforming your competitors. Thrive can help with that!
No matter where you're located in Houston, Texas and how much of the city, state, country or even world you're targeting with your products or services, SEO can drastically improve the amount of online sales or leads you're getting through your website.
When you choose to work with Thrive on your SEO campaigns, you'll have a dedicated SEO specialist who gets to know and understand your business on a deep level. That really helps us build your campaigns to accomplish your unique business goals while targeting your audience with precision.
Thrive has been providing digital marketing services to clients since 2005. We've built our reputation on superior customer service and a track record of success for clients large and small.
When you choose Thrive as your SEO company in Houston, you can expect:
Extreme customer focus - We strive to understand your business goals first, then develop a strategic online marketing plan (SOMP) to use as a road map for your SEO campaign.
No Contracts - We believe in our services and Specialists to deliver a positive return on investment for our clients.
Dedicated SEO Specialist - You get direct access to the team member that will be implementing your campaign.
Data-Driven - As Google Analytics certified professionals, we will make data driven-decisions about your campaign.
Transparent Reporting - We provide custom, in-depth reporting and time tracking so you can easily monitor your return on investment (ROI).
Ready to chat about how our Houston SEO services can grow your business?
Drop us a line today for a free quote!
Thrive: The Best SEO Company in Houston
At Thrive, we've been in the industry since 2005. That's quite a few years to grow right along with the whole industry! We've been through so many search engine algorithm updates, so many new best practices, so many new search features, and we've grown, changed and adapted right along with all of that. We're always keeping up on the latest SEO trends, and our team members are all certified in multiple necessary skills. Speaking of the team, want to meet us? Meet the Thrive team!
Beyond our SEO team's experience, we truly care about our clients and their success, and we work on not only results, but also relationships. We believe that we can't deliver great results without having a great relationship with our clients. It's important for you to be happy with what we're working on!