Take control of your business' online reputation
Finding online reputation management solutions that are tailored to your business can be tough. At Thrive, we work with businesses across many industries to provide online reputation management services, including:
Reputation management for doctors
Reputation management for restaurants
Reputation management for hotels
Thrive has dedicated and experienced experts who provide online reputation management services to clients that get real results. We use a combination of careful planning and online reputation management software and tools to provide end to end solutions. While many online reputation management companies deploy a simple strategy for everyone, Thrive's services are unique to you.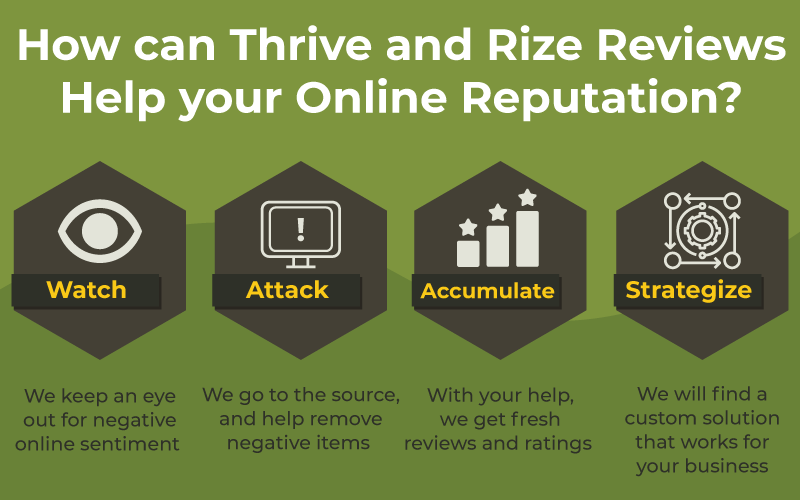 Choosing a reputation management company
It takes 20 years to build a reputation and five minutes to ruin it. If you think about that, you'll do things differently.
Thrive is a reputation management company that delivers results
Our online reputation experts put together a thorough plan to make sure your reviews are managed properly. We do a deep dive into your review profile, and put together a thorough plan to tackle your reviews, including:
Fix poor reviews
Gain new reviews
Outreach and strategy
We find places across the web where we can best leverage reviews for your business and industry. Our team makes sure the reviews you earn are well placed and leveraged to earn you new customers and build trust.
At Thrive, we are dedicated and committed to helping businesses build brand awareness and credibility through encouraging positive reviews, and also to restoring their brand names.
Your business' online reputation is important, so make sure you are working with an online reputation management firm that is committed to making a difference. Contact us today to learn more.
What does your online reputation look like?
If you are curious or concerned about what your business or brand's online reputation looks like, find out by performing this free online reputation scan:
Thrive provides a complete suite of online reputation management services
Thrive Internet Marketing Agency has experts in all aspects of online reputation management.
Here are some additional ways Thrive can help your business with online reputation management: