Thrive Internet Marketing Agency provides trusted web design services for community banks and credit unions.




The Thrive team goes above and beyond to help banks stand out with user-friendly web design, and help them to broadcast their message and expand their reach more effectively.




Choose Thrive For Your Community Bank Website Designer
At Thrive Internet Marketing Agency, we're proud of the value that our services bring to the banking industry, and we invite you to explore our current work portfolio. To speak with a reputable web design company, contact us today by calling us for a free quote, or clicking below to get started.
We can't wait to hear from you!
Ready to build a website
for your community bank?
Click the button below for a free proposal
Web Design 

Client Reviews

Marci Wiersma
"They do everything they say...no BS"
"Thrive is a much needed blessing and exceeded our expectations in every way. They are honest, straightforward, they take care of ALL your needs quickly, they are reliable, you can count on them and most of all, they do everything they say they will do, no BS."

Whitney Wells Lewis
"These guys are incredible"
"These guys are incredible. They've helped us to grow our business and now the biggest problem we seem to come across is having too much business - which is the ideal problem to have. We are right where we wanted to be and Thrive made that possible. Thanks guys!"

Chad Montgomery
"Unrivaled customer support"
"Working with the Thrive team has been a most pleasant experience! Their dedication and passion for what they do is exemplified by their unrivaled customer support and attentiveness to the specific needs of our business. We look forward to a long lasting and prosperous relationship!"


Get Your Free Instant SEO Audit Report Now!
Free Instant SEO Audit Report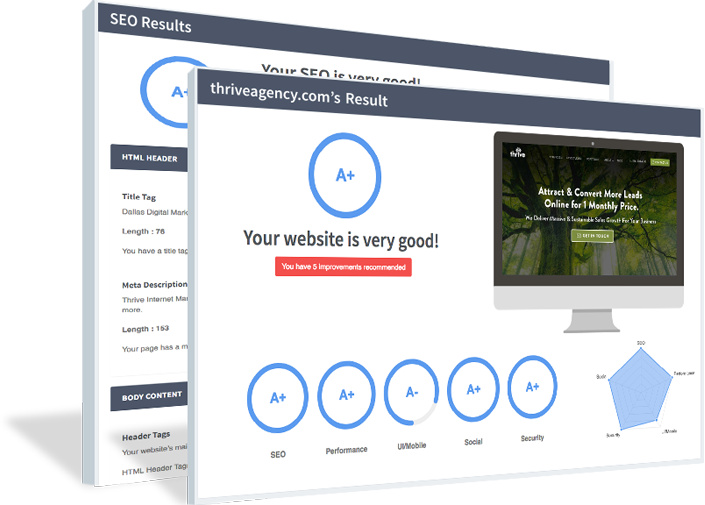 Let us help you reach your community
Community banks play a vital role in fostering the growth of small businesses and enterprising individuals across the country. We appreciate that focus here at Thrive Internet Marketing because we share your commitment to nurturing success. We offer our professional expertise in community bank website design and development as an investment in rewarding marketing strategies tailored to your institution.
While we feature several banking websites in our portfolio, we have an extensive list of other satisfied banking clients.
We Know What Works
Your success depends on providing personal service based on the highest standards of integrity. It's easy to communicate this with a handshake, and we design your site as an online extension of your deep connection to the local community. You know your customers, and we take the time to get to know you. Together, we develop a plan around your individual business that translates into your unique online presence. Because we understand your goals, we build a compelling website that reaches your established clients while it extends your digital handshake to an even broader market.
Establishing Your Online Presence
As a community bank, you've built a personal relationship with your customers, so they know where to find you. A well-designed website expands that availability and increases your visibility far beyond the traditions of brick and mortar. Thrive takes professional pride in designing your community banking site around a customized plan and building a unique online presence that distinguishes you from the competition. Our web development team ensures that your website is attractive, easy to use and original from home page and service portals to content and contact information.
Convert Traffic Into Customers
In one-on-one meetings with a potential customer, you share the details that make your bank their best choice. They understand what you offer and the advantages of your services. We optimize that same experience by designing your virtual storefront with seamless access to information. From business and personal loans to mortgage and asset management, we craft your website with custom portals that invite interest and instill confidence. New visitors easily navigate the benefits of doing business with your institution, and that experience conveys the assurance that converts them into a long-term clients.
Reaching Across Platforms
Through your position as a community bank, you stay in touch with local businesses and help them grow on solid economic foundations. We help you extend that involvement across the entire spectrum of online and social media. Our responsive website designs convey your commitment and demonstrate your adaptive capabilities in an ever-changing digital world. We specialize in marketing analytics that allow you to target, reach and track your customers while maintaining a vibrant line of informative, interactive communication.
Grow With Thrive!
It takes a special talent to develop a successful community bank website, and we bring more than 10 years of experience to the table. You can count on Thrive Internet Marketing to delivering the best possible product tailored to supporting and expanding your community commitment. We invite you to contact us online, or give our helpful staff a call today at 817-642-9686. We look forward to becoming your personal online marketing partner.
Bank on our Digital Marketing Services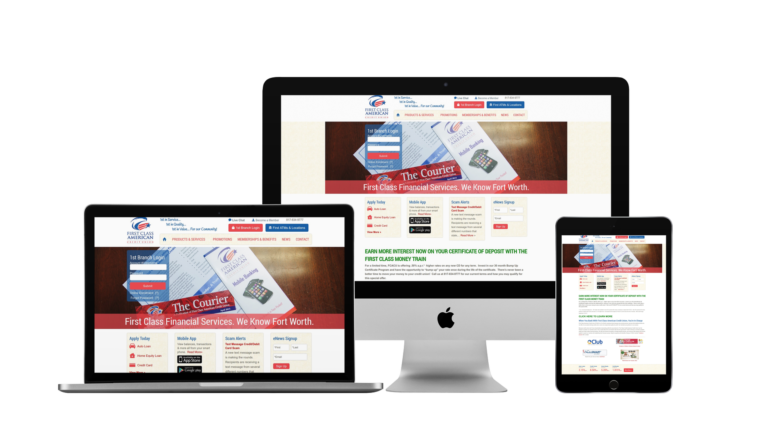 In our digital age, 3 out of 4 people use the Internet to find products and services or to find a solution to a problem. The first page of search results receives 91% of traffic – is your community bank's website on the first page?
If it isn't, then you are missing out on valuable leads and sales opportunities.
In order to boost your website's ranking so that your website appears on the first page, you need an effective SEO strategy. This is where Thrive can help. Our team of certified and proven SEO experts can help you with the following:
Get My Free Web Design Proposal