Thrive is a digital marketing & SEO agency in Chicago, Illinois that provides online marketing and SEO services to small, family-owned business all the way to large, international corporations.
Thrive has a dedicated team of digital marketing consultants with expertise in helping Chicago area businesses with their online marketing campaigns. Thrive is a full-service agency, providing everything in-house from web design & development to SEO services, PPC, social media, email marketing, content development & marketing, and more. If you're looking for an SEO company in Chicago, Thrive is here and ready to help!
Talk to a Digital Marketing Expert
Ready to chat about our Chicago
digital marketing services?
Drop us a line today for a free quote!
Why Choose Thrive As Your Chicago Digital Marketing Firm Of Choice
Thrive has been providing digital marketing services to clients worldwide since 2005. We have built a reputation of superior customer service with a track record of success. When you choose Thrive as your online marketing & SEO company in Chicago, you can expect:
Extreme customer focus - We strive to understand your business goals first and then develop a strategic online marketing plan to use as a roadmap for your campaign. Whether you need just SEO or a full website redesign and more, we'll create the perfect plan for you.
No Contracts - We believe in our services and consultants to deliver a positive return on investment for our clients.
Dedicated SEO Specialist - You get direct access to the SEO or PPC team member that will be implementing your campaign.
Data-Driven - As Google Analytics certified professionals, we will make data driven-decisions about your campaign.
Transparent Reporting - We provide custom in-depth reporting and time tracking so you can easily monitor your ROI.
Get Your Free Instant SEO Audit Report Now!
Free Instant SEO Audit Report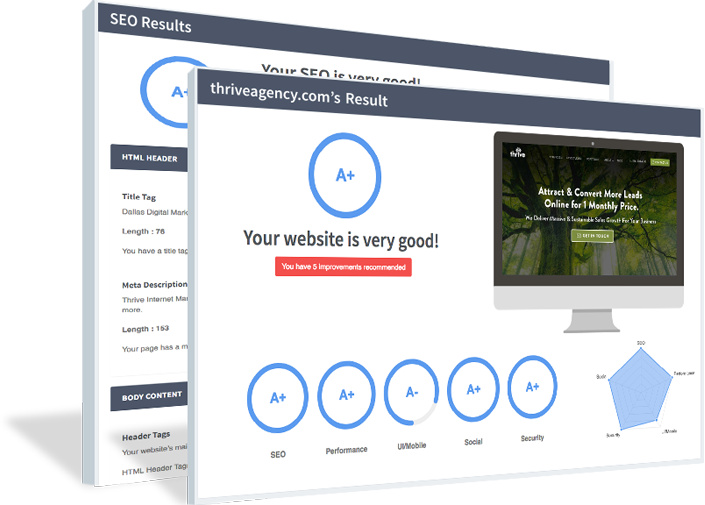 What to Expect Out of Working with an SEO Agency in Chicago
Working with an accomplished SEO agency is one of the best things you can do for your business. Chicago is a saturated market for a lot of businesses and services. How do you stand out? How do you drive the traffic you need to stay profitable, and even grow? That's where an SEO agency comes in.
Having an agency in your corner means having people who care about your business fighting for you in the online space. Whether you're focused on local or national markets, an agency like Thrive has the know-how to increase your online visibility and help you bring in more leads and/or sales.
When working with an SEO agency, you should expect to feel like they really care about you and your business. They should be honest and available, and you should be able to tell that they've put in the time to really understand what you do and the landscape of your industry.